Posted by Monte Maxwell.
April 4th, 2019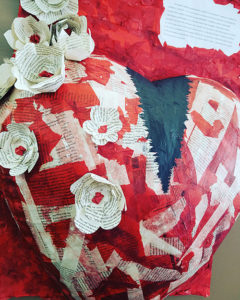 Rather than simply trying to define trauma, a group of undergraduate honors students created works of art that illustrate and narrate trauma. Their exhibit, "Understanding Trauma through Art and Literature," will remain on display at the West Virginia University Health Sciences Library through May 20.
"In healthcare, practitioners are often tasked with working with those in acute distress, which we might generally describe as traumatic. Understanding trauma, then, is an important aspect of the human condition that relates to medicine," said Renée Nicholson, an assistant professor of multidisciplinary studies.
Students in Nicholson's Medicine and the Arts class drew inspiration by reading selections from several books, such as Atul Gawande's "Being Mortal," the anthology "Bodies of Truth," Emily St. John Mandel's novel and WVU 2018-2019 campus read "Station Eleven," Paul Kalanithi's "When Breath Becomes Air" and Rachel Pearson's "No Apparent Distress."
The students created works that showed personal trauma, medical trauma, financial trauma and other forms to investigate how to create viable representations through art with the goal of building affiliation with those who have experienced trauma.
"It is our task to harness the tremendous power of these artistic, creative acts of telling and listening and representing stories for the sake of our patients and our colleagues," said Dr. Rita Charon, the founder and executive director of the Program in Narrative Medicine at Columbia University.
"It is our duty to bring our full selves into our practice—not just our cognitive apparatus but all our resonant imaginative, meaning-making capacities so that patients' journeys toward health and meaning can be illuminated. Finally, attention and representation, we believe, can enable us to know in earthy, rich detail that we are affiliated as humans, all of us humble in the face of time, ready to suffer our portion, and brave enough to help one another on our shared journeys," Charon said.
Leave a Reply