Posted by Monte Maxwell.
August 19th, 2019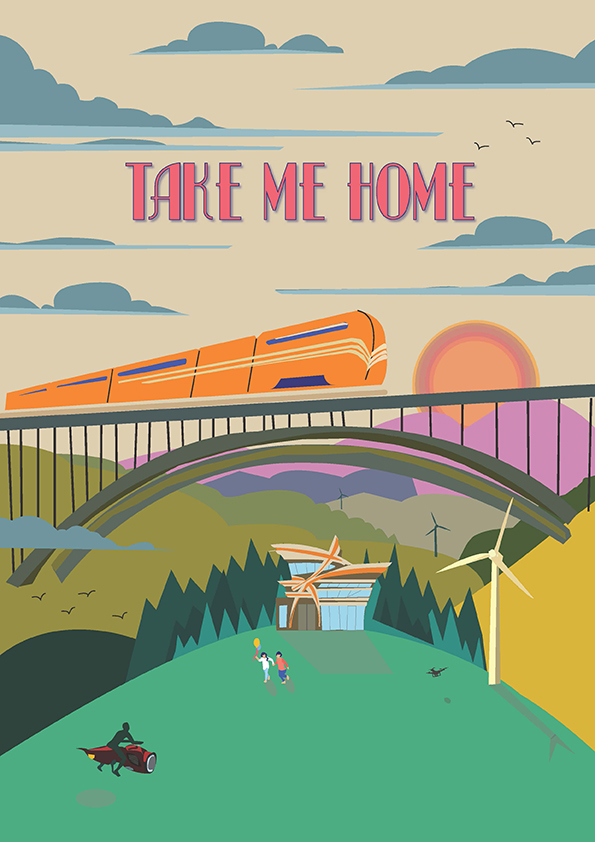 How do you imagine the future of Appalachia?
"Appalachian Futures," West Virginia University Libraries' new year-long exhibition, addresses the current dominant narratives about Appalachia in a new way, by looking at how the people of Appalachia have worked and will work to rewrite their own story.
"The exhibit takes us beyond the stereotypes to paint a rich and multi-layered picture of what it means to be Appalachian," said Sally Brown Deskins, exhibits & programs coordinator for WVU Libraries.
The exhibit officially opens on Sept. 3, with a reception from 5-7 p.m. in the Milano Reading Room in the Downtown Campus Library. Chris Haddox and Travis Stimeling will provide live music. Also, attendees will have the opportunity to interact with games inspired by West Virginia history and designed by collaborative teams of art, media and computer science students.
"Appalachian Futures" is WVU Libraries' second annual collaborative, multidisciplinary project advancing important conversations in the region.
The exhibition begins on the first floor of the Downtown Campus Library and runs up through the main spiral staircase into the Atrium. Downtown, Evansdale and Health Sciences libraries will host connected exhibits and programs during the 2019-2020 academic year.
Synthesizing humanities research, art and civic action, the exhibit invites viewers to explore the often overlooked communities of Indigenous Appalachia, "Affrilachian" (African American in Appalachia), and queer Appalachia. Viewers will also examine Appalachian tradition and culture; the intersections between extraction industries, new technology, and science; literacies and education in Appalachia; as well as speculative futures for the region. Contributors include WVU and regional scholars, community groups and artists.
Lead sponsors include theWest Virginia Library Commission, WVU Humanities Center and Marshall University Libraries. Additional exhibit sponsors include Morgantown Print & Sign Superstore, Reed College of Media, Appalachian State University Libraries, Arts Monongahela, Catherine Wilson Jones and First United Bank & Trust.
In conjunction with the main exhibit, the following programs are planned:
Appalachian Futures: Regional Artists Respond
Downtown Campus Library, Room 1020
Aug. 15 – Oct. 15
Artwork by regional artists.
Women of Appalachia – Women Speak
Downtown Campus Library, Milano Room
Oct. 19, 1-3 p.m.
The Women of Appalachia Project, an annual traveling spoken word series, features selected written submissions of residents of Appalachian counties.
College of Creative Arts Advanced Painting
Downtown Campus Library, 4th floor
Ongoing
College of Creative Arts Painting Professor Naijun Zhang works with photographs from the West Virginia History OnView Collection for assignments for his Advanced Painting classes.
Contemporary Literary Appalachia: Reimagining Classic Appalachian Book Covers
Downtown Campus Library, Study Rooms, Ongoing
College of Creative Arts Professor of Graphic Design Joseph Galbreath's Advanced Design students worked with the WVRHC Appalachian and Rare Book Collection to reimagine classic Appalachian book covers.
Murals by WVU Art Movement Students
Downtown Campus Library, South Stairway
Ongoing
Students in the WVU Art Movement group created acrylic paintings inspired by the seasons in West Virginia.
Department of History Student Research Displays
Downtown Campus Library, 6th floor, Ongoing
Department of History students collaborate to research and produce exhibits around their inquiry into local history.
"Rare Earth Recovery: Using Coal Extraction in Our Everyday Lives" – a West Virginia Water Research Institute (WVWRI) Exhibit
Curated by Megan Kruger, WVWRI outreach coordinator, and Sally Brown Deskins, WVU Libraries exhibits coordinator.
Evansdale Library, Fall 2019
This visual and enlightening exhibit will highlight the research of WVWRI Director Paul Ziemkiewicz on the discovery of a domestic source of rare earth elements (REEs), the minerals that make our electronic devices work. REEs have been found in acid mine drainage from Appalachian sources that exceed many of the world's best commercial deposits with the potential of bringing economic development opportunities to Appalachian coal towns all while cleaning up this pesky pollutant. "Rare Earth Recovery" will examine the process from the coal mine extraction to the acid mine drainage remediation to the microscopic images of rare earth elements found and how they transform into everyday items such as smart phones along with the environmental and economic benefits.
Faculty Exhibit Award winner:
"Big Green Data: Herbals, Science, and Art by English Professor Lara Farina"
Downtown Campus Library, Room 1020, Oct – Dec 2019
Evansdale Library, Jan – May 2020
English Professor Lara Farina's research has focused on the organization of the botanic world in pre-modern medicine, philosophy, art and literature, specifically that of Late Antiquity and the Middle Ages. The exhibit introduces viewers to historic herbals, the art and literature they inspired, and present-day correlatives. Illustrations from pre-modern herbals and encyclopedia together with some from botanical works in the WVRHC Rare Books collection, the WVU Herbarium and Botanic Garden are highlighted. These themes will connect with the present-day revival of interest in herbal medicine.
Women of Appalachia: Invitational Exhibition for Women's History Month
Downtown Campus Library, Room 1020, March 2020
The Women of Appalachia Project is an arts program curated by Kari Gunter-Seymour, an instructor in the School of Journalism at Ohio University and the Poet Laureate for Athens, Ohio. This fine art exhibit includes work selected by Gunter-Seymour from the 10th anniversary exhibit.
Leave a Reply