Posted by Jane Metters LaBarbara.
August 26th, 2019
Blog post by Jane Metters LaBarbara, Assistant Curator, WVRHC.
The University Archives recently received records from the Office of Multicultural Programs that cover the planning of Mountaineer Week in the past. Among other things, we now have their planning binders covering 1995-2005. This has been a very enjoyable collection to process, though it has made me crave funnel cake and kettle corn a few months too early. (Mountaineer Week runs November 1-9, 2019.) There are a few highlights that I found so far to share with you.
One of the first things I found was a list of former Most Loyal award winners. During Mountaineer Week, they have chosen Most Loyal Mountaineers and Most Loyal West Virginians. The Most Loyal Faculty and Staff Mountaineer award was created in 1994 and split into two separate honors in 2003. The History Center has the papers of a few of these individuals, including Jim Comstock, Donovan Bond, Dr. Earl Core, and Arch Moore.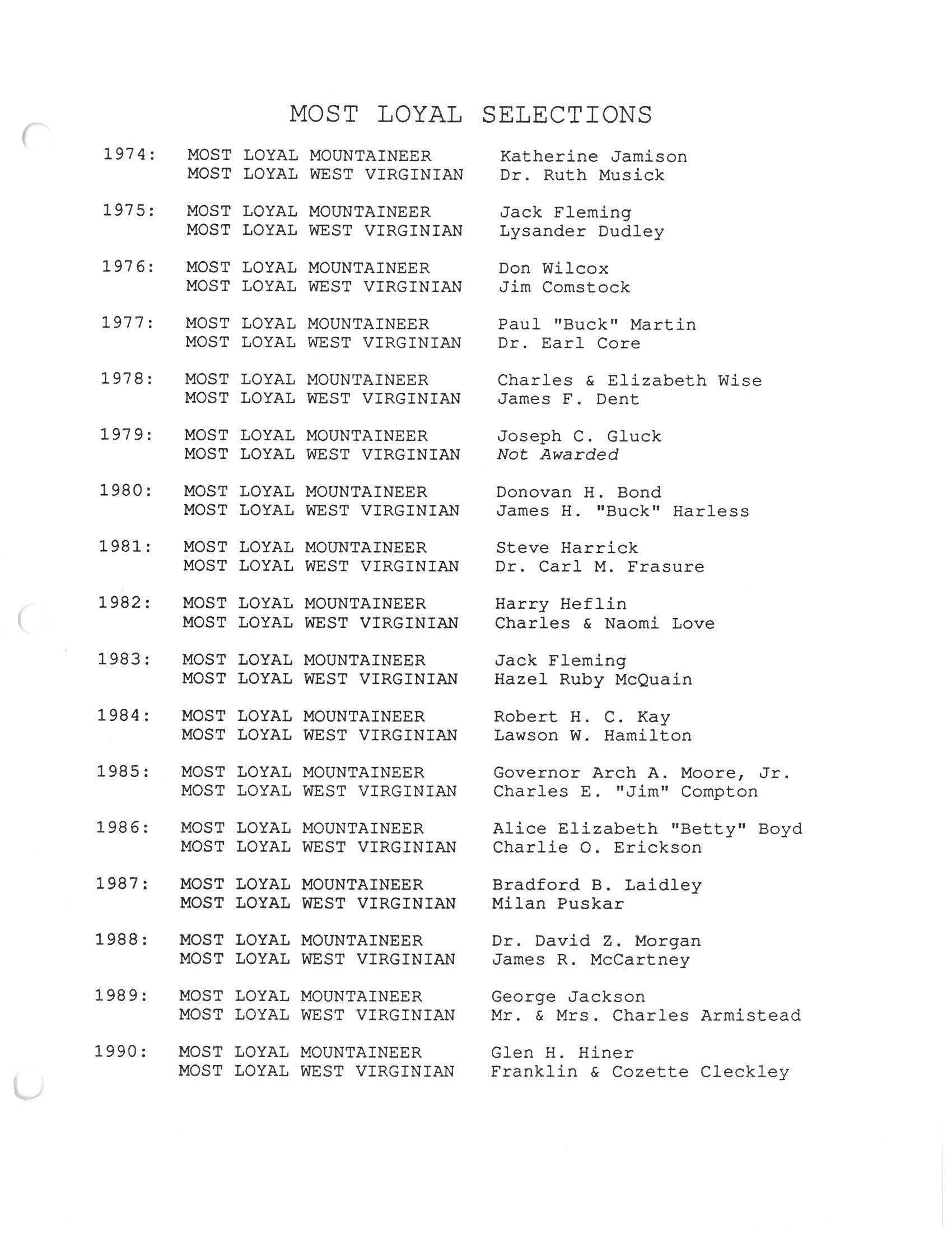 Mountaineer Week has included a host of unusual and interesting events over the years, but one that caught my eye was an advertisement for the "world's largest" Duck Duck Goose game, to be held on Saturday, November 8, 2003. The event was sponsored by U92, WVU's student-run radio station, in conjunction with Mountaineer Week. I checked the Daily Athenaeum for the following Monday to see if this game happened as planned, but it was not mentioned. For reference, the current largest Duck Duck Goose record was established in October 2011, for a 2,135 participant-game at Logan-Rogersville High School in Rogersville, Missouri, lasting over 15 minutes. (https://www.guinnessworldrecords.com/world-records/largest-game-of-duck-duck-goose)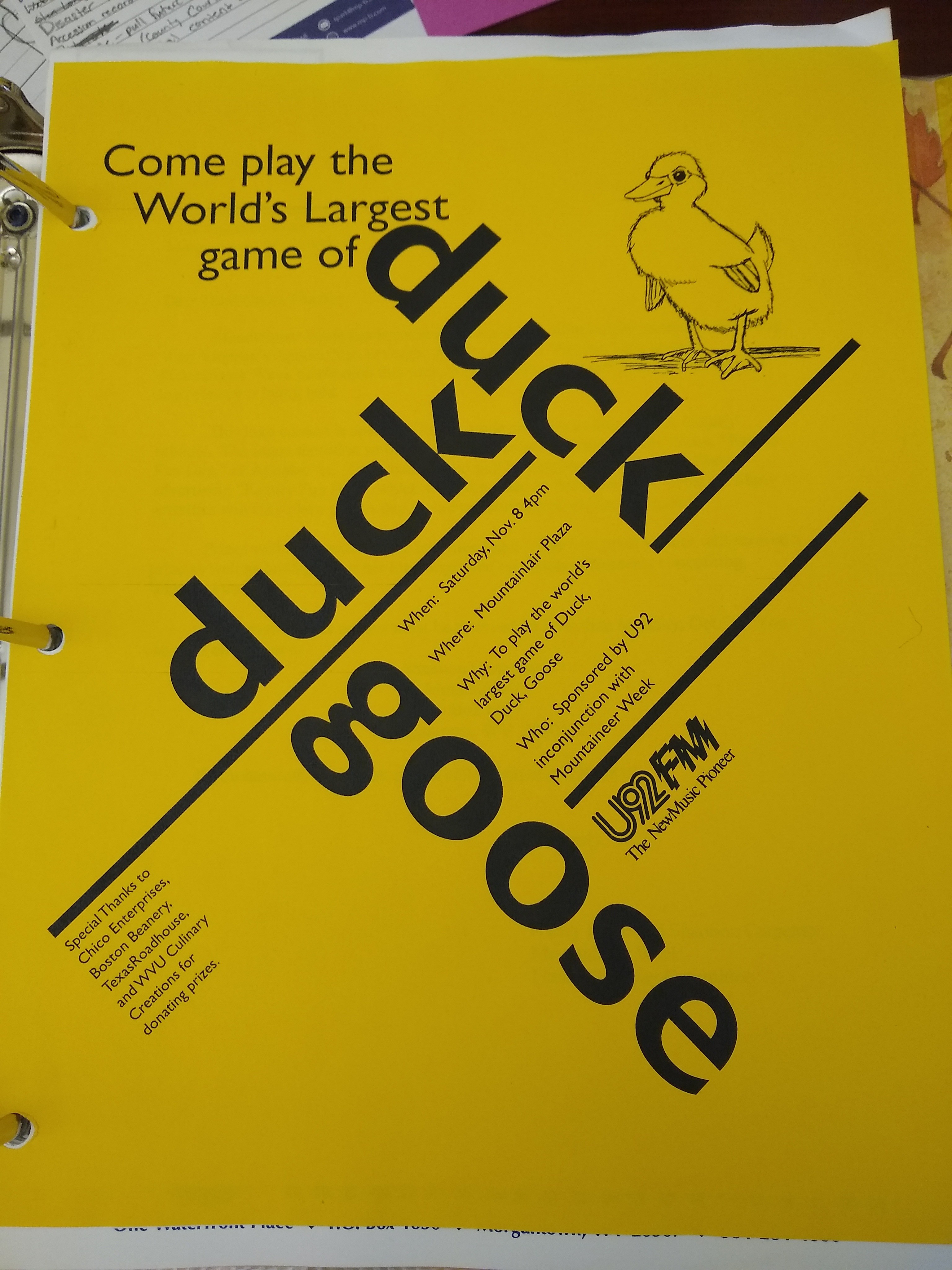 Finally, in one of the 2005 planning binders, I found a multi-page document titled "Mountaineer Week History," which I have copied below for you all. I think it was originally written to be added to the Mountaineer Week web page for 2005. The images were added by me.
---
"Mountaineer Week marks the time when the leaves are turning and the chill has returned to the evening air, setting the stage for a celebration filled with art, unique crafts, and Appalachian culture, heritage, and cuisine. This celebration of the state of West Virginia, held on the campus of West Virginia University, was conceived in 1947 as an event to arouse more school spirit. The initial weekend started with a thuse [?] on the old athletic field the night before the WVU versus Kentucky football game. Following the game, a dance requiring mountaineer garb was held with awards given for the costumes most representative of a true mountaineer.
In 1948, the initial Mountaineer school spirit activities were held. However, other events added to the celebration were floats, hay wagons, and "jalopies" parading down High Street and up University Avenue before the football game.
The first-ever beard growing competition was held in 1949. The idea for a Mountaineer Mascot Statue was initiated during the 1950 Mountaineer Weekend which ended with a carnival in the Field House with the proceeds from the various booths being placed in a fund to help pay for a bronze statue of a Mountaineer for the campus.
Between 1953 and 1958, a fashion show, folk singing events, and a Friday night concert were added to the weekend highlights.
No major innovations were introduced until 1962 when the Mr. and Ms. Mountaineer Contest joined in the festivities. In 1972, the 25th Anniversary of this West Virginia University and state of West Virginia celebration grew into a week-long event now referred to as Mountaineer Week. The theme of the 25th Anniversary was deemed as "The Home of Mountaineers". In 1972, several diversified events were added to Mountaineer Week, including: the first Mountaineer Week Arts and Crafts Festival, a Mountaineer dinner, various games and concerts, and a Downtown Festival.
West Virginia heritage at its finest was displayed during the 1972 Mountaineer Week with the opening of the First Annual Mountaineer Week Arts and Crafts Festival. In cooperation with the West Virginia State Department of Commerce and the Campus Club, the Arts and Crafts Festival was held in the Gold Ballroom of the Mountainlair. Some crafts that highlighted the event were spinning, wood carving, early American basketry, cornhusk dolls, pottery, leather crafts, blacksmithing, and dulcimer making. Today, the Craft Fair remains to be held in the Blue and Gold Ballrooms of the Mountainlair and features traditional and contemporary crafts of Appalachia with over 60 artisans from West Virginia and neighboring states.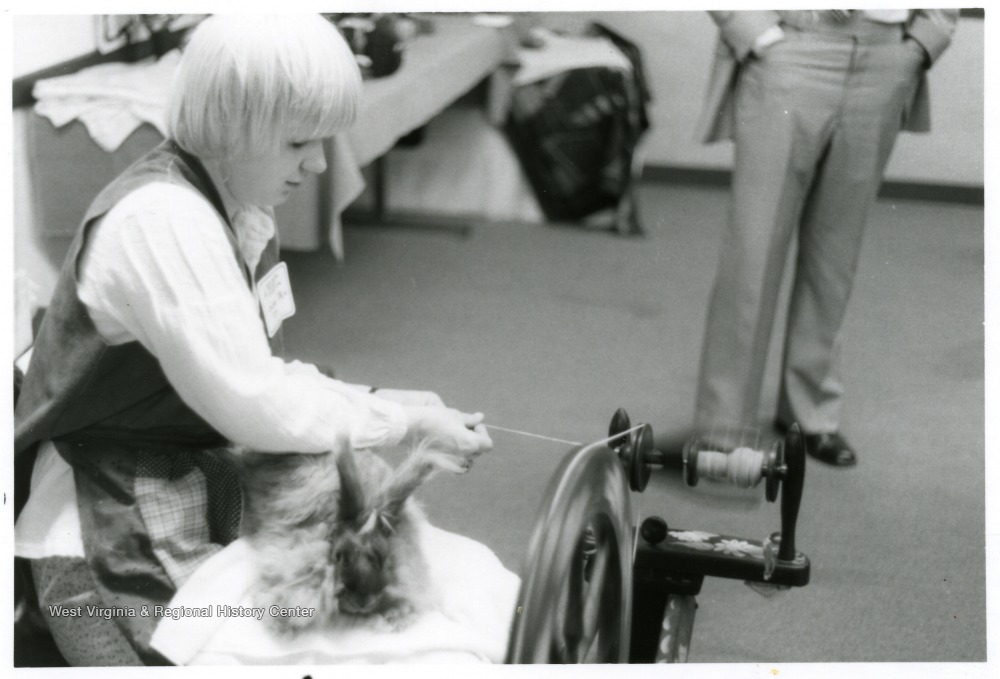 In 1972, the Mountaineer Week celebration also initiated a tradition that lasted many years at West Virginia University-Mountaineer Week Cabin Sales. Located in the right front yard of the Mountainlair was a rustic mountaineer cabin which was completely built by the Foresters and was made from native West Virginia materials. Cabin Sales, viewed to contribute to the heritage and culture of our great state, provided a central location in which mountaineer items could be purchased throughout the week. [Editor's note: if anyone has photos of this cabin, please let me know!]
One of the first Mountaineer Week Dinners was held in 1972 in Summit Hall and the Mountainlair. The Mountaineer Week Committee in cooperation with Ms. Jean Benson of Housing and Food Service planned a menu that all Mountaineers loved. Today, the annual Country Vittles Dinner Buffet is a down-home feast like Grandma used to make. Mountaineer Week also offers Appalachian treats such as funnel cakes, homemade lemonade, maple sugar syrup/candy, muffins, fudge, pepperoni rolls, candy apples, and much more!
Tradition was always the predominant element of Mountaineer Week. In 1977, the practice of adopting a quilt pattern was incorporated into Mountaineer Week to add a feeling of unity to the week's festivities. In 1977, the "Double Wedding Ring" quilt logo was proposed and accepted as the official quilt logo of that year's Mountaineer Week. The quilt was made by Ethelyn Butler and Mae Long, who won the Bicentennial Quilt Show for the Smithsonian. The "Double Wedding Ring" Quilt is still on display at WVU Jackson's Mill Conference Center. Each year thereafter, a quilt logo was chosen and a quilt square was made and framed to showcase that particular year. Most of the framed quilt squares are on display in the Mountainlair today. In 1997, the current Mountaineer Week logo was chosen to provide long-term unity and consistency and remains as the official Mountaineer Week Logo today. This year's Mountaineer Week Quilt Show is being presented by the Country Roads Quilt Guild. Adorning the Mountaineer Room and Ballroom Stage of the Mountainlair will be colorful handmade quilts loved by generations, along with quilters showcasing their talents.
Fiddling has an extensive history and has been studied and written about by many music scholars and history enthusiasts. Fiddlers have provided mountain music and foot stompin' fun for many years as part of Mountaineer Week. Still today, the Fiddler's Contest remains a favorite part of Mountaineer Week. Local, state, and neighboring state fiddlers compete in the Gluck Theatre of the Mountainlair for the top awards in the Junior and Senior Divisions.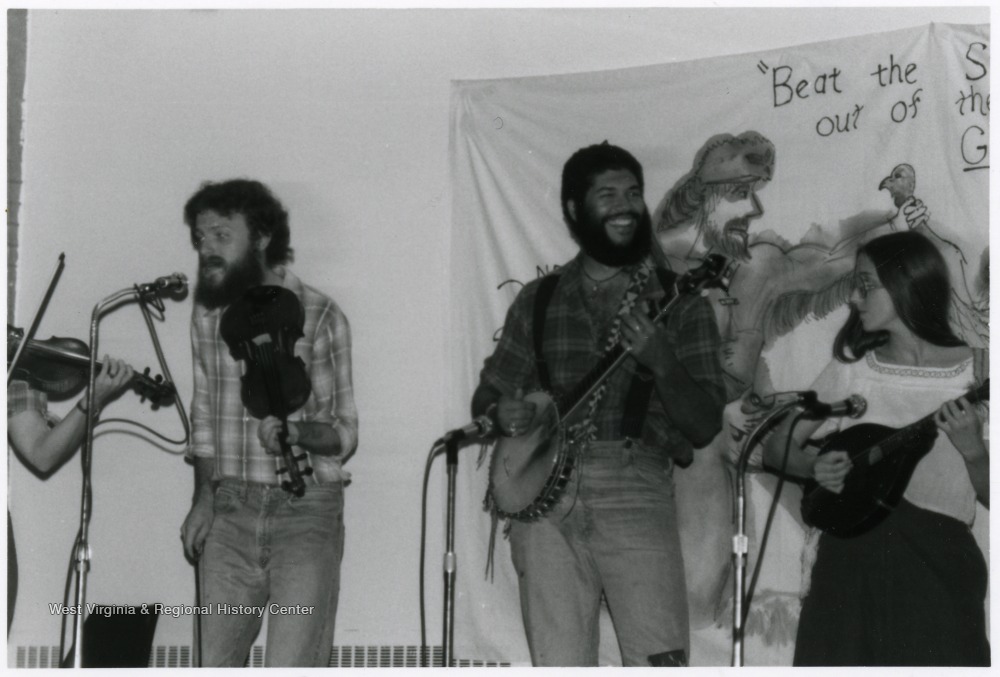 From years gone by to the present time, dancing has provided exercise and friendship to both the young and the old. This heritage form of Appalachian entertainment historically consisted of dancing with partners at an old-time square dance or adding a step to the square dance to enjoy what is known as clogging. These traditions have followed our Mountaineers down through the years at WVU. Mountaineer Week today still hosts an Old-Fashioned Square Dance and many exhibitions of Clogging in Appalachia.
Mountaineer Week has showcased numerous other heritage events in its 58 years of existence. Highlights through the years have been the annual PRT Cram. Mountaineer Week is certainly important on the WVU campus due to the fact that we have our very own Mountaineer Week PRT Car, designed specifically for our historical PRT Cram. The record number of students crammed into the PRT Car is 97, accomplished in the year 2000.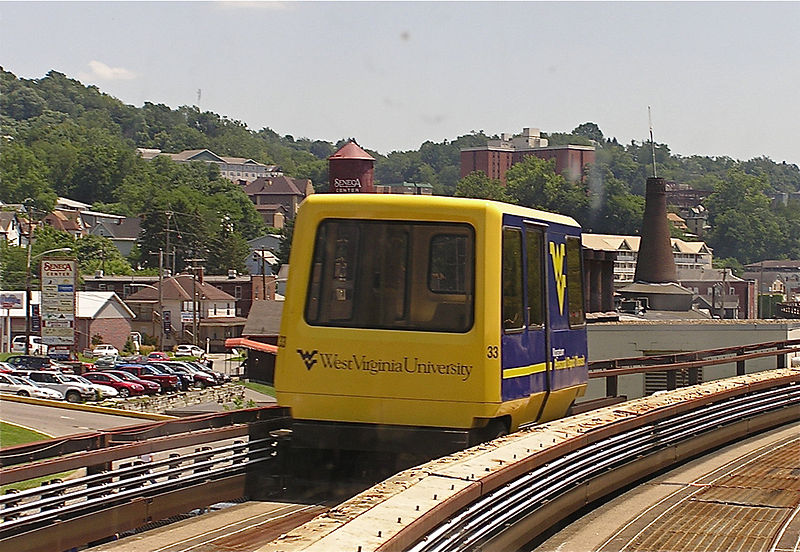 The Mr. & Ms. Mountaineer Contest has been held in conjunction with Mountaineer Week since 1962. Each year, the long-awaited announcement of Mr. & Ms. Mountaineer is presented to the Mountaineer fans at the halftime festivities of the Mountaineer Week Football Game. Down through the years, the Mr. & Ms. Mountaineer have represented West Virginia University and our great mountain state. This prestigious award honors one male and one female student who have a record of academic achievement and extracurricular involvement. Along with the announcement of Mr. & Ms. Mountaineer, is the naming of the Most Loyal West Virginian, the Most Loyal Alumni Mountaineer, the Most Loyal Faculty Mountaineer, and the Most Loyal Staff Mountaineer for their accomplishments to the state and West Virginia University. Our Mountaineer Week Royalty will be named at half-time of the WVU versus Connecticut Football Game to be held on Wednesday, November 2, 2005, at 7:30 P.M. at Mylan Puskar Stadium.
The Mountaineer Mascot has represented West Virginia University's athletic teams, students, and alumni since 1927. In addition, each Mascot represented something even more – the Mountaineer spirit that is spread throughout the great state of West Virginia. In 1993, the first-ever Mountaineer Mascot Reunion was held during Mountaineer Week. At this humbling event, thousands of blue and gold fans welcomed back home our former Mountaineer Mascots who were chosen by Mountain Honorary for outstanding enthusiasm and character. At this first-ever gathering, it was decided that a Mascot Reunion would be held every five years during Mountaineer Week. In this regard, a Second Reunion was held in 1997, a Third in 2002, and we look forward to our Fourth in 2007. The current Mountaineer Mascot is Derek Fincham, a religious studies graduate now pursuing a master's degree in rehabilitation counseling, from Petersburg, West Virginia.
The year 2005 will mark the Second Annual Mountaineer Week Mountaineer Idol Competition on the campus of West Virginia University. The competition is open to WVU students only. The event is sponsored by Mountaineer Idol, Fox 46, and Coke-A-Cola [Coca-Cola]. Throughout the six-week competition, various genres of music will be highlighted such as pop, country, R&B, and rock. On Sunday, October 30, 2005, the Mountaineer Idol will be named at the official kick off to Mountaineer Week 2005. For more information on our Mountaineer Idol Competition, please click on Mountaineer Idol. [Editor's note: this is why I think that this piece was originally written for a webpage]
Some of the highlighted events for Mountaineer Week 2005 will be the return of The Bee Beard Man, Mr. Steve Conlon from Thistle Dew Farm. If you want to BEE fascinated, please come to the Mountainlair Food Court on Friday, November 4, 2005, for an 11:00 A.M. show and a 1:00 P.M. show. Family Fun Day will be held on November 5, 2005, from noon – 5:00 P.M. Family activities will be held such as marble contests, special appearances by numerous celebrities, cake walks, local police and firemen appearances, storytelling, horse and buggy rides, clogging, and much, much more.
Fifty-seven years of culture and heritage is etched in the minds and hearts of Mountaineers as they remember Mountaineer Week on the campus of West Virginia University. Our WVU Students need to be reminded of the heritage that has made West Virginia what it is today. Therefore, we invite all members of our student body, faculty, staff, community, and state to join us on October 30 – November 6, 2005, as we celebrate – Mountaineer Week!
Prepared by: Sonja L. Wilson
Mountaineer Week Advisor"
One Response to 'Mountaineer Week Collection'
dean Says:
August 28th, 2019 at 1:28 pm

I spent a solid 5 years involved with Mountaineer Week in various capacities and am confident that the swell of programs in the 1976-78 era cannot be matched. We worked really hard to reach and stretch for programmatic events. From a country auction to the quilt show and far beyond we had an enviable smorgasbord of activities. Now, decades later, I remain proud of the content of those Mountaineer Weeks and my friends who helped make it all possible.
Leave a Reply