Posted by Monte Maxwell.
September 25th, 2019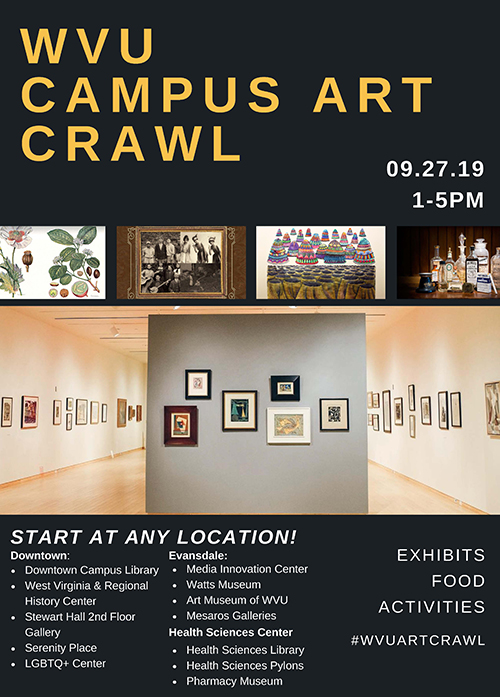 West Virginia University Libraries encourages University and Morgantown community members to participate in the Campus Art Crawlon Friday, Sept. 27, 1-5 p.m.
This collaborative event includes 11 stops with fascinating exhibits ranging from topics like photography to education, Appalachia to LGBTQ history. Spanning all three campuses – Downtown, Evansdale and Health Sciences – the Campus Art Crawl will feature exhibits, activities, food, and drink. Participation and admission is free. Hours will differ at some locations.
Downtown Campus
"Appalachian Futures," free cookies from Insomnia, Downtown Campus Library
"Constructing a Life: A Visual Response to Educated," Stewart Hall, 2nd Floor Gallery.
"Picturing West Virginia: Early Photography in the Mountain State, 1840-1915," and simulated 19th century photography studio, West Virginia & Regional History Center, Downtown Campus Library.
"Journey through an Addiction" by Ruth Blackwell Rogers, light snacks and refreshments, Serenity Place.
"Art in LGBTQ+ History," LGBTQ+ Center
Evansdale Campus
Elaine McMillion Sheldon's "Be Still" photo exhibit, Media Innovation Center Evansdale Crossing, 4th floor, 1-4 p.m.
Filipppo Tagliati and Jay Ryan solo exhibits, Mesaros Galleries, Creative Arts Center.
Coal Camp Photography exhibit, light refreshments, Royce J. and Caroline B. Watts Museum, Mineral Resources Building.
"Collective Insight: The Harvey and Jennifer Peyton Collection," Free buttons!, Peyton Terrace: Live music Tony From Bowling 3:00 – 4:00, The Art Museum of WVU, 12:30-4:30 p.m.
Health Sciences Center
"Pick Your Poison: Intoxicating Pleasures & Medical Prescriptions," Health Sciences Center Library.
"West Virginia Women and Seeing Figuratively: A Series of Prints," Health Sciences Center Pylons, coffee and cookies available.
"18th and 19th Century Pharmacy Memorabilia," Cook-Hayman Pharmacy Museum at the WVU School of Pharmacy, 3-4 p.m.
Leave a Reply