Posted by Monte Maxwell.
October 16th, 2019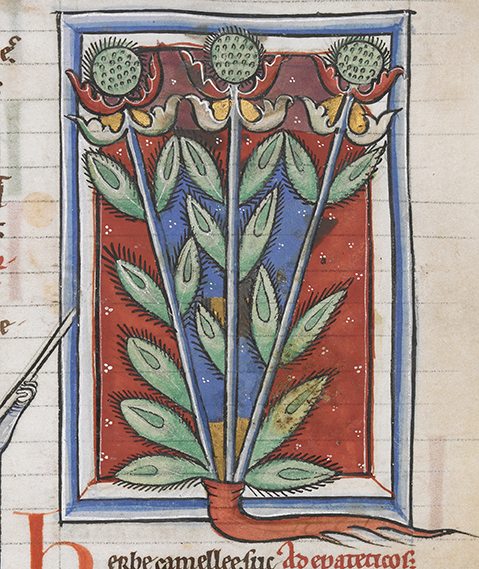 English Professor Lara Farina, winner of the 2019 Faculty Exhibit Award, will talk about her research and exhibit Thursday, Oct. 24, at 4 p.m. in the Downtown Campus Library, Room 1020.
WVU Libraries' Arts in the Libraries committee selected Farina, a professor in the Eberly College of Arts and Sciences Department of English, for her proposal of an exhibit that visually showcases her scholarship in a new and experimental way.
Farina's recent research focuses on the botanic world in pre-modern medicine, philosophy, art, and literature, specifically that of Late Antiquity and the Middle Ages. Her exhibit, "Big Green Data: Herbals, Science, and Art," introduces viewers to historic herbals, the art and literature they inspired, and present-day correlatives. Illustrations from premodern herbals and encyclopedia with some from botanical works in the West Virginia and Regional History Center's Rare Books collection, and the WVU Herbarium are highlighted.
"With environmental concerns looming large, the question of how we count and account for biodiversity is an urgent one, but we are not the first people to wrestle with it," Farina said. "Pre-modern cultures developed tools of categorization that set templates for those of today. I'm interested in herbals as material artifacts as well as sources of information; their massiveness, as I argue in a recent article, both responds to the particular challenges posed by the vegetal world and perpetuates the use of plants as metaphor for the excessive in art and literature."

The exhibit will be on display in the Downtown Campus Library through December 30 and then at the Evansdale Library from January through May 2020.
Caption: "The Fruit of the Mandragora," illumination from Tacuinum Sanitatus (Vienna, Österreichische Nationalbibliothek, Codex Vindobonensis S. N. 2644, fol. 40), mid-1300s.
Leave a Reply