Posted by Monte Maxwell.
December 20th, 2019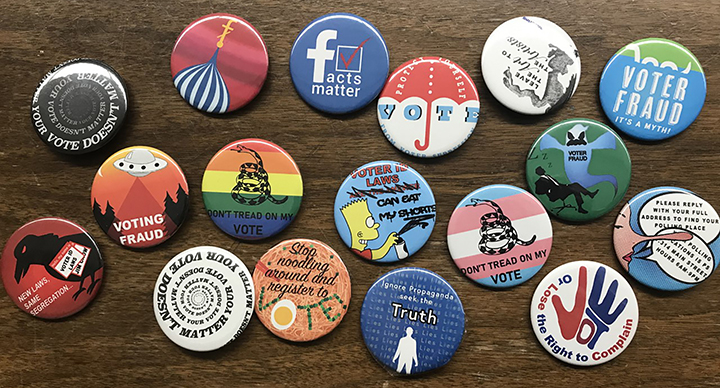 The submissions deadline is Jan. 17, 2020 for West Virginia University Libraries' art exhibition to mark the 100th anniversary of the ratification of the 19th amendment to the U. S. Constitution, which granted women the right to vote, and the 55th anniversary of the Voting Rights Act of 1965, which enforced voting rights for racial minorities.
"Undefeated: Canvas(s)ing the Politics of Voter Suppression since Women's Suffrage" will open at the Downtown Campus Library in fall 2020 and address the political process with special attention to efforts to suppress the votes of women and minorities since 1920.
Voter suppression involves using questionable tactics to discourage or prevent specific groups of people from voting.
"Artwork will be a major component in the exhibit, as artwork, advertising and photography played and continues to play a large role in suffrage, voting and policy," said Sally Deskins, exhibits and programs coordinator for WVU Libraries.
An advisory committee consisting of regional scholars, creatives and professionals are collaborating to curate the educational content and select the artwork organized in themes: information/disinformation, access/intimidation, legislation/legal questions, voter fraud and advocacy/action.
Already online is a West Virginia suffragette digital exhibit, wvuonlineexhibits.wixsite.com/wvsuffragettes, that Libraries intern Erin Fields created for Art in the Libraries program.
In addition, WVU Libraries is part of several national initiatives celebrating the centennial of women's suffrage, including:
The Women's Suffrage Centennial Commission, 2020centennial.org, was created by Congress in 2017 "to ensure a suitable observance of the centennial of the passage and ratification of the 19th Amendment."
The 2020 Women's Vote Centennial Initiative (WVCI), womensvote100.org, is a volunteer initiative composed of dozens of organizations including the National Women's History Museum, The National Susan B. Anthony Museum and House, National Museum of American History, Smithsonian Institution and National Museum of American Illustration.
The Feminist Art Coalition (FAC), feministartcoalition.org, is a platform for art projects that "fosters collaborations between arts institutions that aim to make public their commitment to social justice and structural change."
Also within the Libraries, the West Virginia & Regional History Center plans to focus its 2020 West Virginia Day celebration around West Virginia suffragettes and West Virginia women in celebration of the centennial. The WVRHC and WVU Libraries are also part of a statewide initiative, organized by West Virginia Secretary of State's Office, gathering and promoting events and projects via web and social media presence.
There are sponsorship opportunities involving exhibition installation, events, publicity and programming. Sponsors will have opportunities to hold events in conjunction with the exhibit throughout the year.
This call for artwork is open to the public. Submission guidelines and other specifics are available on the Libraries' website, exhibits.lib.wvu.edu/gallery_undefeated.
For questions, contact Deskins at sbdeskins@mail.wvu.edu or 304-293-0369.
Leave a Reply