Posted by Monte Maxwell.
January 14th, 2020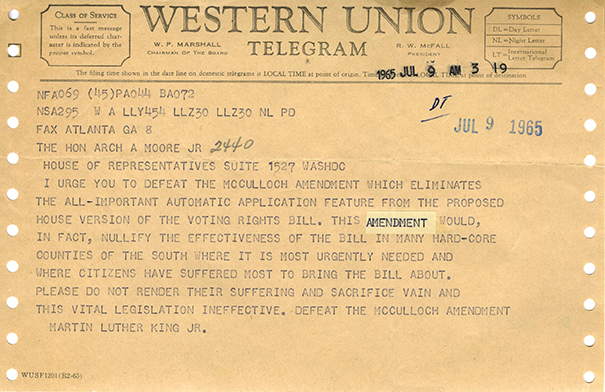 West Virginia University Libraries' new exhibit marks the 55th anniversary of the passage of a landmark piece of civil rights legislation. "For the Dignity of Man and the Destiny of Democracy: The Voting Rights Act of 1965" is on display now through the end of 2020 in the Downtown Campus Library's Rockefeller Gallery.
Enacted 150 years ago in 1870, the Fifteenth Amendment established that the right to vote could not be denied on the basis of race. Yet African Americans, particularly those residing in southern states, continued to face significant obstacles to voting. These included bureaucratic restrictions, such as poll taxes and literacy tests, as well as intimidation and physical violence.
Little was done at the federal level to enforce Reconstruction Era laws, including the Fifteenth Amendment, until the mid-twentieth century. Even after the passage of civil rights bills, discriminatory practices depressed voter registration rates for African Americans living in the South. When civil rights activists organized a voting rights campaign in Alabama in 1965, it culminated in violence on March 7 when Alabama state police brutally attacked peaceful marchers in Selma. The event caused an outpouring of support for a bill protecting the right to vote for all Americans.
In August 1965, President Lyndon Johnson signed the Voting Rights Act into law, finally fulfilling the promise of the Fifteenth Amendment.
The exhibition examines the long history of the Voting Rights Act, the debates over its passage in Congress, and its legacy. Most of the materials exhibited come from the Arch A. Moore Jr. congressional papers at the West Virginia & Regional History Center.
In this July 1965 telegram, Dr. Martin Luther King Jr. urges Congressman Arch Moore to vote against the McCulloch amendment to the Voting Rights Act, which removed automatic triggers from the bill. The House rejected the measure 166 to 215. From the Governor Arch A. Moore Jr. papers, West Virginia & Regional History Center.
One Response to 'WVU Libraries opens exhibition on Voting Rights Act of 1965'
amir Says:
January 15th, 2020 at 8:04 am

remembering and re-studying an old amendment including women rights to vote is very interesting.
Leave a Reply