Posted by Jane Metters LaBarbara.
February 25th, 2020
Blog post by Stewart Plein, Assistant Curator for WV Books & Printed Resources & Rare Book Librarian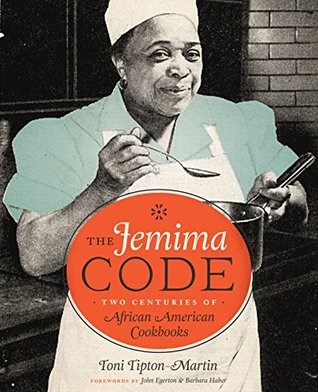 A new book on our shelves, The Jemima Code: Two Centuries of African American Cookbooks, by Toni Tipton-Martin, documents more than 150 black cookbooks published in America. The cookbooks range from a rare 1827 house servant's manual, the first book published by an African American in the trade, to modern classics by authors like Edna Lewis. Each book is listed chronologically and illustrated with their covers. Recipes are also included. According to the listing on Amazon, this book "offers important firsthand evidence that African Americans cooked creative masterpieces from meager provisions, educated young chefs, operated food businesses, and nourished the African American community through the long struggle for human rights."
When I first began flipping through the book's pages I was struck by how many of the cookbooks were already in our collection. The Lucinda Ebersole Cookbook collection, which has been documented in earlier blog posts, also contains many of the African American cookbooks featured in The Jemima Code. You can read what Ms. Ebersole had to say about The Jemima Code prior to its publication in her blog, Cookbook of the Day.
Inspired by this book and our collection of African American cookbooks, I've recently created an exhibit in the West Virginia and Regional History Center. I've expanded the exhibit to reflect three centuries of cookbooks, including one from the 21st century by a former English professor at WVU. Selected books from the exhibit are shown here.
The title of The Jemima Code was based on the fictional advertising character of "Aunt Jemima." Unlike the fictional Aunt Jemima used to market maple syrup and pancake mix in television and magazine advertising campaigns, the authors of the cookbooks in our collection, such as Aunt Caroline, Mary Ellen Pleasant, (referred to as Mammy Pleasant on the cover of her book) and Lena Richards were all real people.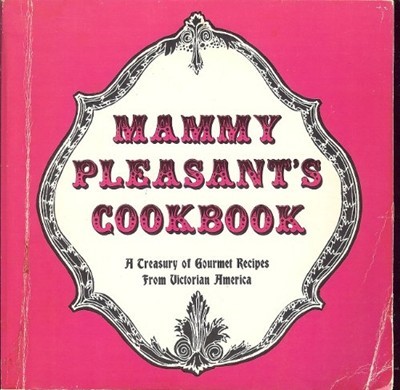 Words, like "mammy," and the stereotypical representations that accompanied them, are offensive to us today, but words like this were still in common usage during the period when many of these cookbooks were published. Mary Ellen Pleasant, whose recipes make up Mammy Pleasant's Cookbook: A Treasury of Gourmet Recipes from Victorian America, (1970) was born into slavery and, according to the author, was sold at the age of 9 to a wealthy planter in Missouri who provided her with an education.
Along the way her frequent travels took her to New England where she learned to cook, then to plantations where she mastered southern cooking and finally, to New Orleans, where she refined her culinary art. Mary Ellen Pleasant would go on to become one of the most famous cooks in 19th century America, and friend to prominent activists, including Frederick Douglass and John Brown.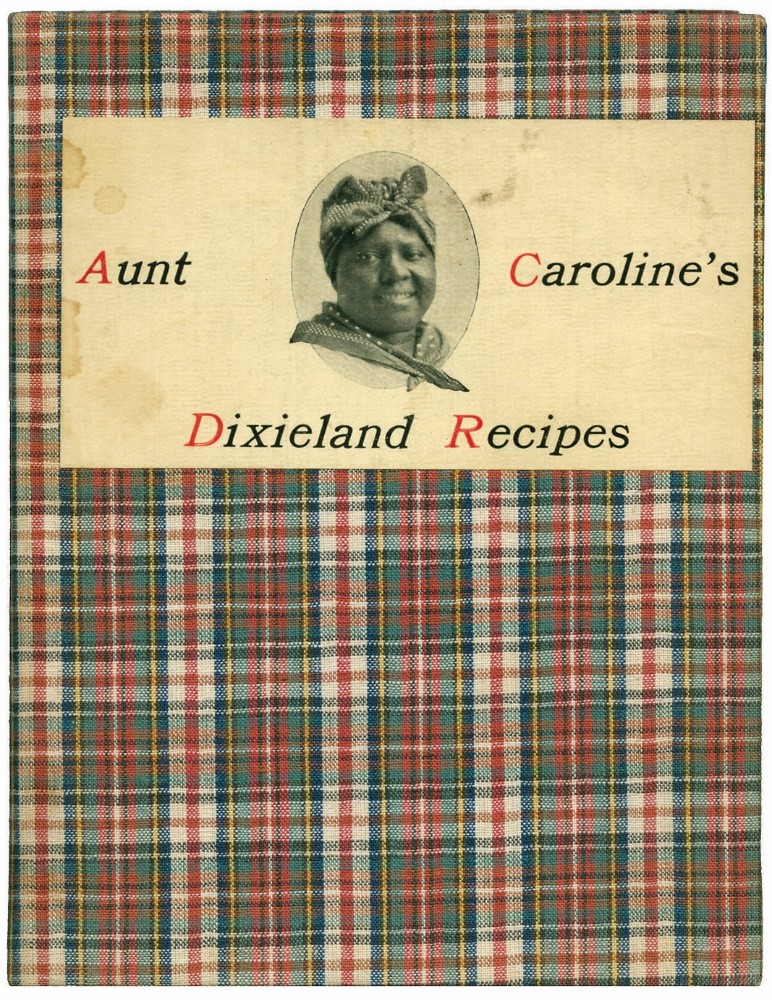 Caroline Pickett, known as Aunt Caroline to the author, is described as part of the "sweet memories of a happy childhood spent in the atmosphere of the plantations and cabins of Virginia under the benign influence of Aunt Caroline." The recipes in Aunt Caroline's Dixieland Recipes (1922) were said to have been drawn from her "treasured memories."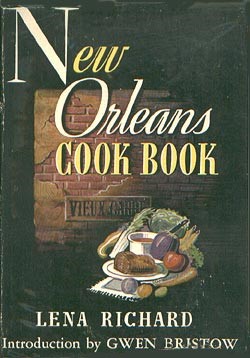 Lena Richards was born in Louisiana in 1892. She was known as 'the Queen of Creole Cooking" for her catering, her cooking school, and the many restaurants she owned and operated. She was also a pioneer, hosting a cooking show on NBC in the 1940s. Richards' book, New Orleans Cookbook (1940) was published near the height of her popularity.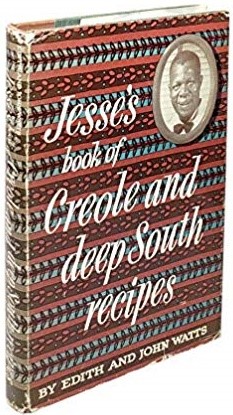 Men could hold their own ground when it came to cooking. Jesse Willis Lewis's cookbook, Jesse's Book of Creole and Deep South Recipes (1954), is one of the best. Born and raised in Mississippi, he learned to cook the hard way, on a tug boat traveling the Mobile – New Orleans route. Following those early days Lewis worked for Marshall Ballard, the editor of the newspaper, the New Orleans Item. Lewis cooked for Ballard and his family for 40 years. His meals, according to the book's notes, served to the governors, actors, archbishops, newspapermen and musicians who dined at the Marshall table, became legendary.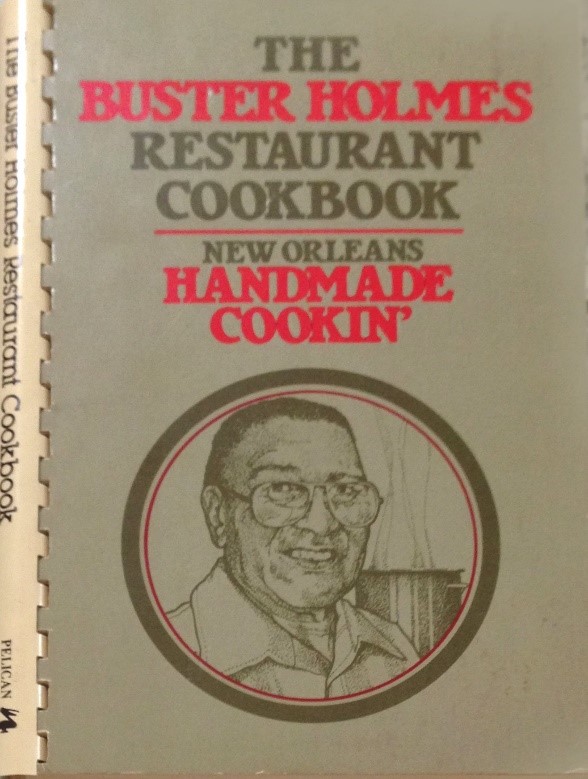 Buster Holmes Restaurant Cookbook (1983). Holmes was born in Louisiana in 1907. He learned to cook as a child. At the age of 16 he put together that most famous of southern sandwiches, the "po' boy" for dock workers. Eventually Holmes opened his own café, followed by a popular restaurant where he served his signature dish, red beans and rice.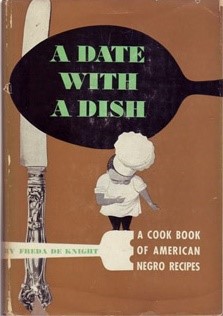 A Date with a Dish: A Cookbook of American Negro Recipes (1948). The collected recipes in this volume represent a wide variety of cultures as well as recipes collected from across the United States. The author, Freida De Knight, was the Cooking editor for Ebony magazine.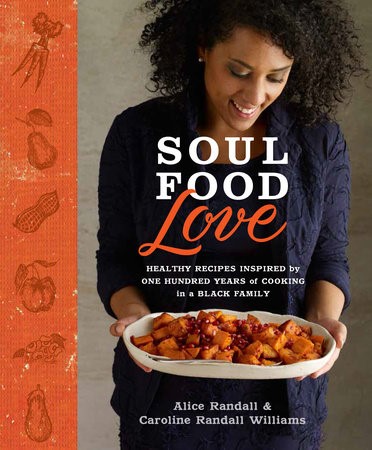 Caroline Randall Williams, a former English professor here at WVU, and her mother, Alice Randall, trace the history of their family through the kitchens, cooks and dishes they served in their cookbook, Soul Food Love. (2015).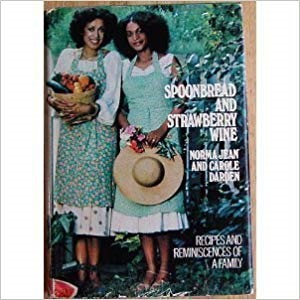 Spoonbread and Strawberry Wine (1978). Sisters Norma Jean and Carole Darden trace their family's recipes through their matriarchs, reaching beyond food to include beauty and herbal remedies.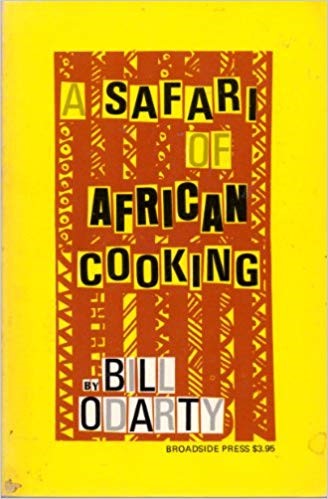 A Safari of African Cooking (1971), by Bill Odart. Born in Ghana, West Africa in 1938, Odart became frustrated after moving to Washington D.C. when he couldn't find an authentic, indigenous African cookbook, so he wrote it himself.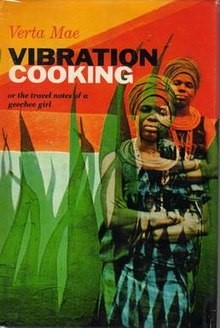 Vibration Cooking or the Travels of a Gee Chee Girl (1970), by Verta Mae. Part autobiography, cookbook, travel diary, cultural commentary and social satire, Mae structured her recipes as focal points in her life. When Vertamae Smart Grosvenor, as she was known later in life, passed away, Lucinda Ebersole wrote about her cookbook in her blog.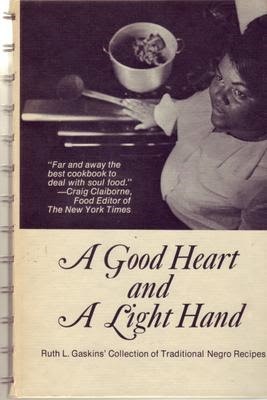 A Good Heart and a Light Hand (1968), Ruth L. Gaskins. According to her introduction, Gaskins says the recipes she's collected over the years require only two ingredients, "a good heart and a light hand." These recipes emerged from the basic ingredients available to enslaved people, what they were given and what they could gather for themselves, in order to create meals that sustained families for over three hundred years. Lucinda Ebersole wrote about A Good Heart and A Light Hand in her blog, Cookbook of the Day, where she chronicled the books in her extensive cookbook collection.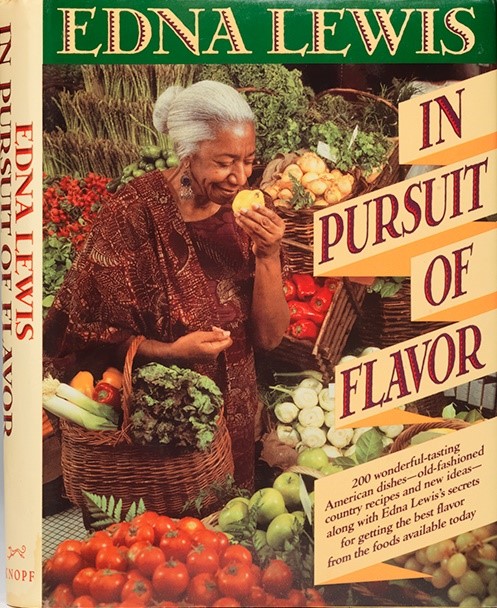 Edna Lewis's cookbooks, In Pursuit of Flavor (1988) and its predecessor, The Edna Lewis Cookbook (1972), document the tantalizing recipes Lewis grew up eating in Freetown, Virginia, where she was born. A reliance on these old family recipes brought acclaim to her restaurant and catering enterprises.
If you'd like to see the exhibit, or any of the cookbooks in this post, please stop by the West Virginia and Regional History Center.
Resources:
Amazon: The Jemima Code by Toni Tipton-Martin. https://www.amazon.com/Jemima-Code-Centuries-American-Cookbooks/dp/0292745486
"Out of the Shadow of Aunt Jemima: The Real Black Chefs Who Taught Americans to Cook." By Lisa Hix. January 22nd, 2016. https://www.collectorsweekly.com/articles/out-of-the-shadow-of-aunt-jemima-the-real-black-chefs-who-taught-americans-to-cook/
Eat Your Books: "Rediscover Your Cookbooks:" https://www.eatyourbooks.com/library/134966/mammy-pleasants-cookbook-a-treasury
"The Martha Stewart Of New Orleans: Lena Richards (1892-1950)" http://www.creolegen.org/2015/10/04/the-martha-stewart-of-new-orleans-lena-richard-1892-1950/
Amazon: Jesse's Book of Creole and Deep South Recipes: https://www.amazon.com/Jesses-book-Creole-South-recipes/dp/B0006ATU96
Auction Finds: "Freda DeKnight's Ebony cookbook embraced black chefs, cooks & caterers." Posted by sherry on 12/02/19 https://myauctionfinds.com/2019/12/02/freda-deknights-ebony-cookbook-embraced-black-chefs-cooks-caterers/
Penguin Books: Soul Food Love: https://www.penguinrandomhouse.com/books/229118/soul-food-love-by-alice-randall-and-caroline-randall-williams/
Amazon: A Safari of African Cooking: https://www.amazon.com/Safari-African-Cooking-Bill-Odarty/dp/0910296634
Wikipedia: Vibration Cooking: https://en.wikipedia.org/wiki/Vibration_Cooking See also Lucinda Ebersole blog, "Cookbook of the Day:" https://cookbookoftheday.blogspot.com/2016/09/requiescat-in-pace-vertamae-smart.html
Lucinda Ebersole blog, "Cookbook of the Day:" A Good Heart and a Light Hand: http://cookbookoftheday.blogspot.com/2014/09/a-good-heart-and-light-hand.html
Bauman Rare Books: In Pursuit of Flavor: https://www.google.com/search?q=in+pursuit+of+flavor+by+edna+lewis&sxsrf=ALeKk00xCZ9BrRIbQyFnvBVov4w6gqPcvQ:1582578958039&source=lnms&tbm=isch&sa=X&ved=2ahUKEwiEuf2EjuvnAhVjhXIEHa1zD-gQ_AUoBHoECBUQBg&biw=1920&bih=944#imgrc=HeZPfdnyyY5D5M
Leave a Reply