Posted by Jane Metters LaBarbara.
April 7th, 2020
Blog post by Lori Hostuttler, Assistant Director, WVRHC
Every year as Easter approaches, if you are lucky, you might catch the scent of baking bread and fragrant anise wafting in the air in my hometown of Clarksburg, West Virginia. Easter bread, sweet and flavored with anise seed, is a holiday ritual in the Italian-American community here. With roots stretching back to Calabria, making Easter bread is a foodways tradition that now thrives in North Central West Virginia.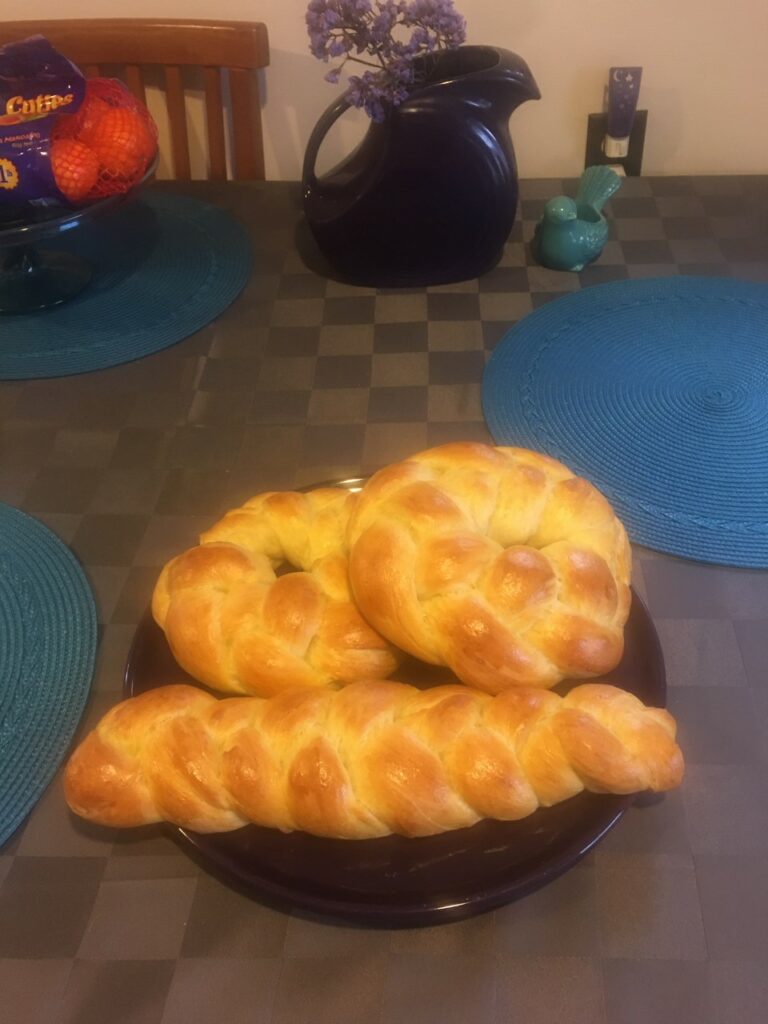 I remember the first time I tried Easter bread. I was 18 years old, working in my first office job. A co-worker brought a loaf that was a day or two old. She toasted me a piece and slathered it with butter. It was delicious and I was hooked! Especially at that age, I would not have guessed that I would have enjoyed the licorice flavor of anise, not if you had told me in advance that was the key ingredient. But the lightness of the bread, just slightly sweet, complemented the anise flavor so well that I didn't mind. I am not of Italian descent but I have always loved the Italian foods and traditions that are prevalent in Clarksburg. Easter bread is no exception.
According to Clarksburg native Rosalyn Queen Alonso in her cookbook, Arrivederci: Recipes and Customs Every Italian Girl Takes from Home (available in the WVRHC book collection), Easter bread, or muccellati, "is a tradition that all the women in the family participated in" and making the bread "was usually done on Tuesday or Wednesday of Holy Week."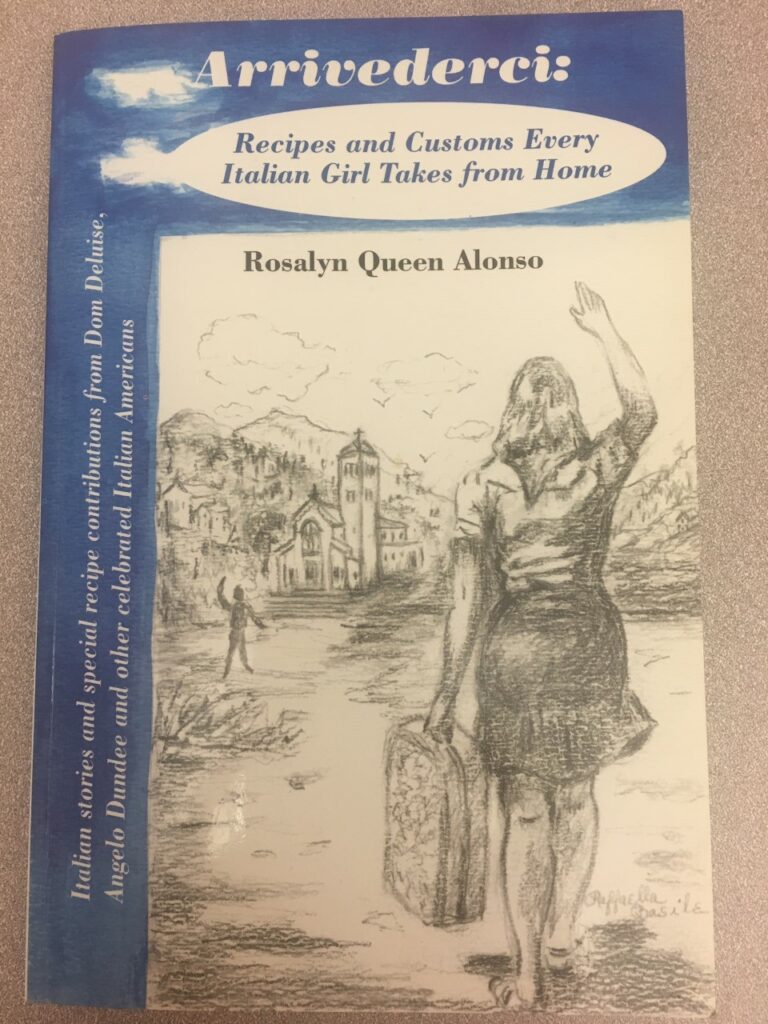 Anise seed is what makes this bread special. Anise is a plant native to the eastern Mediterranean region and Southwest Asia. In the fall, the flowers go to seed which is harvested for use as a spice and flavoring. The taste of anise, as mentioned above, is reminiscent of licorice, similar to the flavor of fennel. Alonso remembers her grandmother's relatives sending the anise seed from Italy. Folklorist and West Virginia native Joan Saverino also recounts this tradition in her blog post about Calabrian Easter Bread. Her grandmother received packages of wild anise seed, or ananzu, from her nephew living in San Giovanni in Fiore in Calabria until her death in 1988. The Calabrian seeds are black in color. While you may be able to find anise seed in your grocery store spice isle, you will not find the black seeds, only the brown ones. The black seeds are prized locally in Clarksburg. They are pricey and must be special ordered unless you have a family connection in Italy.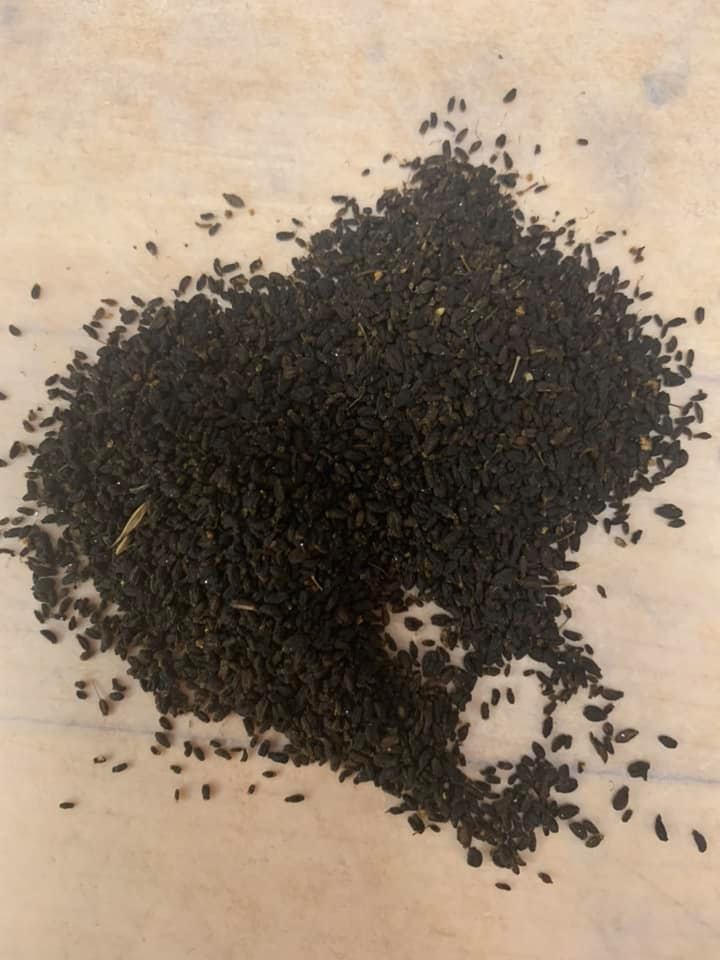 This beautiful and tasty bread can be baked in loaves, braids, or braided rings. Sometimes eggs are nestled in the curves of the braids and baked into the bread. The eggs can be colored, or as Alonso recommends, messages of love, hope, or peace can be written on the eggs. She also describes Easter bread baked in the shape of a little doll with an egg serving as the face.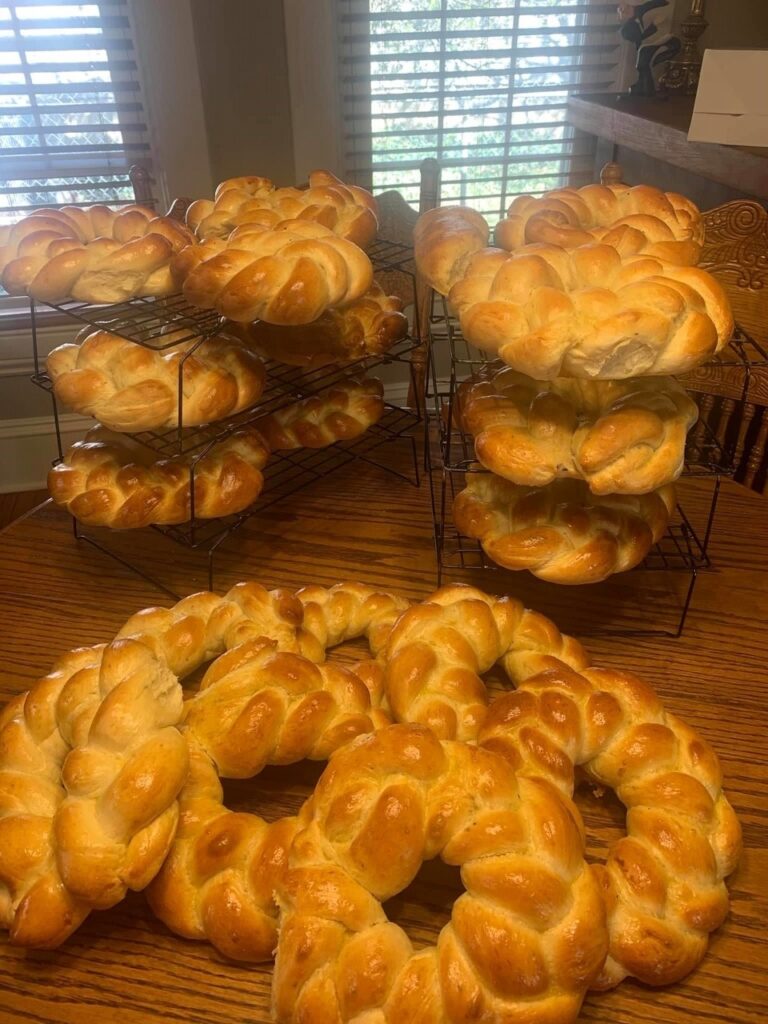 Recipes for Easter bread can be found in local cookbooks such as Alonso's. Commonly the recipes make a large batch, calling for five pounds of flour. It's so good, it doesn't last long, so it's a good idea to make a big batch. Also, part of the Easter bread tradition is sharing the bread with friends and family.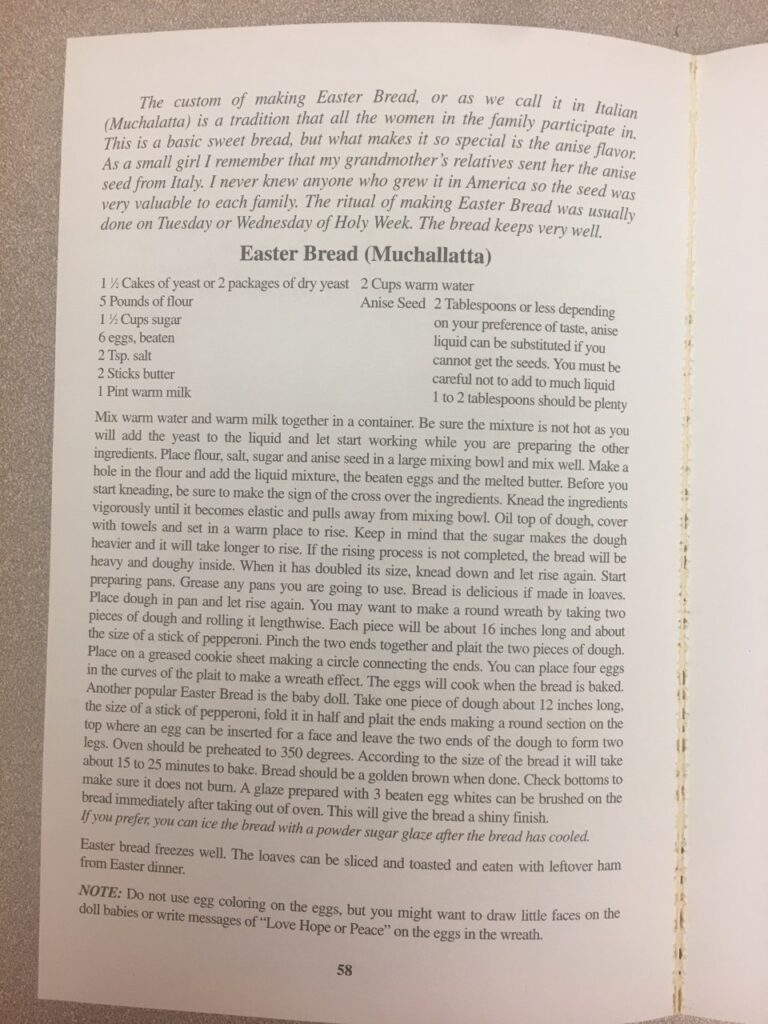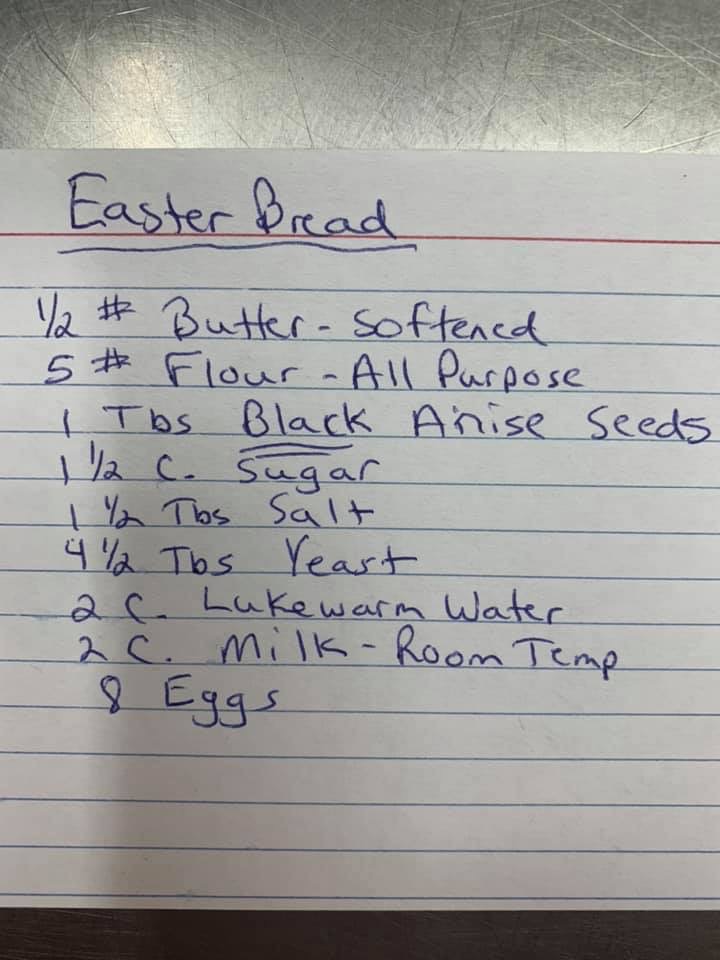 Both Alonso and Simon's recipes are very similar. I made a pared down version, cutting the recipe down to a fourth. I also don't have the traditional black anise seed, so I settled for pure anise extract.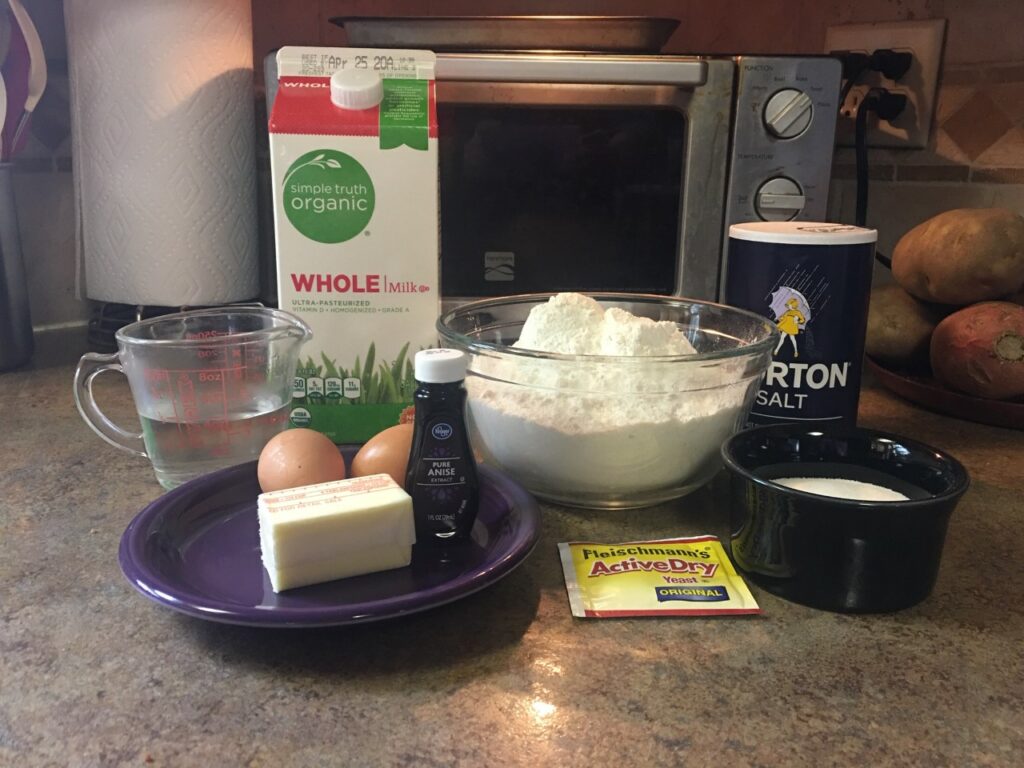 I mixed the water and milk together and dissolved the yeast packet in it. The water should be warm but not hot. I beat the eggs in a separate bowl and added the anise extract and cooled melted butter. In a large bowl, I mixed together the flour, sugar, and salt. I then added the wet ingredients to the dry ingredients.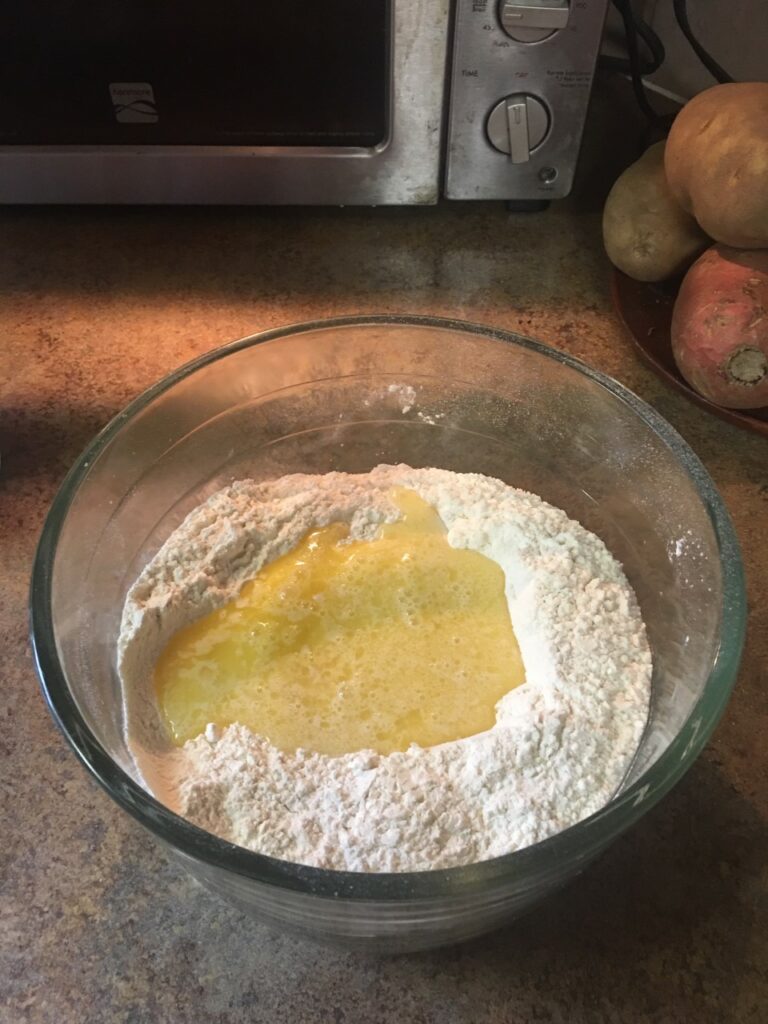 I mixed all the ingredients with a wooden spoon until they came together into a soft dough. I poured the dough out onto an oiled sheet of parchment and kneaded it by hand for about eight minutes or until the dough was smooth and pliable. I then placed the dough ball into an oiled bowl and let it rise until doubled. I punched down the dough and let it rise again. After the second rise, I cut and shaped the braids. I cut my dough into four sections. I cut each section into three strips that I then braided. I made three rings and one braid. I let the shaped dough rise again and then coated each with egg wash (1 egg plus 2 tablespoons of water) to make the finished bread shiny.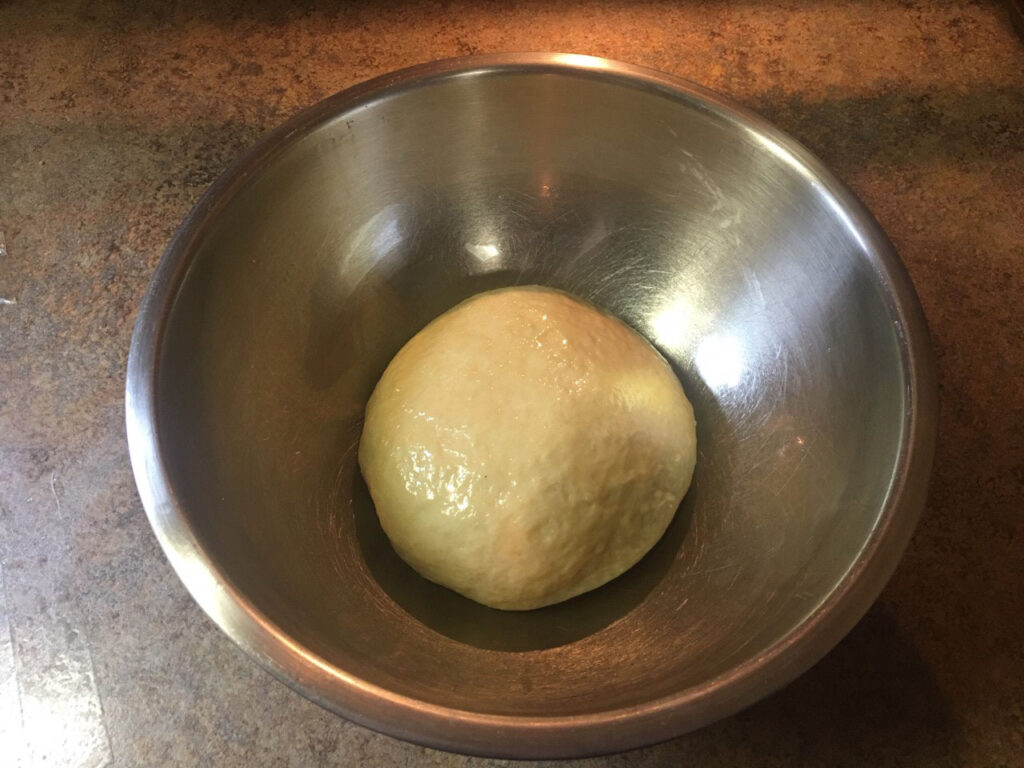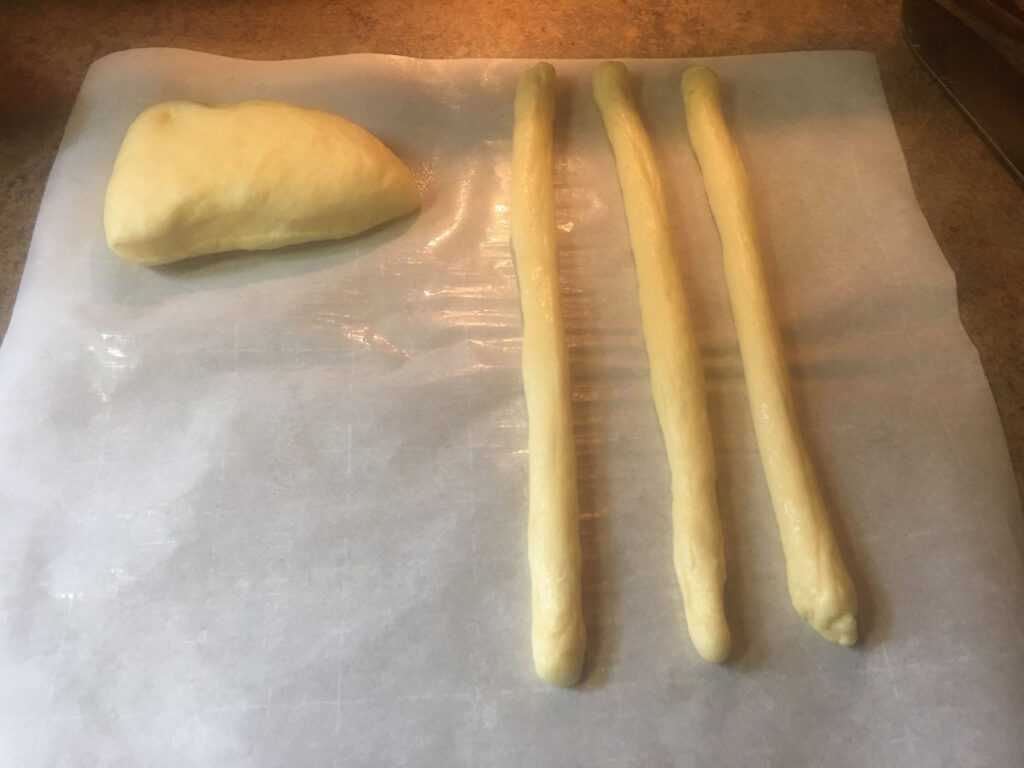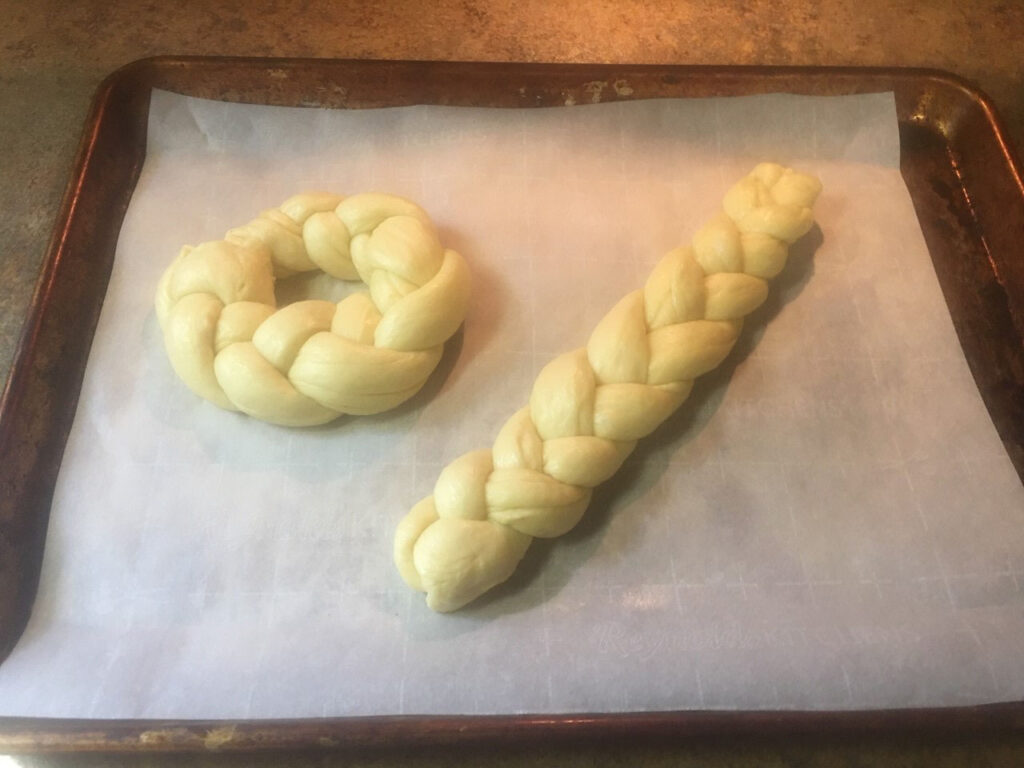 I baked the loaves for 20 minutes at 350 degrees. The baking time varies depending on the size of the loaves, so keep a close eye on it making sure the bottoms do not burn.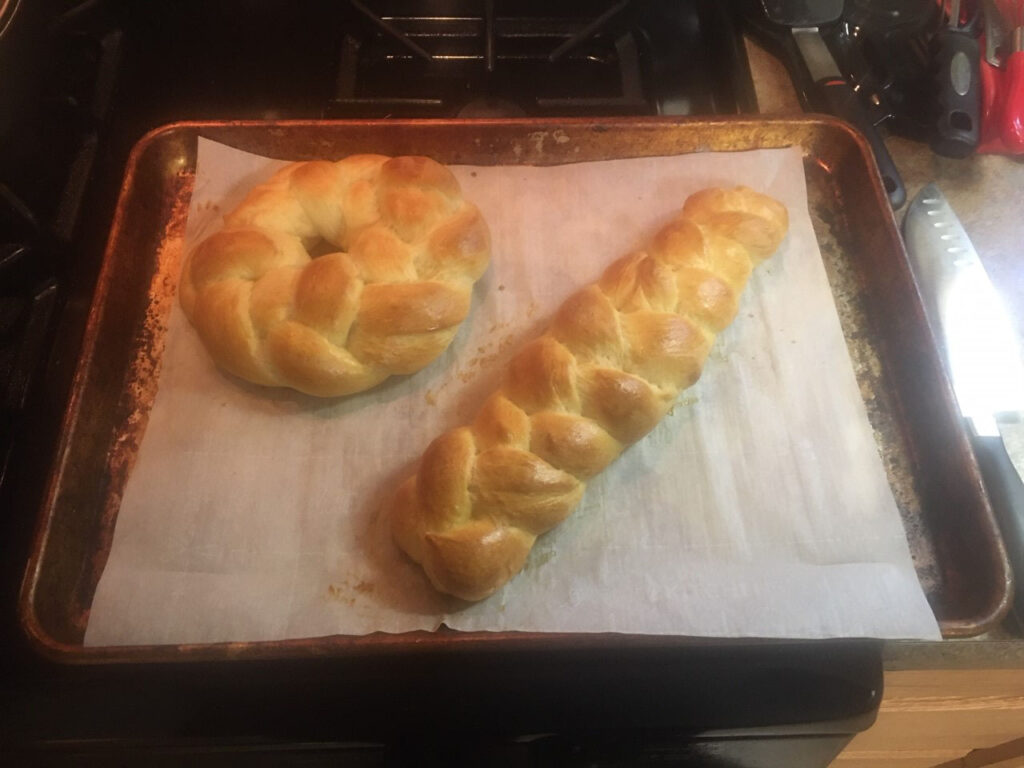 The tradition of making Easter bread has a special place in the memories of Italian families and their non-Italian friends alike. I hope you try the recipe!
Italian Easter Bread
(Makes 4 small loaves or two medium to large loaves)
20 oz. all purpose flour (Approximately 4 ¼ cups, but I recommend weighing the flour to be accurate)
½ cup white sugar
1 ¼ teaspoon salt
½ stick of unsalted butter (4 tablespoons)
½ cup warm milk
½ cup warm water
2 beaten eggs
2 teaspoons pure anise extract
1 packet Fleischman's Active Dry Yeast
Proof yeast in combined water and milk mixture. Mix dry ingredients. Add wet ingredients, stirring with a wooden spoon until a soft dough forms. Knead on an oiled surface approximately 8 minutes. Place in an oiled bowl and allow to double in size, approximately one hour. Punch down the dough and let rise until doubled again. After the second rise shape the dough into loaves, braids, or wreaths. Allow to rise again then coat with egg wash (1 egg beaten with 2 tablespoons water) for a shiny appearance.
Bake at 350 degrees for 15-25 minutes depending on the size of the loaf. Check bottoms to avoid burning.
Serve warm with butter.
A couple of notes:
For the purposes of this blog post, I hand mixed and kneaded the dough. A bread machine can also do this work for you. Just add all the wet ingredients first, then the dry on top, making a small well in the flour for the yeast packet. Use the dough setting and voila!
I only used 1 ½ teaspoon of anise extract in my batch and it was very light in anise flavor. I have upped to 2 teaspoons in the recipe above and you may add more if you like a stronger flavor.
2 Responses to 'The Tradition of Italian Easter Bread'
Barbara Adolfi Says:
November 20th, 2020 at 8:18 am

Thank you for capturing the essence of this wonderful Calabrian food treasure. My family is from Staletti' and Vallefiorita.
Barbara

Linda Says:
April 2nd, 2021 at 6:48 am

I made this bread yesterday with my 91 year old mother who was born in San Giovanni in Fiore She has the black anise seeds that were sent to her from Family in Italy. She did her bread from memory barely measuring anything. These recipes are very close to what we did. I find the blessing over the bread amusing. I remember my mom doing that every time she made bread. Thank you
Leave a Reply