Posted by Monte Maxwell.
July 22nd, 2020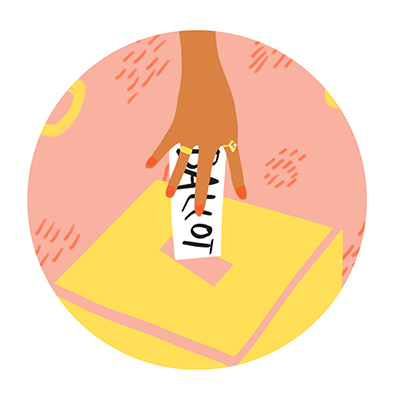 An online version of West Virginia University Libraries' exhibit Undefeated: Canvas(s)ing the Politics of Voter Suppression Since Women's Suffrage debuts with a virtual program on Aug. 7 from noon-1 p.m.
Marking the 100th anniversary of the ratification of the 19th amendment to the U. S. Constitution (granting women the right to vote), and the 55th anniversary of the Voting Rights Act of 1965 (enforcing voting rights for racial minorities), this exhibition centers on efforts to suppress the votes of women and minorities since 1920.
"This exciting exhibit is timely not only due to the anniversaries of voter inclusion events in our nation's history, but also timely due to new questions around access to voting that have arisen during this time of COVID-19," Dean of Libraries Karen Diaz said. "I think everyone will enjoy the artistic approach to presenting the issues through the campaign button motif."
As part of the opening webinar reception, print exhibit designer and College of Creative Arts Graphic Design Professor Eve Faulkes will speak on social justice graphic design theory. Exhibit curator Sally Brown Deskins will host the program. Register here: https://wvu.zoom.us/webinar/register/WN_hROXbEKAQfmY4J8DHCfdLQ
"Undefeated," the Libraries' third large collaborative exhibition, brings together several on and off campus partners. An advisory committee consisting of regional scholars, creatives and professionals collaborated to contribute the educational content and jury the artwork organized in themes: Information/Disinformation; Access/Intimidation; Legislation/Legal Questions; Voter Fraud; and Advocacy/Action.
The committee issued a call for artwork and received around 100 submissions from artists and designers nationwide. Using the template of the campaign button as a canvas, artists and designers nationwide responded to these themes and issues that are frequently overlooked.
A series of virtual programs, in collaboration with West Virginia Women Vote of Morgantown (an informal coalition of area organizations initiating projects around the suffrage centennial), will continue through the fall semester including presentations by West Virginia storyteller Ilene Evans performing as suffragist Coralie Franklin Cook; Eleanor Smeal, co-founder of Feminist Majority Foundation, a former president of the National Organization for Women and publisher of Ms. Magazine; Barbara Evans Fleischauer, member of the WV House; and Atiba Ellis, Professor of Law at Marquette University Law School on democracy, voting, and race. A tentative schedule is available on the Undefeated exhibit page, exhibits.lib.wvu.edu/gallery_undefeated.
Also, the online exhibit includes informational articles by the exhibit expert committee, an educational resource guide with curriculum ideas for faculty, and artwork.
The Downtown Campus Library will host the print installation from January through August 2021. This exhibit is generously supported by grants from the West Virginia Humanities Council, the WVU Community Engagement Grant, the WVU Humanities Center Collaborative Grant, and partners WVU Reed College of Media; WVU College of Creative Arts; WVU Division of Diversity, Equity and Inclusion; WVU Council for Women's Concerns; and MPB Print and Sign Superstore who will be completing the installation.
Other supporters include Adventure WV and Arts Monongahela. To see a list of the Exhibit Advisory Committee and more information, visit exhibits.lib.wvu.edu/gallery_undefeated.
The exhibit will become a digital exhibit living on the WVU Libraries' exhibits website and archived on the Research Repository @WVU, researchrepository.wvu.edu.
Leave a Reply