Posted by Jane Metters LaBarbara.
September 21st, 2020
Blog post by Stewart Plein, Associate Curator for WV Books & Printed Resources & Rare Book Librarian
A woman of many talents, Almira Hart Lincoln Phelps, (July 15, 1793 – July 15, 1884) was passionately engaged in the education of young women at a time when the ideal was marriage and children. Over the years she wrote many textbooks, but this volume, Familiar Lectures on Botany, from the West Virginia and Regional History Center rare book room, is perhaps her most popular and enduring.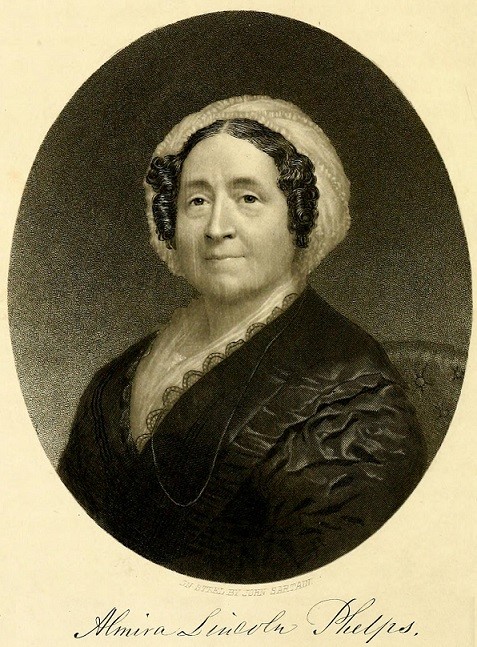 Familiar Lectures on Botany was her first textbook. Designed to teach young women natural history and the science of botany, the book went through nearly 40 editions with revisions made by her daughters.
The Rare Book Room copy is the fifth edition, revised and enlarged, and it goes by the formidable title, Familiar Lectures on Botany; Practical, Elementary and Physiological, with an Appendix, containing the descriptions of the Plants of the United States and Exotics, etc. For the Use of Seminaries and Private Students. It was published in Hartford by F.J. Huntington, 1836.
While many believe that the first edition of a text is the most important as well as the most valuable, that is not necessarily the case. The fifth edition, revised and enlarged with "many additional engravings." would be of greater interest due to the extra illustrations and their accompanying text.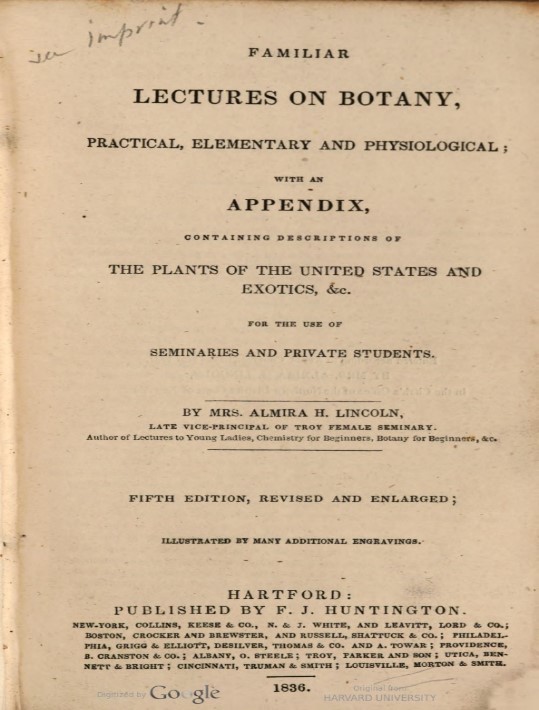 Born in Connecticut, Almira Hart came from a large family, the youngest of 17 children. Her parents strongly believed in education for young women. One of her older sisters, Emma Willard, pictured below, was a well-known educator, who taught herself geometry as a young girl. The Emma Willard School she founded in Troy, New York is still educating young women today. It was Emma who would teach the intellectually inquisitive and capable Almira.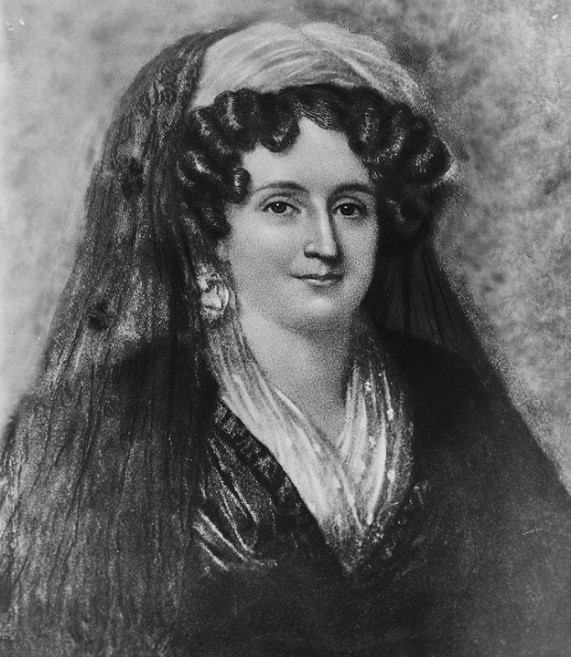 At that time, there were few schools dedicated to educating young women. In addition, academic institutions taught boys and girls separately at schools that were privately owned, not state supported. These schools were frequently operated under personal ownership, mostly by the educators themselves, such as Emma Willard's School for Young Women.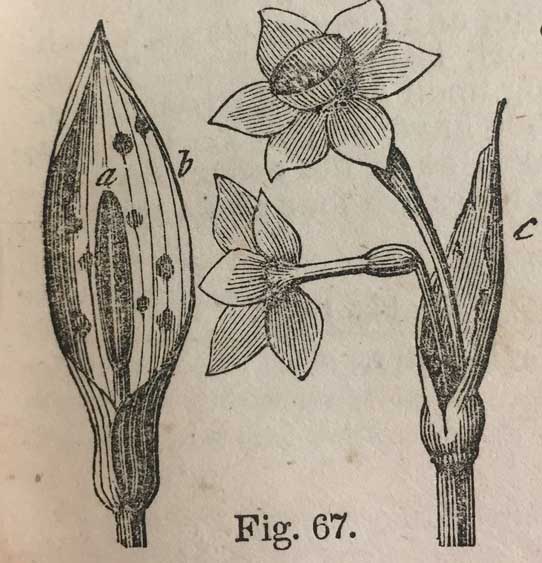 Another New Englander, the poet Emily Dickinson, was a student of botany at the Amherst Academy in her home town of Amherst, Massachusetts. She would often roam the woods, gathering plants, bringing them home to press, then pasting them onto pages, creating a personal herbarium that documented the world around her.
Dickinson's botany textbook was Phelps's Familiar Lectures on Botany. As her poetry was often filled with flowers, it is no surprise that her own copy of Phelps's textbook holds a pressed flower between its pages, placed there by Dickinson herself.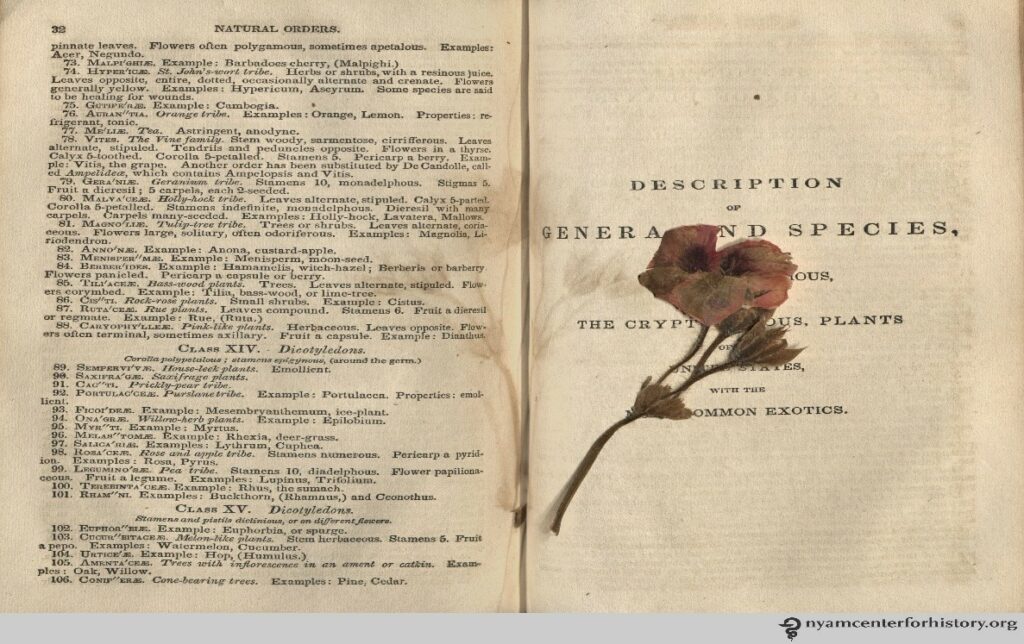 The original owner of the rare book room's copy of Familiar Lectures on Botany, was Ellen Beirne, of Belmont. Though we don't know which state she lived in, there are three towns named Belmont in New England, we do know that she was probably the first person to own this book. Published in 1836, the date she wrote beneath her signature, December 11, 1837, hints that she acquired it shortly after publication.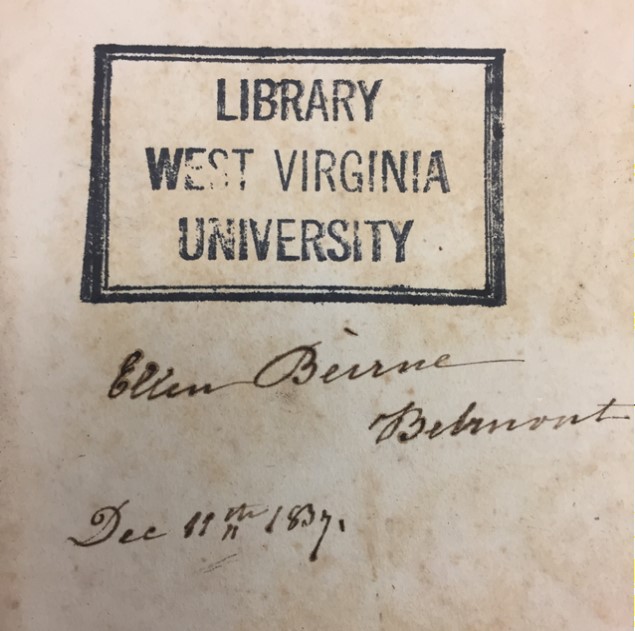 In this year, 2020, as we mark the centenary anniversary of women's right to vote and celebrate the suffragists that made it possible, it is interesting to note that Phelps, as a passionate advocate for the education of women, was fervently against women's suffrage.  Though she believed that women should be educated in the event that they would have to work outside the home, she spoke out against suffrage and wrote articles against it. 
The next time you take a walk and find your eye attracted to a beautiful wildflower along the way, think of Mrs. Almira Hart Lincoln Phelps and her Familiar Lectures on Botany, a book that educated an aspiring poet as well as many other young women who may not have had the opportunity to learn botany without her.
Resources:
Leave a Reply