Posted by Jane Metters LaBarbara.
March 8th, 2021
Blog post by Christina White, undergraduate researcher at WVU
This is the second post in White's series on race, justice, and social change through cookbooks, featuring the following books from the Ebersole collection: Mammy Pleasant's Cookbook, A Date with a Dish, A Good Heart and a Light Hand, and The Jemima Code.
W.E.B. Du Bois compared Mary Ellen Pleasant to Harriet Tubman. He said, "Here was a colored woman who became one of the shrewdest business minds of the State."
From "plantation lamb" to "smoked picnic tongue," Mary Ellen Pleasant cooked it all and saw it all on her careful rise to culinary stardom in Victorian America. She was born into slavery on a Georgia plantation. Her training in the culinary arts began early in childhood, and once she was freed, she combined cooking and business skills to climb the ranks in gold-rush San Francisco and on a river boat owned by wealthy financiers. She used her connections with powerful figures to find jobs for colored people and led an effort to desegregate San Francisco's streetcars, which established a legal precedent in the California Supreme Court for future civil rights suits (Thomas Jefferson Knowledge Institute). I'm left thinking, Where was this series of events in my American History class?
Taking her story closer to home, Mary Ellen was a leading figure in John Brown's uprising at Harper's Ferry. She financed his mission by donating $30,000, nearly $1 million in current money. When John Brown was hung in 1859 for treason, officials found a note in his pocket from an unknown, assumed-to-be-male source. It expressed complete support for the raid. That note was written by Mary Ellen Pleasant, self-made millionaire and West Virginia hero.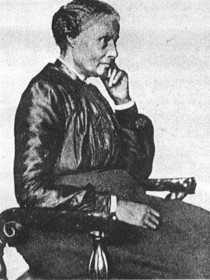 Mary Ellen's arduous journey is written between the lines of kitchen guidance, local recipes, and lists of common ingredients like nutmeg and bread crumbs. You get a sense of life's everyday essence in the words of a chef to a novice reader. It's conversational, light, yet studded with evidence of Mary Ellen's home and career at the time. This timeline of food showcases her major steps, characteristic recipes, and social position throughout her life.
She's a feminist leader whose name belongs beside modern icons like Simone de Beauvoir, Coretta Scott King, or Malala Yousafzai. I read about her campaign for justice in the pages surrounding quaint recipes for stews and cakes. No other book I've read detailed the process of stewing turtle meat with sherry wine or whipping cream with a rotary beater.
Like many women of color in the United States, Mary Ellen was artistically and academically restricted. She was blocked from etching her success, struggle, and feelings in popular documents. We must widen the reading lens of history, piecing together hidden accounts from secondary sources like cookbooks. Stories like Mary's, a brilliant entrepreneur, self-made millionaire, and important abolitionist, cannot remain shrouded by discrimination.
When you step back and absorb Mary's well-rounded recipes, you can almost taste her march toward self-empowerment and social change. As we move through this blog, let's celebrate the women who built modern food systems and simultaneously campaigned for freedom.
"I'd rather be a corpse than a coward." -Mary Ellen Pleasant
Resources:
Mary Ellen Pleasant's Timeline of Major Events: https://timelines.gitkraken.com/timeline/8afdcc6908984b1887c2dce8884f2b1d?range=1830-01-01_1879-08-08
(Dates are approximate, as they were not listed explicitly in the cookbook. Scroll over blue boxes to read more.)
Image of Mary Ellen Pleasant: https://en.wikipedia.org/wiki/Mary_Ellen_Pleasant
Source of quotes and more information about Mary Ellen Pleasant from the New York Times:
https://www.nytimes.com/interactive/2019/obituaries/mary-ellen-pleasant-overlooked.html
Leave a Reply