Posted by Monte Maxwell.
March 15th, 2021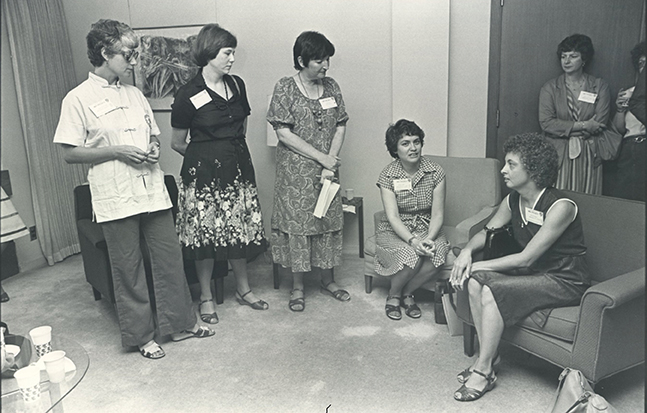 Art in the Libraries' Virtual Program Series will present "Don't Throw it Out!" a conversation about documenting women and the new West Virginia Feminist Activist Collection of the West Virginia and Regional History Center on March 19 at noon.
Panelists Judith Stitzel, Professor Emerita of English and Co-Founder of Women's Studies, and Carroll Wilkinson, University Librarian Emerita, come together with Lori Hostuttler, Assistant Director of the WVRHC, to discuss collecting and documenting women's lives, share some of their own photos, ephemera or objects, to encourage a broader and more accessible approach to archives and all it can encompass.
Exhibits Coordinator Sally Brown will provide introductions for this Women's History Month program. Register for the Zoom event here.
The WVRHC recently began developing the Feminist Archivist Collection, with diverse and rich documentation of some of the women and feminist activities throughout the state from past to present.
"This new focus in our archive seeks to tell the story of West Virginia women who have actively worked to improve the lives of women of all walks of life," Dean of Libraries Karen Diaz said.
In conjunction with the virtual program, WVRHC & Art in the Libraries will present an online exhibit with a selection of featured items from the Feminist Activist Collection.
Sign language interpreting and captioning services are available by request for participants who are deaf or hard of hearing. To request an interpreter or captioner, contact Jason.Kapcala@mail.wvu.edu at least three business days prior to the event.
Caption: The four members of the Morgantown National Endowment for the Humanities Women in the Community Project team are pictured here with Barbara Haber, Curator of Printed Books at the Schlesinger Library for the History of Women in America at Radcliffe College in Cambridge, Mass. Team members were Dr. Judith Gold Stitzel, Carroll Wetzel Wilkinson, Barbara Caron and Meredith Pearce, circa 1981. Carroll Wilkinson Collection.
Leave a Reply