Posted by Jane Metters LaBarbara.
March 22nd, 2021
Blog post by Christina White, undergraduate researcher at WVU
This is the third post in White's series on race, justice, and social change through cookbooks, featuring the following books from the Ebersole collection: Mammy Pleasant's Cookbook, A Date with a Dish, A Good Heart and a Light Hand, and The Jemima Code.
It's a tall order, de-mystifying the history of a group that was, and still is, slighted by a clear lack of representation. Delving into the Ebersole Collection of cookbooks, I unlocked a treasure chest of personal records on the issue of race. Now, I want to shine the limelight upon the recipes themselves. Let their components and technique do the speaking for women like Mary Ellen Pleasant and their prowess in the culinary arts. Despite the trope that Black women had "natural cooking talent", Mary's recipes show an impressive level of education and technical skill in the culinary arts.
First, compare the meals Mary provided her Black wait staff and elite guests at the ex-governor of California's dinner parties. She catered for Mr. Latham, the ex-governor and US Senator, with an international buffet that boasted boiled pigs feet and veal knuckle. She meticulously set tables with gold dinnerware. Apparently, the punch bowl had five types of wine mixed in — not your typical frat party.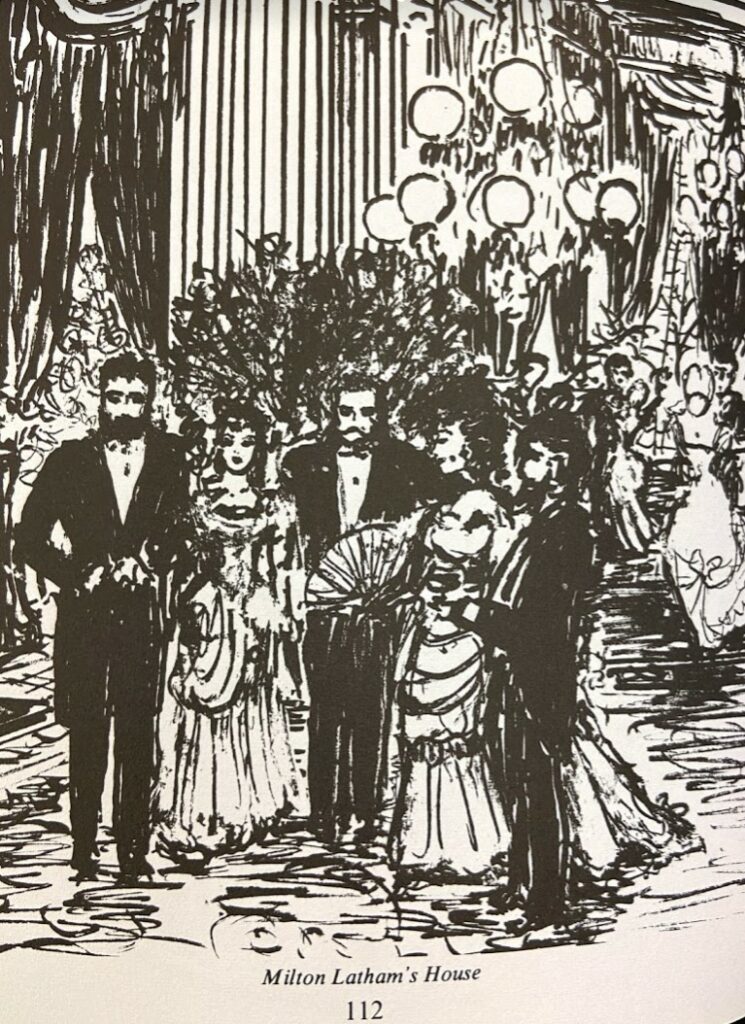 Here's a bit of her recipe for molded cucumbers, which Mary served to guests at New Year's Supper:
"Slice cucumbers and put into salted water… Put into the water 1 blade of mace, 1 teaspoon of peppercorns and ½ bay leaf… Put 6 tablespoonsful of gelatin in 1 cupful of water to dissolve… Add 1 cup of tarragon vinegar and several drops of green coloring… When the gelatine has set, drain the cucumbers, arrange in a layer in mold, pour the rest of the gelatine into the mold and let jell until firm…"
Whoo! I'd botch up at slicing the cucumbers. Every item sounds like something you'd learn at a prestigious school of culinary arts in Paris. Yet Mary, enslaved since birth, had no such education. She learned these techniques as a young girl and expanded her repertoire independently. She was fortunate to have her creations documented in this cookbook, as most Black women of her time didn't receive recognition for their tremendous and diverse culinary skills.
This is evidence that Black women trained and practiced cooking in a formal way, even if it didn't result in a formal certificate. There was, and remains, a stereotype that Black women are born with an intrinsic, homely knowledge of cooking, and that they exclusively whip up Southern comfort foods like fried chicken and gravy.
Jumping back to the food she'd serve to her Black staff members, here is a recipe for "Cheap John Rutabaga:"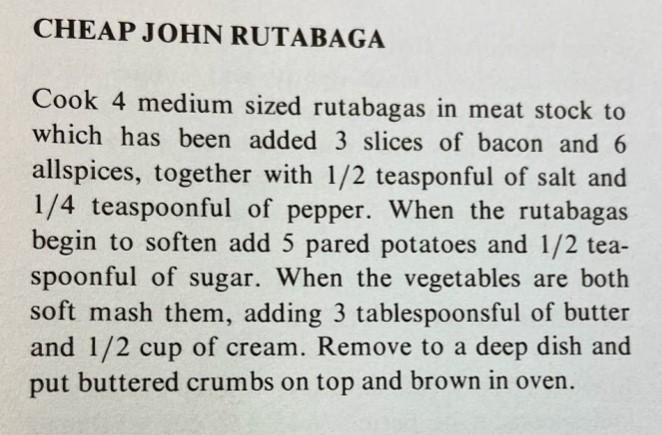 This is no walk in the park, either. The ingredients for Mr. Latham's guests at their lavish New Year's Supper party were expensive and imported, but the technique required to make the perfect rutabaga is formidable. When I first read the new section of recipes for Mary's staff, I was troubled by the "lesser" quality of food. The recipes tell a different tale, one of resourcefulness and creativity. The staff section includes sour-sweet bites that require a double boiler to get just right and an ingredient I've never heard of: caraway seeds. The ingredients used for Mr. Latham and Mary's staff may differ, but the thoughtfulness and technical merit are consistent across every page.
What the Thomas Jefferson Knowledge Institute has to add about Mary Ellen Pleasant can be found here.
One Response to 'I'll have the molded cucumbers and meat stock rutabaga, please'
Linda Says:
March 31st, 2021 at 12:32 pm

Go get some caraway seed and then cook you up some cabbage. Cabbage + caraway seeds = Yum!
Leave a Reply