Posted by Angela Spatafore.
May 17th, 2021
Blog post by Christina White, undergraduate researcher at WVU
This is the sixth post in White's series on race, justice, and social change through cookbooks, featuring the following books from the Ebersole collection: Mammy Pleasant's Cookbook, A Date with a Dish, A Good Heart and a Light Hand, and The Jemima Code.
Each recipe is a date! The author, Freda de Knight, introduces recipes with tidbits of history or personal advice. In the modern cookbook world, I get overwhelmed quickly. Each online recipe begins with paragraphs of extra tips on how exactly to roast this or marinate that, followed by bulleted lists of ingredients and instructions. A Date with a Dish slows down and eases you into the upcoming recipe, much like a girlfriend would sit me down to describe the guy she was setting me up with for a blind date.
A snippet of the preamble for "Smithfield Ham:"

Freda respects her contributors, radiating pride for Black chefs like Jimmy Daniels: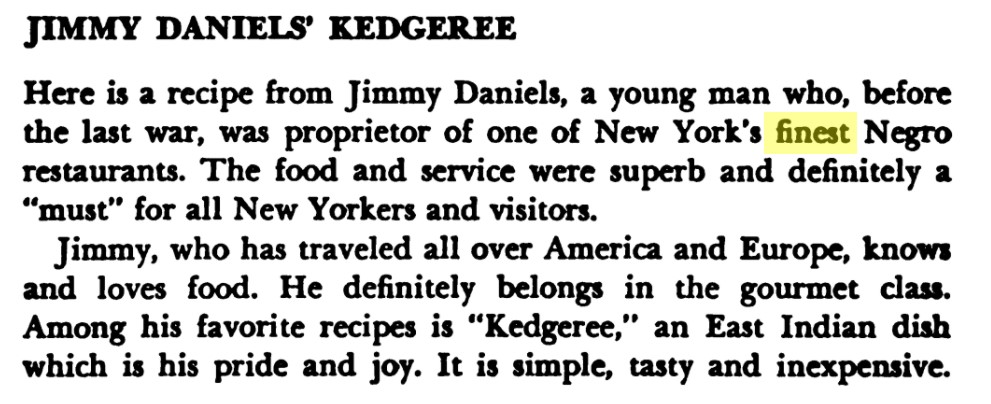 See what I mean?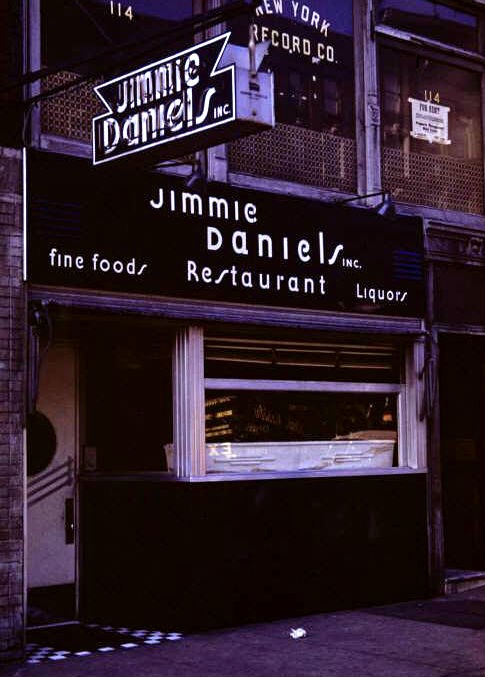 More than a list of ingredients, the reader hears about Black Americans that invented the dish, festivities when it is served, and a vivid depiction of how to simmer, chop, or prepare for the main event.
Note that each "date" ends with an underlying message: Black cooks are diverse, skilled, and worthy of society's praise and recognition.
Resources:
Image of Jimmie Daniels Restaurant: Harlem World Magazine
Freda de Knight, "A Date With a Dish: A Cook Book of American Negro Recipes," 1948.
Leave a Reply