Posted by Angela Spatafore.
May 31st, 2021
Blog post by Christina White, undergraduate researcher at WVU
This is the seventh post in White's series on race, justice, and social change through cookbooks, featuring the following books from the Ebersole collection: Mammy Pleasant's Cookbook, A Date with a Dish, A Good Heart and a Light Hand, and The Jemima Code.
A Date with a Dish slices through fallacies and vegetables alike. Freda de Knight writes like she's chatting on the phone with a girlfriend, whisking readers away on interviews with America's Black chefs. As I've said in earlier posts, the angle found within a cookbook is unfiltered and raw in comparison to accounts written by dominant groups, or those unaffected by Black America's challenges.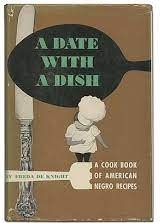 Struggle isn't an ingredient, but a tangible influence on the composition of a recipe. Freda emphasized "food that stretches" for times of financial hardship. All-in-one recipes like "Mama Scott's Inexpensive Dinner" document ways that people adapted and problem-solved.
"When sugar was scarce and pennies low, maple syrup and even molasses made delightful eating, added to apples which were topped with a crunchy, flaky crust."
How to "budget slash" and reuse ham:

Freda agreed with the saying, "Necessity is the mother of invention." She understood the needs of her readers and published a tool to help them save money. What a boss!
Resources:
Cookbook image: Between the Covers Rare Books, Inc.
Leave a Reply