Posted by Angela Spatafore.
August 16th, 2021
Blog post by Christina White, undergraduate researcher at WVU
This is the twelfth post in White's series on race, justice, and social change through cookbooks, featuring the following books from the Ebersole collection: Mammy Pleasant's Cookbook, A Date with a Dish, A Good Heart and a Light Hand, and The Jemima Code.
If my parents started acting like social butterflies, they're either sick or about to win a lot of money. Unlike me, Ruth L. Gaskins, the author of A Good Heart and A Light Hand, had the most social parents under the sun. They belonged to more clubs than I did freshman year of college (when I signed up for EVERYTHING at club fairs). I'd never heard of these organizations: the American Legion and the United Order of Tents. A bit morbidly, the Order of Tents paid for your funeral if you sent them fifty cents a month, like an insurance company for funerals. If you want a fancier funeral, you'd pay a dollar a month.
"My Grandmother was a Tent, Mama is a Tent, and so am I. I was signed up for the Junior Division when I was nine…" Ruth was not an active member, but she was required to attend every club supper in the winter and summer with her family.
This cookbook was the most detailed description of daily life I found during my dive into the Ebersole Collection. Ruth didn't focus on an extensive ingredient list, but rather to immerse the reader in a day in her life. I learned something special: what matters to her.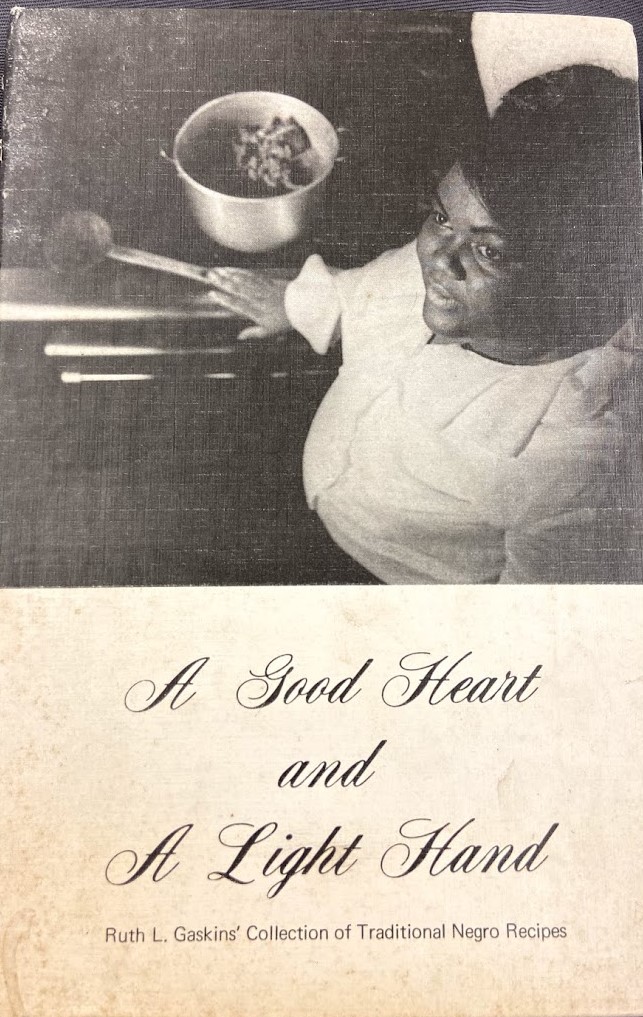 When Ruth mentioned the Luncheon Club, her tone lurched downwards. In this club, her mother and friends would dress up, set an extravagant table, and cook intricate meals that "would really get away from the traditional foods."

"Playing White" meant diverging from tradition. I understood it as behaving in a ridiculous and impractical manner. At the same time, I was served a tray of "check your privilege." I don't have to justify having a fancy dinner with friends, but I suspect that some disadvantaged groups still do not share that privilege.
Published in the transformative and rough years of the Civil Rights Movement, A Good Heart and A Light Hand reiterates that many Black women had a double responsibility to the family and to further social progress. All things considered, I don't blame Ruth for rolling her eyes at the extravagance of Luncheon Club activities.
Making these opinions even more magical, Ruth's bombs of truth are innocently tucked away in a spiral-bound notebook, only a few pages away from a hot cocoa recipe.
Resources:
Leave a Reply