Posted by Monte Maxwell.
March 8th, 2022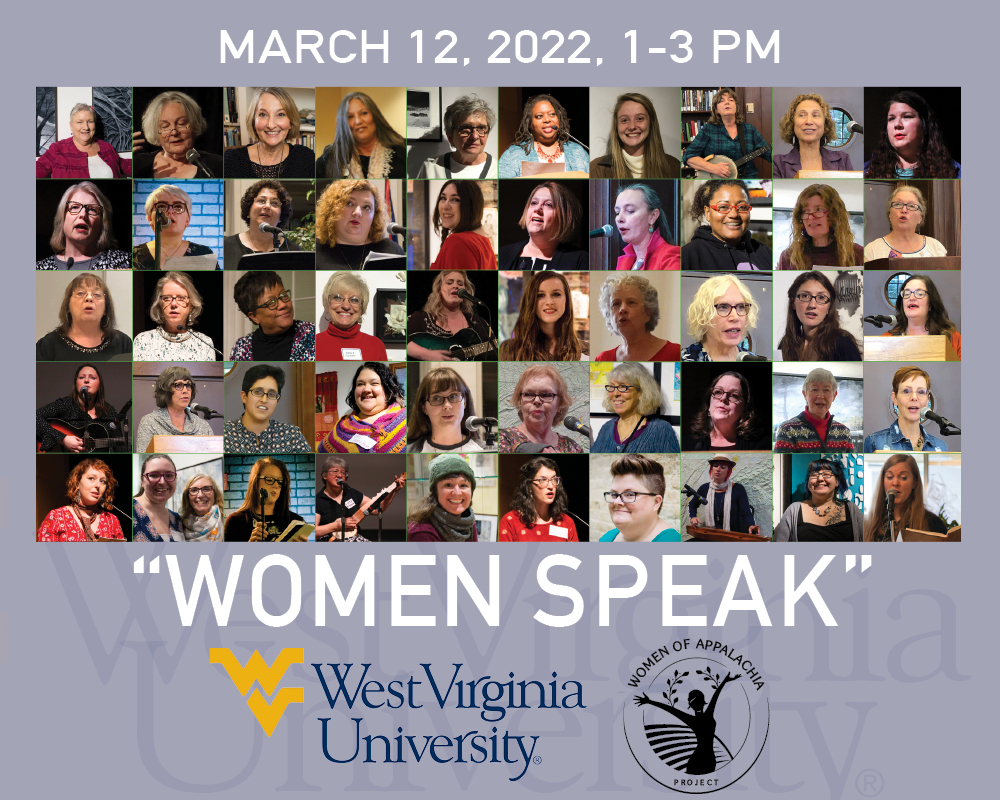 The Women of Appalachia Project's (WOAP) "Women Speak" performance, a juried presentation of story, poetry and song showcasing women artists living in or having strong ties to Appalachia, will be held Saturday, March 12, from 1-3 p.m. on Zoom. Register for the event here. https://wvu.zoom.us/meeting/register/tJAqceCqpzgqGNQRinIi6rE00i9V7PIx3EGh
The event is a presentation of readings published in WOAP's anthology series "Women Speak." This is WVU Libraries' fifth time hosting the event, which is co-sponsored by the Women's Resource Center, WVU LGBTQ+ Center and Center for Women's and Gender Studies.
"Women Speak, Volume Seven" is a lavish mix of Appalachian female voices spanning the region. Voices from diverse communities including Affrilachian, Indigenous, Asian-Appalachian, LQBTQ, those differently abled and with developmental differences, as well as emerging and well-established artists, will be represented. Every voice in the tribute speaks to Appalachian endurance, honor, courage, love of family, community and the land. Copies of "Women Speak, Volume Seven" will be available for sale during the event or can be purchased online at www.sheilanagigblog.com.
Many people have an image of an Appalachian woman formed by negative stereotypes. The mission of WOAP is to showcase the way in which female artists respond to the Appalachian region as a source of inspiration, bringing together women from diverse backgrounds, ages and experiences to embrace the stereotype—show the whole woman; beyond the superficial factors that people use to judge her. The event is free and open to the public though individual donations for the Women of Appalachia Project are always gratefully accepted.
For more information go to www.womenofappalachia.com or visit WOAP on Facebook at facebook.com/WomenofAppalachia. For questions, email womenofappalachia@gmail.com.
Leave a Reply