Posted by Monte Maxwell.
April 13th, 2022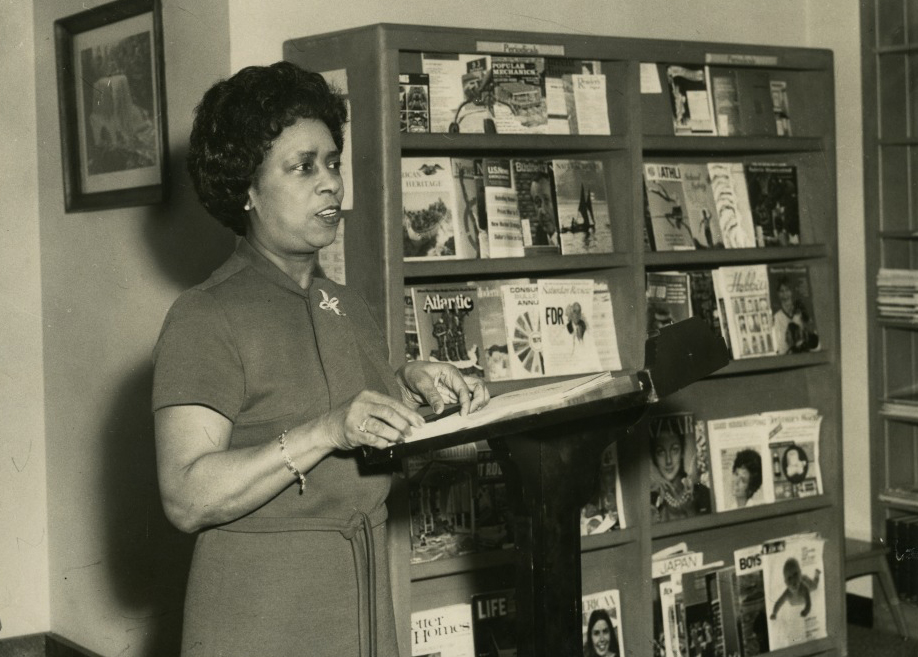 West Virginia University Libraries will unveil a portrait of Victorine Louistall Monroe (1912-2006), Professor Emerita of Library Science, the first painting to be commissioned as part of the Inclusive Portrait Project, April 28 from 4-6 p.m. in the Downtown Library's Robinson Reading Room.
"We are thrilled to honor Victorine Louistall Monroe with this portrait," Libraries Dean Karen Diaz said. "A true Mountaineer, Victorine broke several barriers throughout her life and set a shining example for future generations to emulate."
Monroe graduated from Kelly Miller High School in Clarksburg and earned her bachelor's degree from West Virginia State College. She received her master's in education from WVU in 1945, making her the first known Black female to be awarded a graduate degree from the University.
She taught at Kelly Miller High School and worked as a librarian at Roosevelt-Wilson High School. Then, in 1966, Monroe made history again when WVU hired her to teach Library Science and she became the University's first Black faculty member.
While at WVU, she was inducted in the Order of Vandalia and served as a member of the President's Advisory Committee for eight years. She retired in 1978.
In addition, Monroe was a member of the Black Caucus of the American Library Association and was appointed to the West Virginia Library Commission by former Governor Jay Rockefeller serving from 1980-1992.
In honor of her achievements, WVU Center for Black Culture and Research established the Victorine Louistall Monroe Award in 1992 and has been awarded each year to an individual for outstanding leadership and service to the African-American community.
The WVRHC holds a collection of Monroe's papers that document her education, career, and personal life, including correspondence, photographs, newspaper clippings, scrapbooks, awards, and other material.
The Inclusive Portrait Project is supported by a Women of WVU Grant that WVU Libraries and the WVRHC received last year to expand on their portrait collection. The initiative's goal is the creation of three portraits – one portrait each year for the next three years – painted by a current BFA or MFA student or recent graduate of the WVU program who identifies as female.
The portraits will be installed in the Libraries' Milano and Robinson rooms on a semi-permanent basis and added to the WVRHC's collection.
Anna Allen, the artist who painted Monroe's portrait, will discuss her process during the unveiling event.
Allen is a 2021 WVU BFA painting graduate and West Virginia native. She grew up with an appreciation for the beauty of nature and a love for her family. She developed a passion for converting the beauty of the world around her into artworks tailored to the people in her life. This drive to create pieces for specific individuals translated into a love of portraiture, a most personal subject.
As a student, Allen discovered her affinity for oil painting. The prolonged experience of creating a portrait in oil allows her to meditate on the person she paints, capturing the subtleties of their personality in addition to their appearance. She seeks to represent the distinctiveness inherent to everyone through her portraiture, emphasizing the only guaranteed commonality among people – that we are all unique.
The unveiling program will also include a short introduction from Diaz and a brief presentation on Monroe by WVRHC Interim Director Lori Hostuttler. Light refreshments will be served.
One Response to 'Libraries to unveil inaugural Inclusive Portrait'
Sharon Diaz. Says:
April 27th, 2022 at 1:59 pm

Mrs. Monroe was our librarian at RW. One of our principals wants to send some comments. I am checking to see if this site will take comments. If not, what site will.
Leave a Reply