Posted by Monte Maxwell.
October 11th, 2022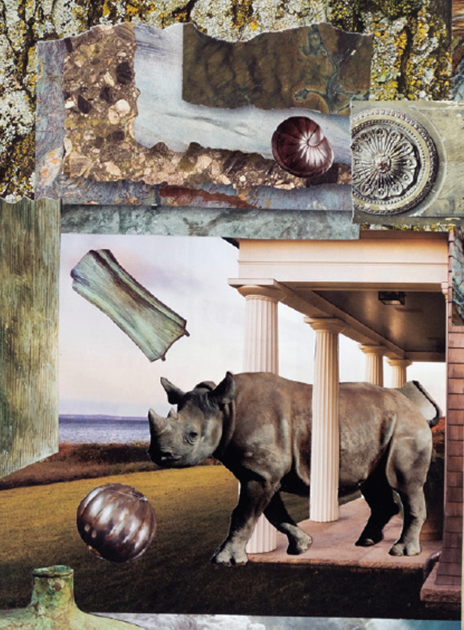 WVU Libraries will host "Collage Art: A panel discussion around collage as an art and therapy" Friday at noon. Preregistration is required for this Zoom event.
The panel presentation is in conjunction with artist Corrine Lightweaver's collage display currently up in Health Sciences Library through December.
Presenters will be Annie McFarland, WVU assistant professor and Art Therapy Program coordinator, and Linda Rosefsky, art historian. Libraries Exhibits Coordinator Sally Brown will moderate.
Lightweaver is the EveryLibrary 2021 Artist-in-Residence. Her exquisite collage-work is about the "delicate balance between people and nature as part of the story of public, private and school libraries." The exhibition of collages, weaving animal imagery with people, domestic objects and architecture, debuted at Hastings Library in Pasadena, California in 2021.
"…Despite our increasing access to information via Google, there is no substitute for the human touch— for personal consultations with research librarians, for the camaraderie of reading or studying in community, for the gathering of community for cultural celebrations, and for welcoming immigrants to study for citizenship," Lightweaver said. "I use the elements of collage the same way I use paint. I strive for a color balance, a sense of movement, interesting textures, storytelling, a provocation, and an invitation. The latter two are addressed to the viewer, but they also evoke the same in me."
Lightweaver is the author of the art books "In the Breast of Health: Healing from Cancer through Art" and "The Psyche's Gifts: Art, Art Making, and the Journey from Mental Illness to Mental Wellness."
EveryLibrary's primary goal is to ensure stable funding and access to libraries for generations to come. For more information, visit everylibrary.org.
Leave a Reply