Posted by Monte Maxwell.
October 12th, 2022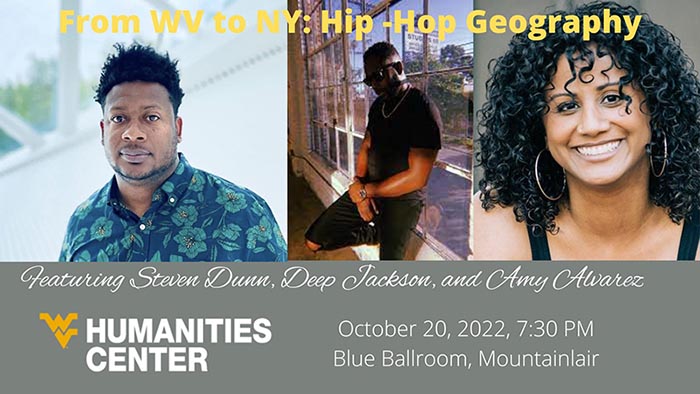 The West Virginia University Humanities Center will host "From WV to NY: Hip Hop Geography," a panel discussion around hip-hop, Black culture and place, Oct. 20 at 7:30 p.m. in the Mountainlair's Blue Ballroom.
Amy M. Alvarez, an assistant professor of English, will moderate the discussion between West Virginia natives Steven Dunn, a novelist, and Deep Jackson, a hip-hop artist. Alvarez is a New York native, poet and self-described hip-hop head.
Also, as part of the program, Dunn will read from his new book "Travel with Nas" and Jackson will perform.
Register here to attend via Zoom.
This event grew from conversations between Alvarez and Dunn about how geography and locale have shaped elements of hip-hop music and culture.
"The evening is meant to celebrate hip-hop culture in West Virginia and beyond, to look deeply at the conversation between Appalachia and hip-hop, and to render hip-hop culture in Appalachia visible" Alvarez said. "I am thrilled to have both Steven Dunn and Deep Jackson on campus to visit my class (Music 151: Hip Hop Nation: Foundations of a Movement) and for this panel."
"Hip Hop Geography" is part of the Humanities Center's Appalachian Writers, Artist and Scholars of Color Series.
"Bringing West Virginia artists of the caliber of Steven Dunn and Deep Jackson is a tremendous opportunity for our campus, and to include WVU's own Amy Alvarez, herself a known and talented poet, showcases our state's rich talent," Humanities Center Director Renee Nicholson said.
Dunn is the author of two books from Tarpaulin Sky Press: "water & power" (2018) and "Potted Meat," which was a finalist for the Colorado Book Award, and has been adapted for a short film entitled "The Usual Route," from Foothills Productions. He is a 2021 Whiting Award winner and was shortlisted for Granta's "Best of Young American Novelists."
Dunn was born and raised in Kimball, W.Va., and after 10 years in the Navy, he earned a bachelor's degree in Creative Writing from the University of Denver. He teaches in the MFA programs at Regis University and Cornell College.
A veteran of the West Virginia hip-hop scene, Jackson has performed in every nook and cranny in West Virginia along with gracing the stage in a couple of surrounding states. He has dropped eight projects since 2009, and his is latest effort came in October 2021 with the aptly titled, "Nice Guys Finish Last."
Jackson was also a production assistant on the short film "The Usual Route," an adaptation of "Potted Meat," a work by Dunn, his childhood friend. Jackson also contributed to the film's soundtrack. Jackson was raised in Welch, W.Va., and earned a bachelor's degree from Marshall University.
Born in New York City to Jamaican and Puerto Rican parents, Alvarezis a Black Latinx poet, educator and scholar. Her work focuses on race, ethnicity, gender, regionality and social justice.
Her poetry has appeared or is forthcoming in "Ploughshares," "The Missouri Review," "The Cincinnati Review," "Acentos Review," "Obsidian" and elsewhere. In 2022, she was inducted as an Affrilachian Poet. She is the co-editor of "Essential Voices: A COVID-19 Anthology" (WVU Press, 2023).
Alvarez has received fellowships from CantoMundo, VONA, Macondo, VCCA and the Furious Flower Poetry Center.
Leave a Reply