Posted by Monte Maxwell.
November 3rd, 2022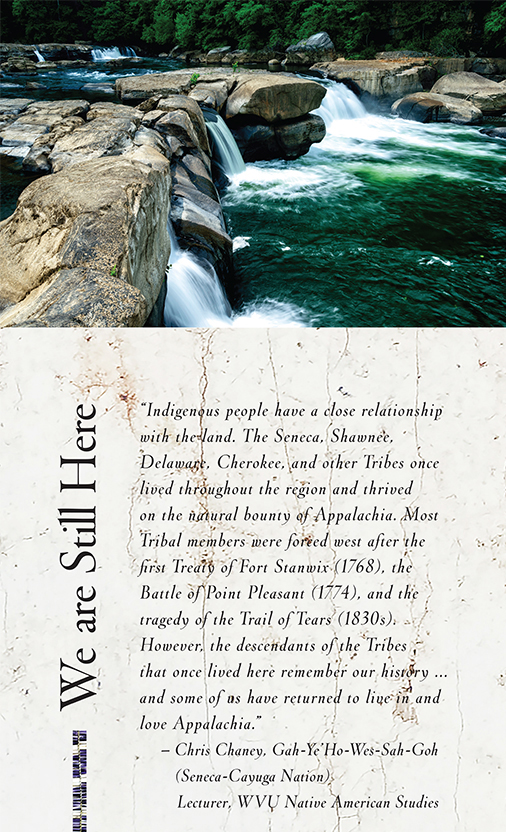 The West Virginia University Humanities Center will host a program Nov. 14 at 7:30 p.m. to launch the "Indigenous Appalachia" exhibit currently on display in the WVU Libraries' Downtown Library.
"Indigenous Appalachia" is an exhibit designed to increase awareness of the contributions of Indigenous Appalachians to the region's shared history and present while also recognizing continuing injustices faced by Indigenous people.
"The Humanities Center is excited and humbled to sponsor this event," Humanities Center Director Renée Nicholson said. "It brings together the Art in the Libraries program, the Native American Studies program, and a tremendous group of artist and scholars, two of which will visit our campus for the opening."
Attend this hybrid event in person in the Downtown Library's Milano Room or register here to watch remotely.
The evening will include presentations by Joe Stahlman, director, Seneca-Iroquois National Museum, assistant research professor, Dept. of Anthropology, University at Buffalo, and exhibit adviser; and Maryam Marne Zafar, visual strategist and graphic designer and exhibit lead designer. Refreshment and hors d'oeurves will be available.
Stahlman's talk is titled "The Role of Public Universities in addressing Social Inequities in the United States: How this Exhibit Addresses Indigenous Peoples on the West Virginia landscape."
Zafar's talk is titled "How Culture Influences Design and the Importance of Observing through a Different Visual Lens."
"I plan to cover how culture influences design and why learning, understanding and visually showing the differences allows a viewer to see and recognize those symbols, colors and elements used," Zafar said. "These symbols, colors and natural elements matter and impart deeper meanings and allows one have a sense of that culture."
The exhibit uses visuals and educational content to explore themes of people, lands and waters, and will provide significant opportunity for campus and community involvement via coursework and programming, and encourage informed, enhanced perspectives.
"Most Americans do not know about Indigenous culture, from history to today, but they are a large part of America's fabric. Invisibility is a modern form of bias," WVU Libraries
Exhibits Coordinator Sally Brown said. "With this exhibit, we hope to both acknowledge the contradictions in the Indigenous histories of our areas and in our collections, and highlight Indigenous stories, perspectives and successes, all curated in collaboration with Indigenous advisement."
As our nation and the University proceed in acknowledging the erasure of much of Indigenous history, it is understood that a reconciliation of this erasure can only be accomplished with Indigenous scholars' leadership, guidance, and participation informing these new perspectives.

WVU Libraries has worked with the WVU Native American Studies program to develop course related, public programs and resources.
The exhibit will also become a digital exhibit living on the WVU Libraries' website and archived on the Research Repository at WVU.
"Indigenous Appalachia" will remain on exhibit through May 2023 and will travel to WVU Beckley Campus Library from June-December 2023; Appalachian State University Library from January-July 2024; and Marshall University Library from August-December 2024.
Sponsors include: West Virginia Humanities Council, WVU Humanities Center, WVU Office of Provost and The Antero Foundation (Platinum Level); Oakland Foundation and Morgantown Printing & Binding (Gold Level); and Marshall University Libraries, Appalachian State University Libraries and WV Library Commission (Silver Level).
For more information or questions, contact Brown at 304-293-0369 or sally.brown1@mail.wvu.edu.
Leave a Reply