Posted by Monte Maxwell.
December 13th, 2022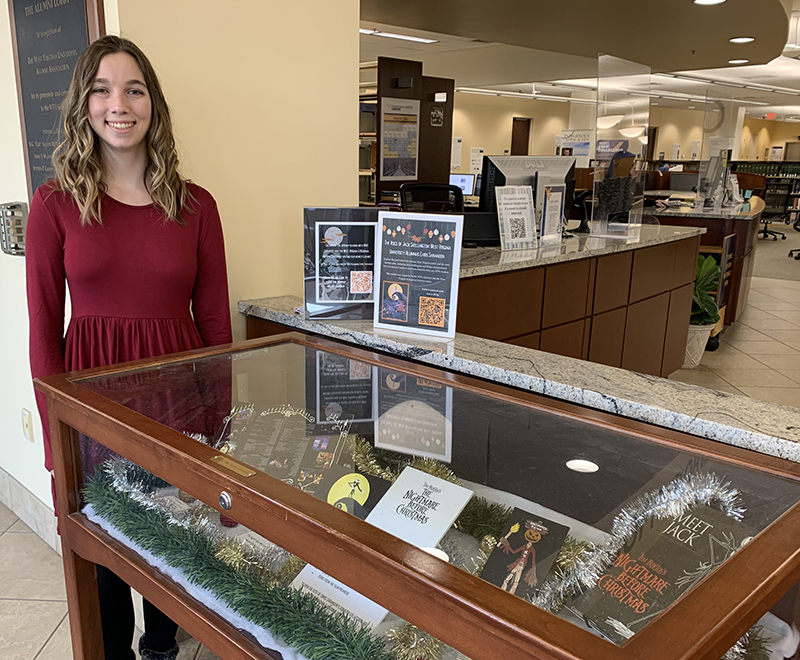 Get into the holiday spirit by exploring WVU Libraries' two exhibits focused on "The Nightmare Before Christmas."
Tim Burton's cult classic film, originally premiered in 1993, has grown in popularity with its whimsical style and tribute to Halloween and Christmas. The movie also has a special connection to all Mountaineers through WVU alumnus Chris Sarandon, known for his role as the speaking voice of Jack Skellington.
WVU Libraries graduate assistant Makenzie Hudson has curated two exhibits dedicated to Sarandon and the many film artifacts he donated to the West Virginia and Regional History Center.
One exhibit is on display in the Downtown Library lobby, and the other is a virtual exhibit that can be browsed here.
"I've been a fan of the nightmare before Christmas since my senior year in high school," Hudson said. "My sister and I thought it was really scary; but we decided to watch it one year and we fell in love with it, the art style, the story, everything."
During her senior year at WVU, Hudson interned with WVU Libraries and discovered Sarandon's donated artifacts, including items from "The Nightmare Before Christmas." Her love for the film's lead into a passion project that was supervised and supported by WVU Libraries Exhibit Coordinator Sally Brown.
Over the course of a year, Hudson researched, designed and created the exhibits, resulting in several art pieces and a dynamic website.
With the encouragement of Libraries staff and her family, Hudson reached out to Sarandon and conducted a phone interview with the star. The Q & A, available in the online exhibit, delves into the West Virginia native's childhood in the Mountain State, his time at WVU, a few of his famous roles, and his experiences as a West Virginian in Hollywood.
"Chris Sarandon found the career he wanted because of a teacher here," Hudson said. "He didn't know what he wanted to do until he took a theater class and that changed the course of his life."
That career also includes portraying Prince Humperdinck in "The Princess Bride" and Detective Mike Norris in the horror classic "Child's Play." Spoiler alert: Yes, he knows Jennifer Garner and Brad Dourif and has acted alongside both.
In addition, Hudson learned that Sarandon is a proud Mountaineer who regularly wears Mountaineer gear and often connects with strangers over the gold and blue before they realize that they have watched him on the silver screen.
Hudson also enjoyed a special connection during the hourlong interview – Sarandon took some time to ask Hudson about herself.
"As a fangirl, I was really excited that he said my name in a way that reminded me of Jack Skellington," Hudson said.
The overall experience has shown her that great opportunities are available to students willing to set challenging goals and welcome support from those around them.
"I've really enjoyed working on this exhibit. It started as a simple idea and grew into something I never expected. I am proud of the work I've done and immensely thankful to Chris Sarandon and the WVU Libraries for helping me make this possible," Hudson said. "This is an experience I will never forget!"
One Response to 'WVU Libraries celebrates "The Nightmare Before Christmas" with two exhibits'
kampus terbaik jatim Says:
March 2nd, 2023 at 8:53 pm

Everything is very open and very clear explanation of issues. was truly information.
Leave a Reply