Posted by Monte Maxwell.
January 12th, 2023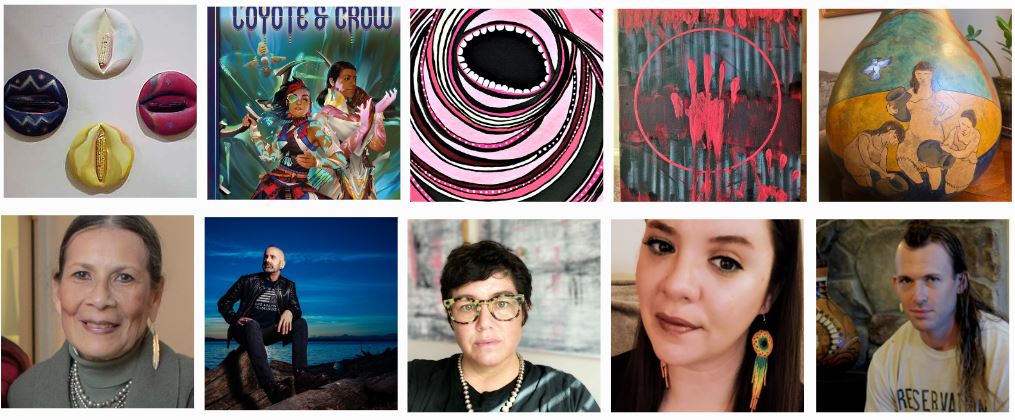 In conjunction with its "Indigenous Appalachia" exhibit, WVU Libraries welcomes everyone to attend a virtual panel with five artists featured in the exhibit Friday, Jan. 27, at noon.
"Indigenous Appalachia," currently on display in the Downtown Library, is designed to increase awareness of the contributions of Indigenous Appalachians to the region's shared history and present while also recognizing continuing injustices faced by Indigenous people.
The panel will include Nadema Agard (Cherokee/Powhatan), painting; Connor Alexander (Cherokee) game design; Erin Lee Antonak (Oneida), sculpture/drawing; April Branham (Monacan), painting/photography; and Ethan Brown (Pamunkey) gourd design/painting. The event will be moderated by Sally Brown, WVU Libraries exhibits coordinator and the exhibit's lead curator.
To register, visit wvu.libcal.com/event/9680079.
The "Indigenous Appalachia" exhibit uses visuals and educational content to explore themes of people, lands and waters, and provides significant opportunity for campus and community involvement via coursework and programming, and encourage informed, enhanced perspectives. WVU Libraries has worked with the WVU Native American Studies program to develop course related, public programs and resources.
Following the spring 2023 semester, "Indigenous Appalachia" will travel to Marshall University Libraries from July-December 2023; WVU Beckley Campus Library December from 2023-July 2024; and Appalachian State University Library from July 2024- June 2025.
The exhibit will also become a digital exhibit living on the WVU Libraries' website and archived on the Research Repository at WVU.
Leave a Reply