Posted by Jane Metters LaBarbara.
August 8th, 2016
Blog post by Jane Metters LaBarbara, Assistant Curator, WVRHC.
I was not born in West Virginia, and as a non-native, sometimes I make mistakes.  One recent mistake was believing the internet when it told me that shoofly pie is West Virginia's state dessert.  I thought that would be a good idea for a blog post, maybe comparing a few shoofly pie recipes and commenting on its history in relation to West Virginia.  Then, I learned that there is a wet-bottom and dry-bottom version of this pie—which was more popular in West Virginia, I wondered? So I started asking my coworkers, and learned one very important thing: almost none of the people in my department had shoofly pie before.  I resolved to make one, but I still needed to learn more about West Virginia desserts, and about shoofly pie. 
West Virginia has no official state dessert that I've found.  In 2006, WV Delegate Armstead submitted a resolution to the House proposing that the sugar cookie be made the state cookie, but it looks like that resolution didn't go anywhere.  Various sources on the internet have attempted to choose a dessert or pie for each of the fifty states, and West Virginia has ended up with shoofly pie, pawpaw pie, and gingerbread pie.
The history of shoofly pie seems uncertain.  It is generally credited to the Pennsylvania Dutch, though some suggest that it is simply their version of treacle tart recipes brought to America from England.  Some sources I've read say it is a descendant of something called Centennial Cake from 1876, one says it's a variation on Jenny Lind pie.  However, many people today associate shoofly pie with the South, but I have no hard evidence (yet) that the pie migrated.  I would also suggest that Shoofly Pie would be better as the Pennsylvania state dessert than the West Virginia state dessert, due to its association with the Pennsylvania Dutch and the relative lack of Pennsylvania Dutch communities in our state compared to Pennsylvania.  Apparently, among the Pennsylvania Dutch it is a breakfast dish.
Whether the use of sorghum molasses or regular molasses is more traditional seems to be in question.  I would assume that sorghum molasses would have been used frequently in West Virginia, since sweet sorghum can be grown in West Virginia, but sugarcane (from which regular molasses is made) cannot.  (For a little more on sorghum molasses, check out the WV Encyclopedia page).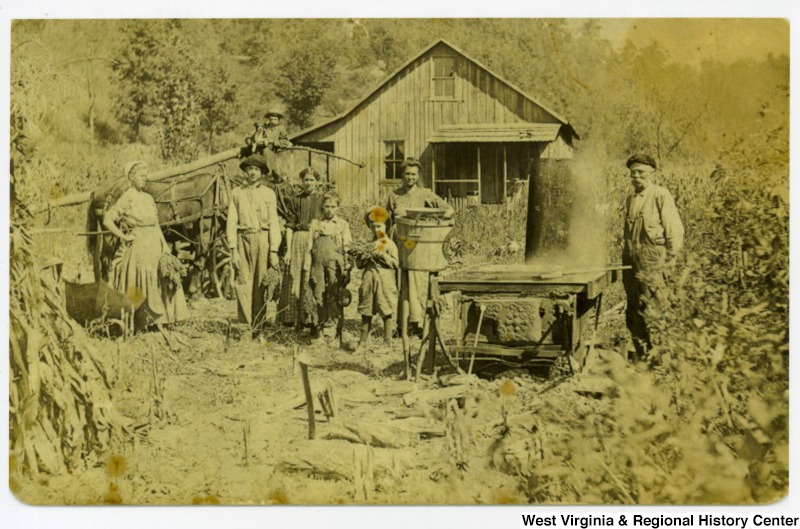 Mayfield Family Making Molasses, Wetzel County, WV, ca. 1900
Even the origin of the pie's name hasn't been established with certainty.  According to one story, the pie got its name because leaving such a sweet treat to cool on a windowsill would attract flies that would need to be shooed away.  However, I'm pretty sure flies would be attracted to any pie in a windowsill regardless of the amount of molasses in it.  Also, I stumbled across a recipe for shoo-fly potatoes, which suggests that either the recipe writer meant shoestring and made a typo OR there is something more to this shoo-fly business than shooing flies.
One of my colleagues who'd had shoofly pie before actually has recipes for it, so I decided to try baking hers rather than one of the few I found in the WVRHC's collection of cookbooks. I've copied the recipe below: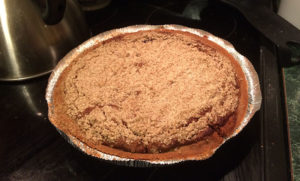 Shoo-fly pie
1 egg yolk [note that some recipes don't call for egg–those might be more traditional, since I would assume that including egg made pie harder to preserve in the days before refrigerators]
1/2 cup molasses
3/4 cup boiling water
1 teaspoon baking soda
1 cup flour
1/2 teaspoon cinnamon
1/8 teaspoon ginger
1/8 teaspoon cloves
1/8 teaspoon nutmeg
1/2 cup brown sugar
1/2 teaspoon salt
2 tablespoons shortening
Beat egg yolk in small bowl. Blend in molasses. Add water with soda dissolved in it. Set aside.
Combine dry ingredients with shortening, work into crumbs with fingers. Put liquid into uncooked pie shell and top with crumbs.
Bake at 400 degrees for 10 minutes, reduce heat to 325 degrees and bake 25 minutes.
Provided I baked it correctly, this pie ought to have a bit of a soggy bottom, a layer of crumbles on top, and a delicious middle with a consistency somewhat reminiscent of pumpkin pie.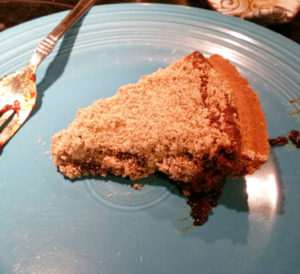 As an aside, if you try this out and realize how much you love molasses, the 49th WV Molasses Festival will be held on September 22-24 in Arnoldsburg, WV.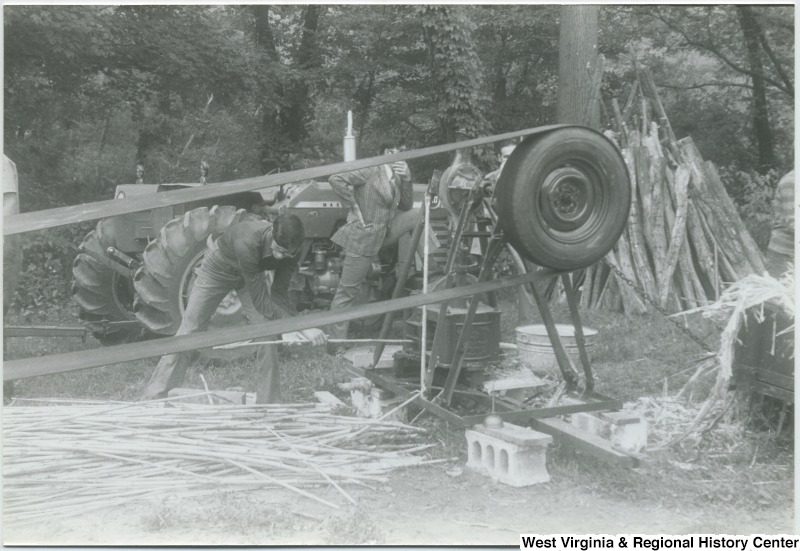 Making Cane Molasses, Hinton, WV, 1975
2 Responses to 'Shoofly Pie and West Virginia'
Linda Blake Says:
August 8th, 2016 at 11:27 am

I was born and raised in West Virginia as was my mother and her mother, etc. I never heard of her making shoe fly pie. She made fruit pies galore and cakes, oh, my, the cakes! I think her signature dessert was berry cobbler made with blackberries we picked over at Wild Cat. To us a cobbler is a deep dish pie with a thick, heavy crust. Daddy ate it with milk and sugar. Mommy fussed at him about the sugar since it was already loaded with sugar.

News | WVU Libraries Says:
November 25th, 2019 at 2:17 pm

[…] my blog post about Shoofly Pie, controversially credited as the WV state dessert on some websites, I've been on the lookout for […]
Leave a Reply