Posted by Jane Metters LaBarbara.
November 25th, 2019
Blog post by Jane Metters LaBarbara, Assistant Curator, WVRHC.
After my blog post about Shoofly Pie, controversially credited as the WV state dessert on some websites, I've been on the lookout for a dessert that would better suit the title of "West Virginia state dessert." It has proven to be a real challenge. My most recent search turned up new ideas (summed up nicely in this WV Gazette Mail article) from hot dogs/mad dogs (tasty pastries that are actually filled with cream) to peanut butter oat cookies (which I love, knowing them from my non-WV childhood as chocolate oatmeal no bake cookies and other less pleasing names). I kept digging through the internet, seeing apples and molasses pop up a couple of times as quintessential ingredients. Then, I stumbled on Appalachian Apple Stack Cake.
If you've heard of it as "Tennessee Apple Stack Cake" or "Kentucky Apple Stack Cake" you may be thinking that it doesn't deserve a place on our list of quintessential WV desserts, but a lot of what I've read makes it seem more Appalachian than anything. Its use of apples and molasses make it a good choice for WV in my book! In case you missed it, I wrote a blog post on apples as part of West Virginia heritage.
If you aren't familiar with stack cake, the general consensus is that it ought to be made of multiple layers of cake, with a spiced apple mixture between them. The layers are denser and thinner than "normal" cake layers, and there ought to be enough of them that you feel like you've got a proper stack. Some descriptions include the charming idea that people used to bring an individual layer to a wedding, join them together with the filling, then eat the resulting cake. If you have known anyone who did this, please drop me a line in the comments! What makes more sense to me is what I've read in other descriptions: that you prepare the cake and let it stand 24-48 hours, so the filling between the layers has adequate time to soak into the cake, making it soft, moist, and delicious.
Hunting through our cookbook collection, I found a few examples of apple stack cake recipes. You can find a recipe for Applesauce Stack Cake on page 82 of A Cook Book from the Woman's Club of Beckley, West Virginia: A Book of Recipes by the Woman's Club of Beckley, 1963. For a slightly different twist, you could try the Mountain Molasses Stack Cake recipe on p. 142 in Cider Beans, Wild Greens, and Dandelion Jelly: Recipes from Southern Appalachia by Joan E. Aller, 2010. For a more involved version, try the Dried Apple Stack Cake recipe from p. 267-270 Appalachian Home Cooking: History, Culture, and Recipes by Mark F. Sohn, 2005. The recipe I used came from page 165-166 of Southern Appalachian Farm Cooking: A Memoir of Food and Family by Robert G. Netherland, 2016. The author suggests that this type of cake is traditional in Southern Appalachia, and the jury is out on whether WV counts as "southern" for these purposes. I look forward to reader feedback on how traditional this cake is in our state.
"Madelyn's Old Fashioned Stack Cake" from Southern Appalachian Farm Cooking, with a few notes added by me
Ingredients for the cake:
3/4 cup shortening
1 cup sugar
1 cup sorghum molasses [I couldn't find this at Kroger so I used regular molasses]
3 eggs
1 cup milk
4 cups all-purpose flour
1/2 teaspoon [baking] soda
2 teaspoons baking powder
1/4 teaspoon salt
Ingredients for applesauce filling: [note that you can substitute apple butter for the filling]
1 quart sweetened applesauce
1 teaspoon cinnamon
1/2 teaspoon ginger
1/2 teaspoon nutmeg
Directions for cake:
Preheat oven to 375 degrees Fahrenheit. [Start out with a large bowl that can fit all of your cake ingredients.] Cream together shortening, sugar, and molasses. Add eggs and milk. [In separate bowl] Sift flour, soda, baking powder, and salt together. Add to creamed mixture and blend well to form the batter. Grease and flour two or more 9-inch cake pans. Put 1 cup batter in each pan and bake 10 minutes or until brown in a 375 degree Fahrenheit over. [Please note, the unbaked batter will also be brown, so color isn't the best indicator of done-ness here.] Remove the cake layers from the pans and cool. Repeat until the batter is used up. The batter should be enough to make 6 to 7 thin layers. Spread spiced applesauce [see directions below] between cooled layers and stack. To allow the cake to soften and the flavors to develop, serve the following day.
Directions for applesauce filling:
Mix all ingredients together. Cook filling for 30 minutes in a saucepan over medium heat to thicken slightly. Cool and use to fill the cake. Do not spread the filling on the top layer. [If you are like me, these directions will cause a lot of hot bubbling applesauce to splatter on your stove top, so proceed with caution.]
How it all turned out for me:
This cake wins for thickest batter I have ever worked with. I should have expected this, as one of the recipes I chose not to use suggested rolling out the "dough" to the size of the cake pan and implied it would be akin to biscuit dough. My batter didn't turn out quite as thick as biscuit dough, but I took a picture of the bowl with the first cup of batter scooped out, and also the scoop of batter in the cake pan, to show you how thick it was. Please pardon the really bright overhead stove light.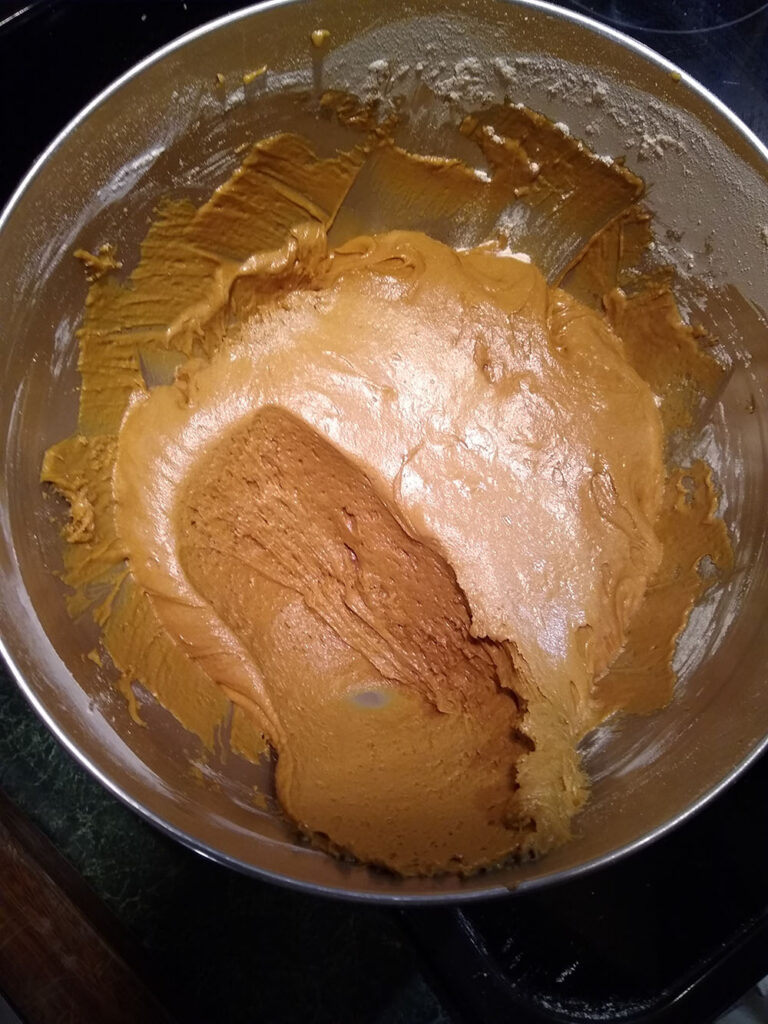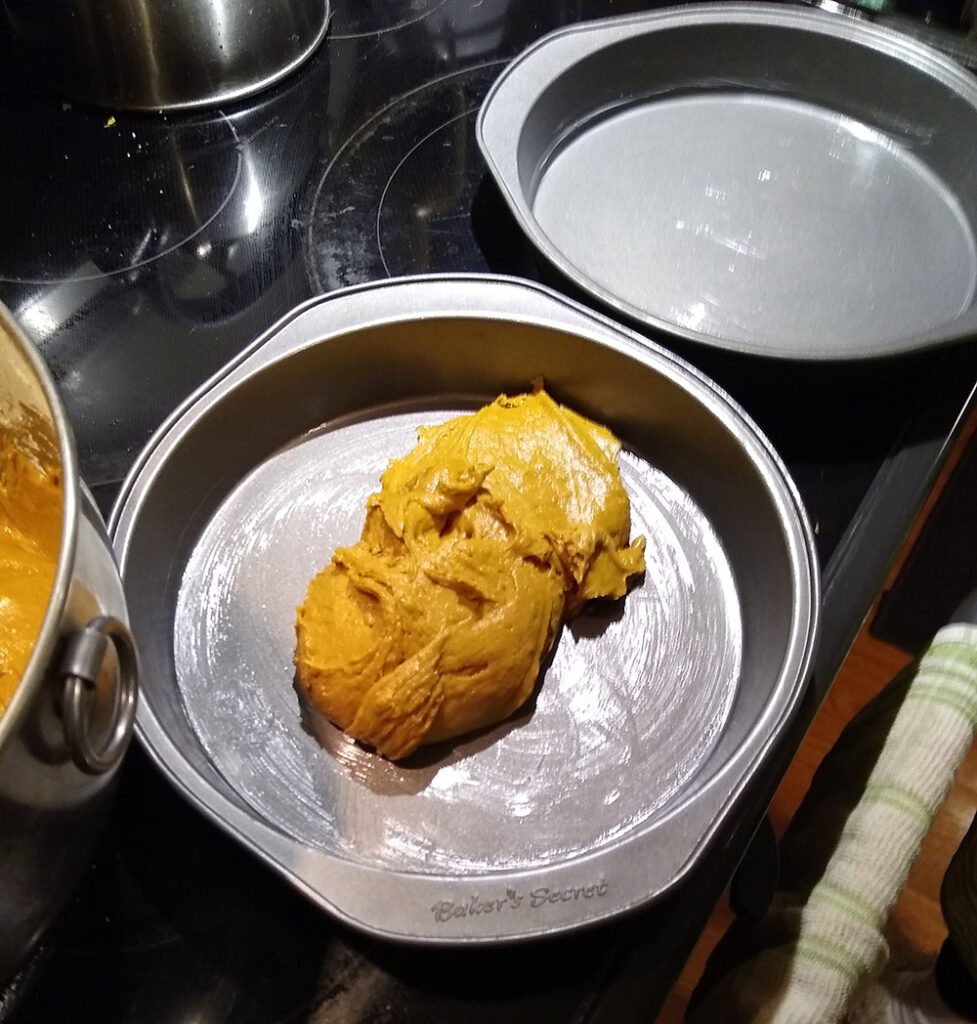 Smoothing out the batter once it was in the pan proved slightly challenging due to how thick it was, but the results were still pretty good. I ended up having ALMOST 6 cups of batter, so the final tier was a little thinner than the rest.
The one thing I would change if I made this cake again was mostly down to user error. I forgot to set a timer for the applesauce mixture, but since I put it on the stove when the first cake tins went in the oven, I figured that I would consider it done when I had baked the three sets of two tins each, as that should have been just over 30 minutes. Once the mixture heated to medium and the vigorous bubbling started, I turned it down for 15+ minutes to medium low, realized it wasn't thickening, turned it back up to medium, and left it on the stove for an extra 20 or so minutes to make up for lost time. The result seemed nicely thick, but I went from a whole quart (4 cups) of applesauce to 2 1/4 cups in the end. If I make this again, I would definitely start with additional applesauce so I could have more gooey filling between the layers. I really enjoyed the cake after a day of it resting in the fridge (see image below), but by the second day, all of the filling had thoroughly soaked into the layers and I wished I had more to serve on top.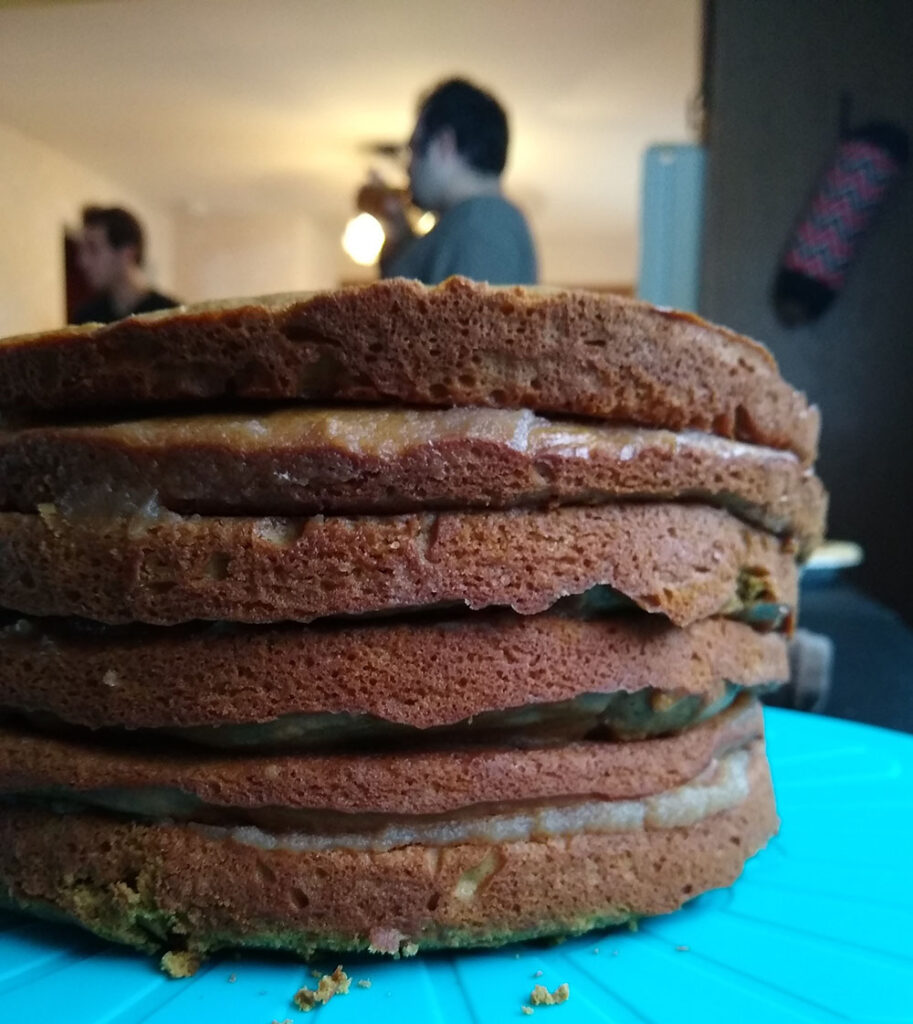 I served the cake at least 18 hours after baking at a Friendsgiving, and everyone called it good. I brought the second half of the cake to work the next day, and so far the comments are positive ("unique and delicious" was my favorite so far), so this recipe will go into my special event cake rotation. In conclusion, I think the Apple Stack Cake is a solid candidate for WV state dessert, but I am open to other suggestions!
2 Responses to 'Apple Stack Cake'
Stewart Plein Says:
November 25th, 2019 at 3:23 pm

Your co-workers thank you! The cake is moist and delicious!

Jenn Says:
November 10th, 2021 at 5:07 pm

My mother in law grew up in Ellijay, Georgia in a time when families in the area couldn't afford the slightest luxury, like summertime shoes for growing children, any cut or grind of beef, or the spices most modern day apple stack cake recipes list. She grew up watching her mother make ends meet after her daddy died, by taking in ironing from the wealthier community members and selling her home baked cakes to church folk. Apple stack cake was one of her favorites that her mother made. Her mama would slice fresh apples and dry them in the back window of the family car. Those apples would later serve as the filler between the layers of her stack cakes. The ingredients that my mother in law remembers were very simple, affordable, and widely used staples in any Appalachian kitchen. Flour, butter, sourgum syrup, buttermilk, salt, dried apples, etc. No spices were used, as they were expensive and not readily available. And my mother inlaw said her mama did not turn her apples into applesauce or apple mash before assembling the stack cake. Rather, she layered it with the whole slices of dried apple (which had been soaked, not cooked, in water to soften them). After the apples were placed on the layer of cake, sourgum syrup was generously drizzled over the apples and then another layer of cake placed on top,she continued that assembly pattern until she had used all layers of the cake. Then it was wrapped and put in a cupboard for 2 days before it was ready to eat. The apples would soak in the sourgum syrup and be soft and very sweet, and any hint of them having been rubbery dried apples was gone. My mother inlaw insists that it's an absolute must for the apples to be dried. Apparently, every family had their own slightly different way of preparing this old Appalachian favorite…but dried apples and sourgum syrup were staples in every apple stack cake recipe.
Leave a Reply