Posted by Admin.
April 22nd, 2022
Written by Stewart Plein
Most people have heard of Shakespeare's First Folio, but the subsequent folios don't seem to get quite as much press as the first one. What's so great about a later printing of Shakespeare's folio? Turns out – plenty!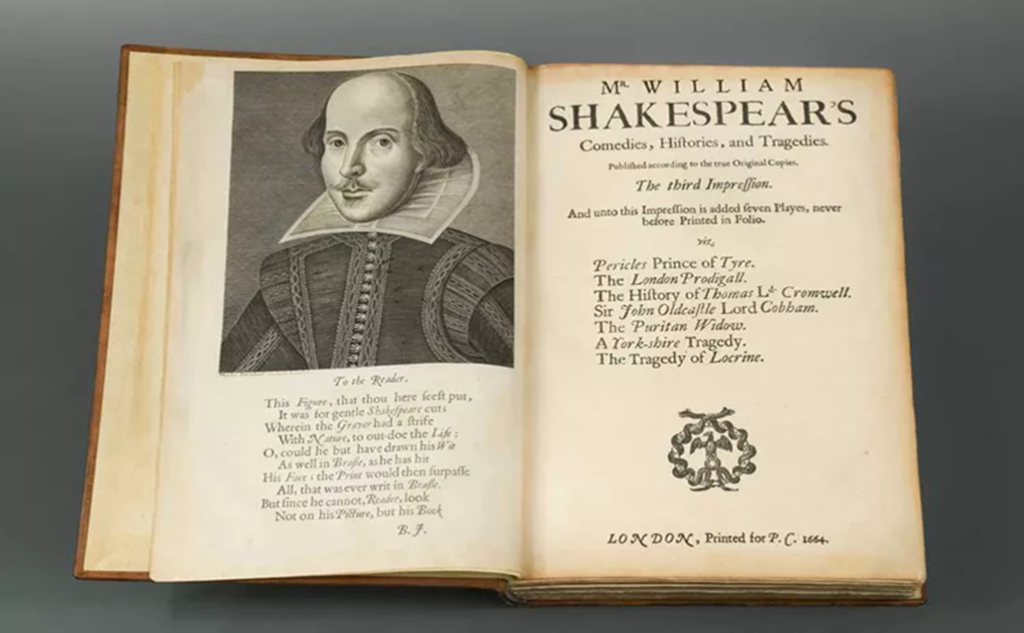 The third folio is particularly interesting. Basically, it's the third printing of the first folio, which was the first printing of Shakespeares' plays. The first folio gave us eleven plays that were unknown before its' publication including Macbeth, The Tempest, Measure for Measure and Twelfth Night. A significant literary achievement.
The third folio, published in 1663, is important because very few copies have survived. Traditionally, a few hundred copies of a book were published, then stored in a warehouse while waiting for buyers. Three years after its publication, while many copies of the third folio were still warehoused, the Great Fire of London erupted. The fire destroyed many booksellers' warehouses along with their inventories, thus, few copies of the third folio have survived.
WVU's rare book room is fortunate to have a copy of the third folio donated by an alumnus, Arthur Dayton. WVU received five Shakespeare folios in the Dayton donation, the first, second, an additional second printing, the third and the fourth folio. These comprise the complete set of Shakespeare's folios.
The Dayton third folio is interesting for another reason. Several names, notations and bookplates appear on the first couple of pages. These notes and bookplates document previous owners. Evidence of previous ownership is called "provenance." Provenance is considered to be a record of an items' history, or a record of ownership. If you're a fan of the PBS series, the Antiques Roadshow, you know that provenance, such as purchase receipts, bookplates, author signatures, and gift presentations, are important tools used to establish the authenticity of an item.
So, what can we learn from bookplates and notations in books? What role does ownership play in the life of a book? Let's take a look at the bookplates and notations in Shakespeare's third folio to find out.
First documented owner: Thomas Sharp.
The first thing we see is an ownership stamp for Thomas Sharp, (1693 – 1758). Sharp was a clergyman. He was named to the important position of Archdeacon of Northumberland on February 27, 1722. According to Wikipedia, the Archdeacon of Northumberland is a senior officer responsible for the disciplinary supervision of clergy within his region. An important position, indeed.
Below, we see a portrait of Thomas Sharp. Beneath is the book stamp he used in the third folio. Sharp held a number of positions throughout his lifetime, but the presence of the stamp verifies that Sharp acquired the third folio while serving as Archdeacon.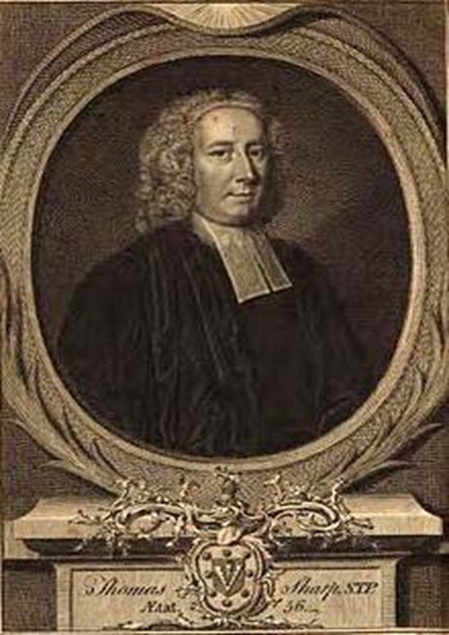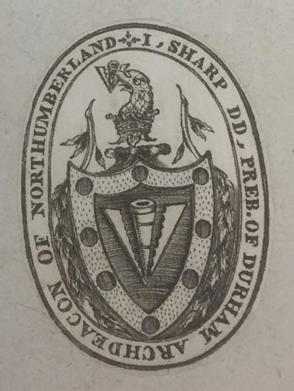 Although this attribution is important – there is no record of previous owners. Since the third folio was printed in 1663, there's 60 years of ownership unaccounted for. That is disappointing, but it is great that we can pick up on who may be the second, or third owner.
Second documented owner: Clare Hall, Cambridge University, England.
The college of Clare Hall, founded in 1326 as University Hall, is the second-oldest college at Cambridge University. In 1338 the college was renamed Clare Hall, in honor of Elizabeth de Clare (1295 – 1360), the 11th Lady of Clare, who provided an endowment for the college.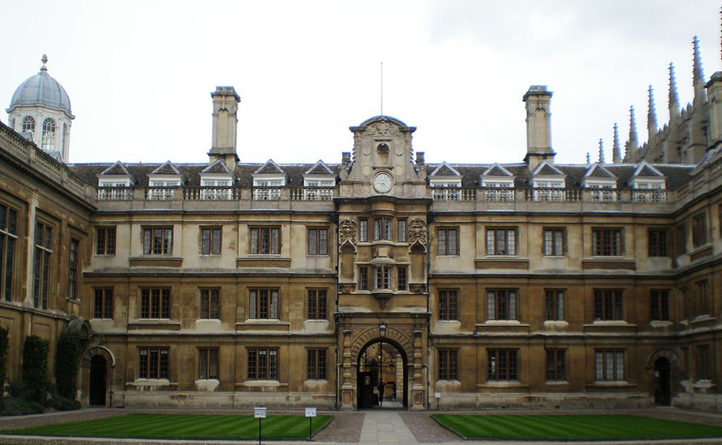 The notation marking Clare Hall's ownership is on the title page of the third folio.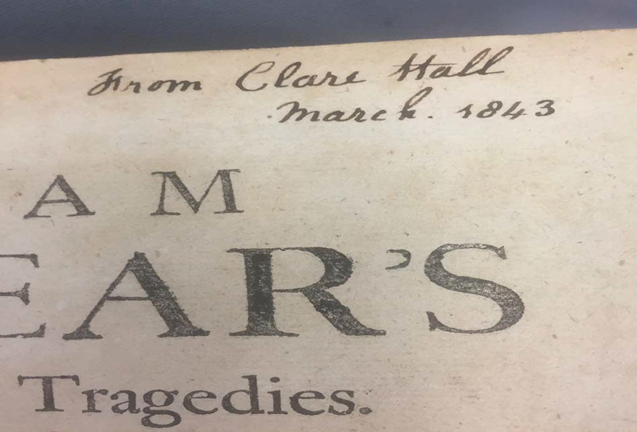 This brings us to the question – why did the college dispose of the 3rd folio? And when did they dispose of it? We may never know.
Third documented owner: Shakespearean actors, Edward Hugh and Julia Marlow Sothern.
The Sotherns are shown here, photographed in costume as Lord and Lady Macbeth in Shakespeare's play, Macbeth, in 1911. Edward Hugh Sothern (1859-1933) was an American actor and author who appeared on the stage in New York and London. Julia Marlowe (1865-1950) primarily acted in New York. They met in 1904 when they starred in a play together. They married a few years later in 1911. Following their marriage, they toured across the United States, mainly in Shakespeare plays, until Julia retired in 1924. Their bookplate is pasted inside.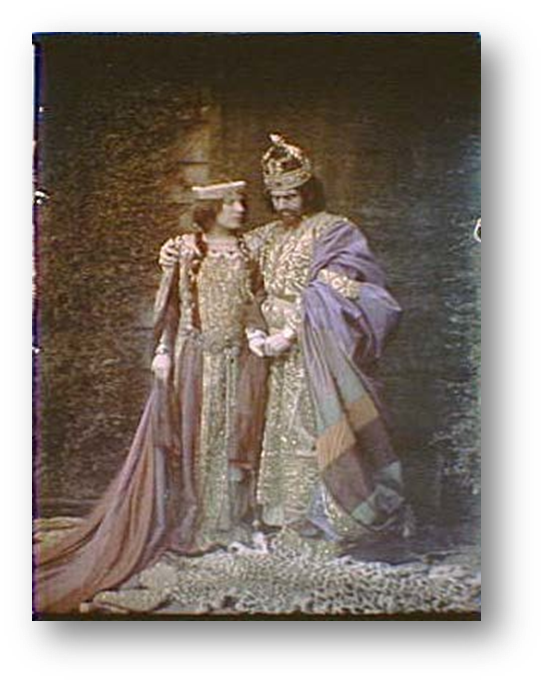 Fourth documented owner: Arthur Dayton
A graduate of WVU with a degree from the College of Law, Arthur Dayton's lifelong dream was to own all four of Shakespeare's folios. He accomplished his goal, and after his death, his wife Ruth donated his entire Shakespeare collection, including the 5 Shakespeare folios, to WVU. The folios now reside in the rare book room, which was founded in 1951 to house his collection. Dayton purchased his folios at auction in the '30's and '40's, when folios regularly appeared on the market. Today, most of the surviving Shakespeare folios are owned by institutions like WVU and the Folger Shakespeare Library.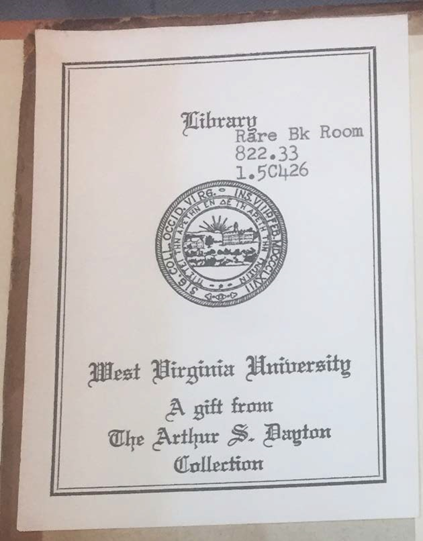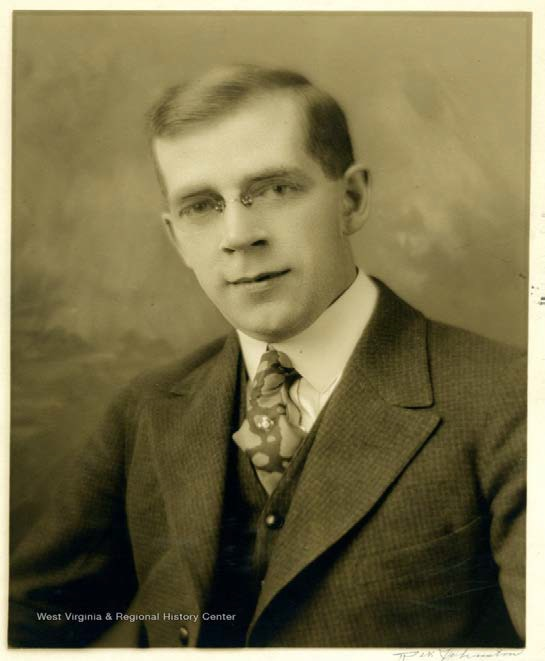 Above is the bookplate added by WVU to document Dayton's gift to the University.
The letter below, from the previous owner, Julia Marlowe Sothern, discusses Dayton's purchase of "their" third folio.
Julia Sothern describes how happy she is that Arthur Dayton, a collector of Shakespeare's works, purchased "her" folio.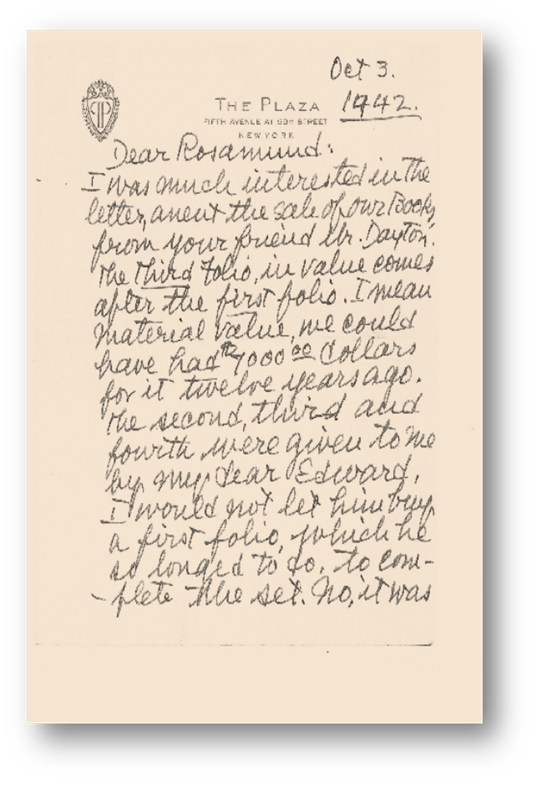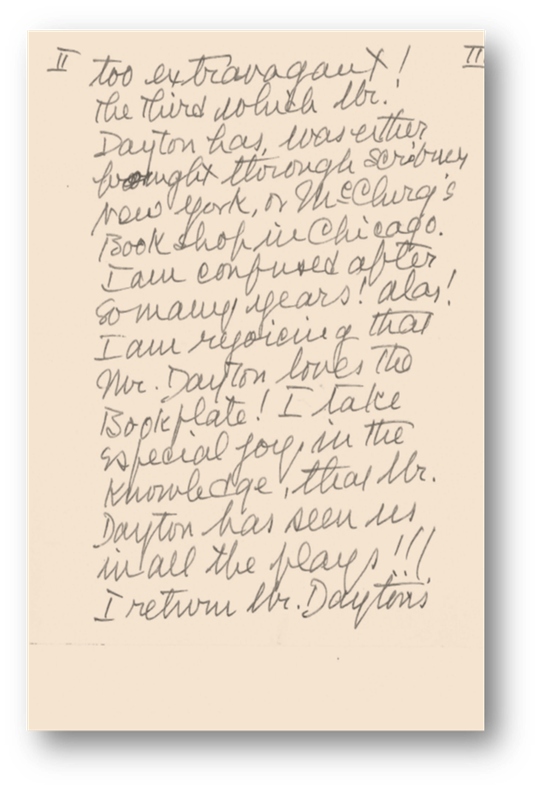 Do you have any books that once belonged to someone else?  Who might that be? How do you know?  Did the previous owner sign their name or add a bookplate?  Let us know!
If you'd like to examine the provenance in Shakespeare's third folio, please send an email to Stewart Plein at Stewart.Plein@mail.wvu.edu to make an appointment.
Resources:
Third Folio image: https://www.antiquestradegazette.com/news/2021/rare-copy-of-william-shakespeare-s-third-folio-stars-in-our-latest-pick-of-five-auction-highlights/
Image of Thomas Sharp: https://en.wikipedia.org/wiki/Thomas_Sharp_(priest)
Image of Clare Hall: https://en.wikipedia.org/wiki/Clare_College,_Cambridge#/media/File:Clare_college.jpg
Information regarding Edward & Julia Marlowe Sothern: http://archives.nypl.org/mss/2820
Images of provenance: taken by author.
Leave a Reply