Posted by Jane Metters LaBarbara.
March 6th, 2020
Blog post by Michael Ridderbusch, Associate Curator, WVRHC.
Recently, I was a passenger on Amtrak's Empire Builder line, an experience which afforded me opportunities to get off the train and explore a few passenger depots in out-of-the-way places. Many of the depot buildings I visited had historical interest. This isn't surprising. Since train travel is an experience older than that of traveling by cars and planes we expect to see an antique infrastructure that will evoke a sense of times past, even while engaging with the immediate journey at hand.
Similarly, the recent acquisition of a historical postcard collection at the History Center affords us a comparable opportunity to view images evocative of the past. The nearly 500 postcards that comprise the Edward Utz collection, which are still in the process of being cataloged, document the natural and man-made landscape of West Virginia in the early 20th century. This blog will sample some of the 44 postcards in the collection showing train depots in the state.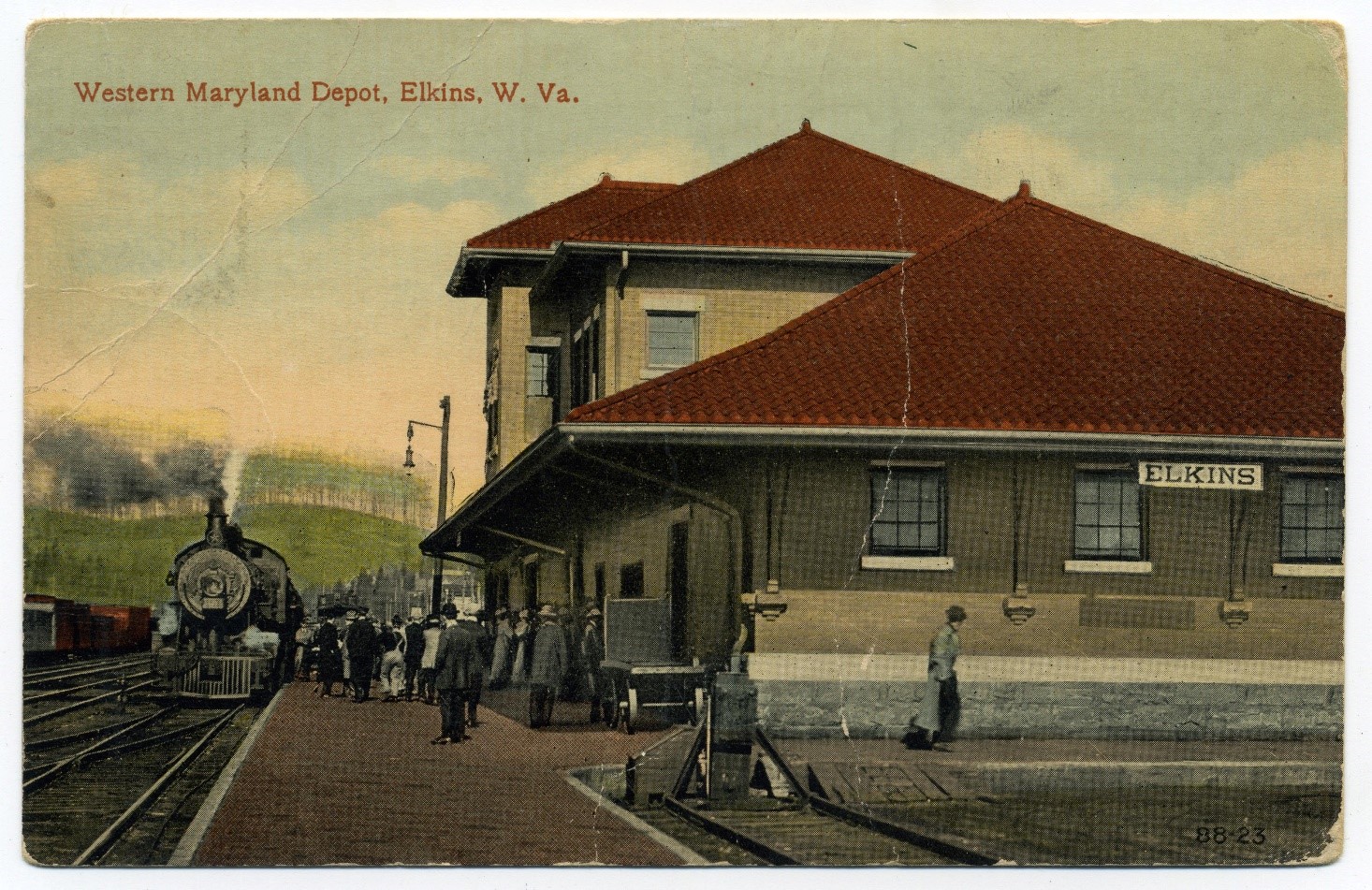 This passenger depot, built by the Western Maryland Railway Company, still stands. It was restored, and is currently used as a station stop, visitor's center, and gift shop, as well as for offices of the West Virginia Central Railroad.
The depot shown in the postcard was built in 1908. Over time the railroad expanded into providing passenger service, and by 1930 eighteen passenger trains were scheduled for Elkins on a daily basis. Passenger service ended in 1959, and the Depot and rail yard downsized and closed by the end of the 1980s.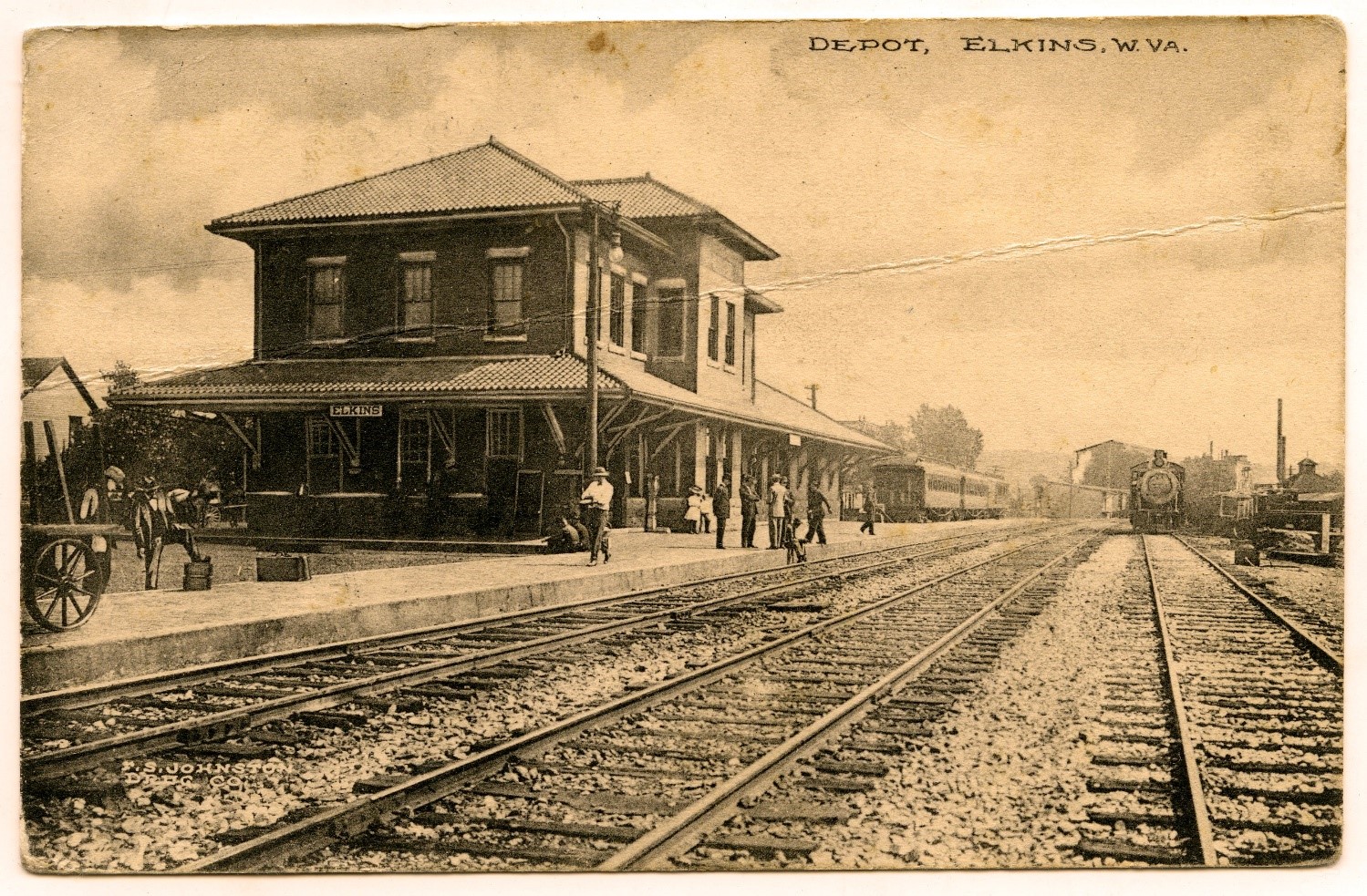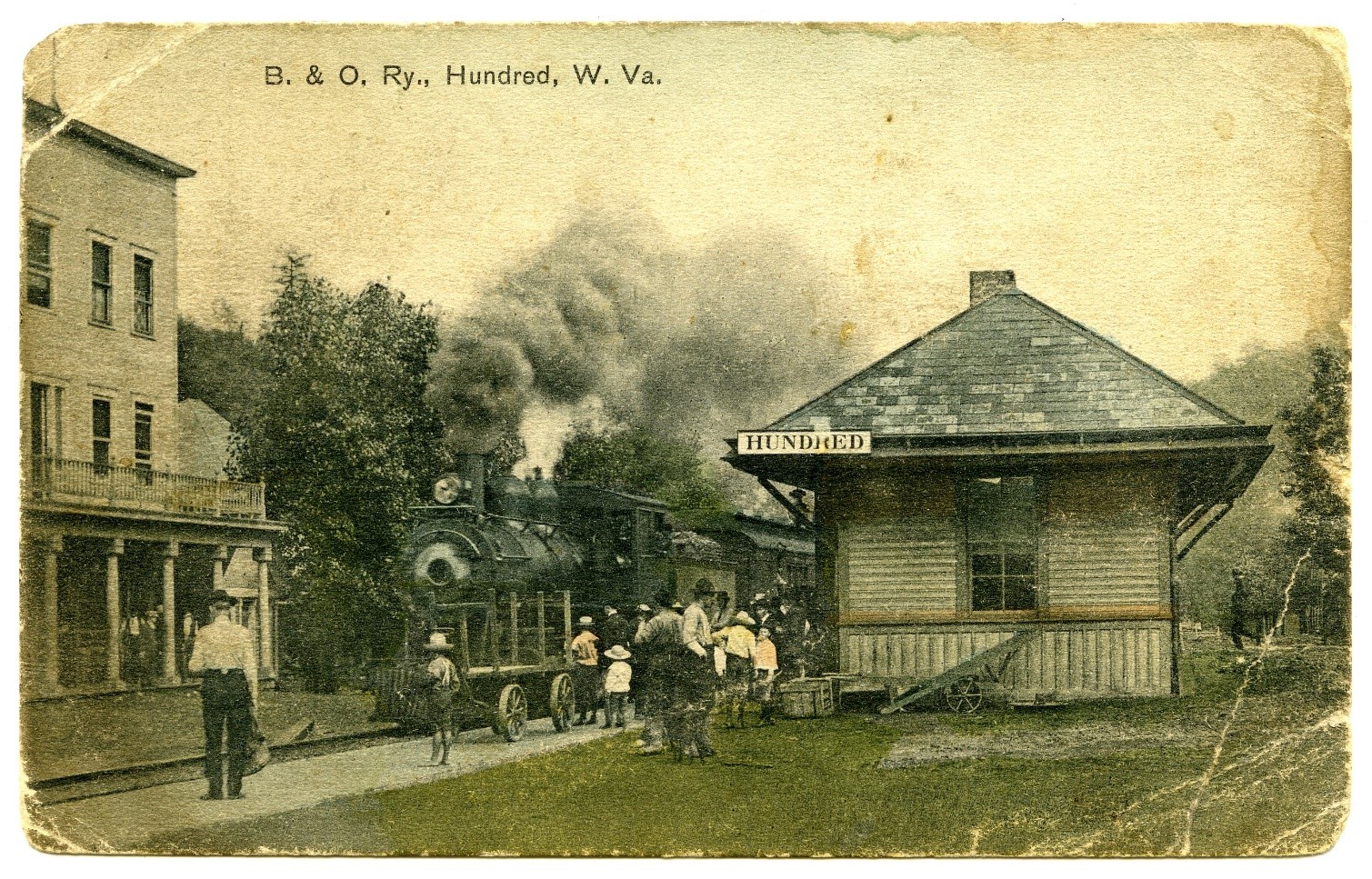 With a population of 557 in 1910, it seems remarkable that the small station stop of Hundred was documented by a photograph (which was lightly tinted with color when published, as shown here).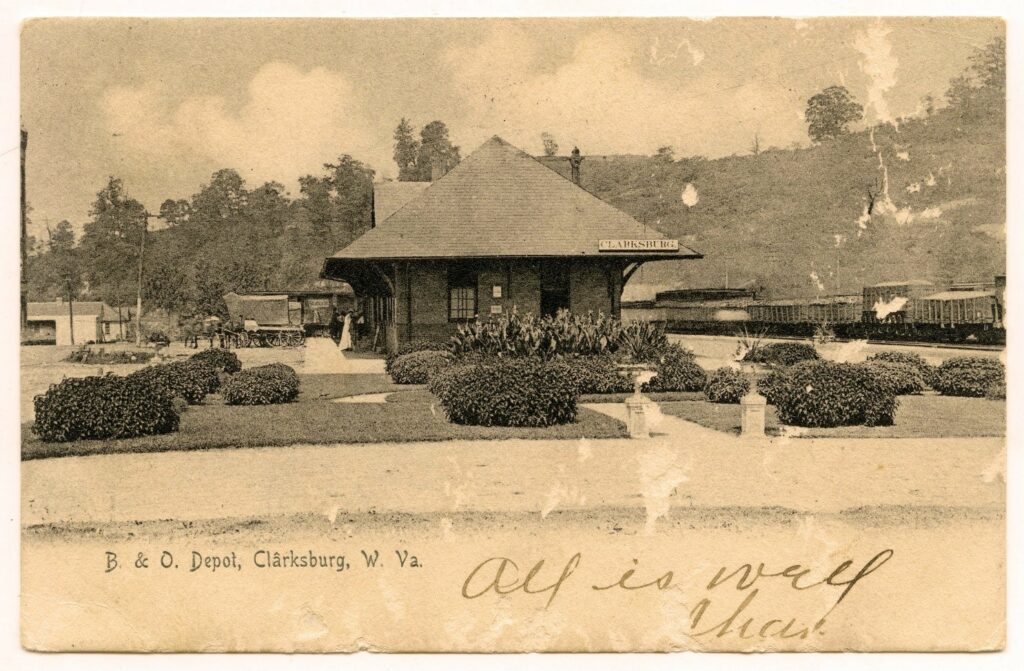 Interestingly, the well groomed gardens seen in this postcard extend into the foreground, and were maintained at least into the 1920s and perhaps beyond, as evidenced by other images of this depot to be found online. This is an unusual feature for depot design in West Virginia. This building still stands, and is currently owned by CSX.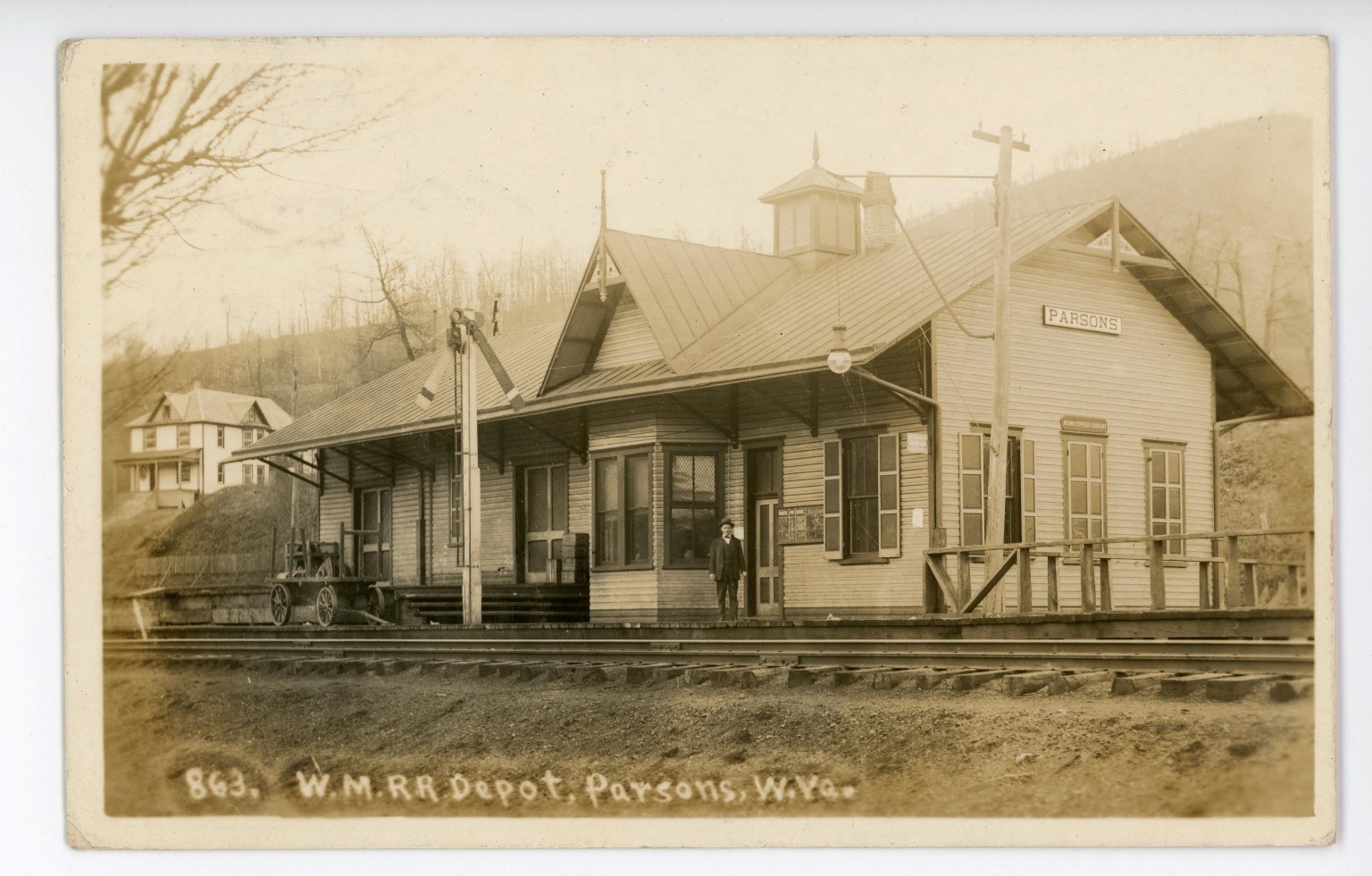 About 1700 people lived in Parsons in 1910, around the time this photograph was taken. This depot of the Western Maryland Railway still stands, and is currently used for a museum.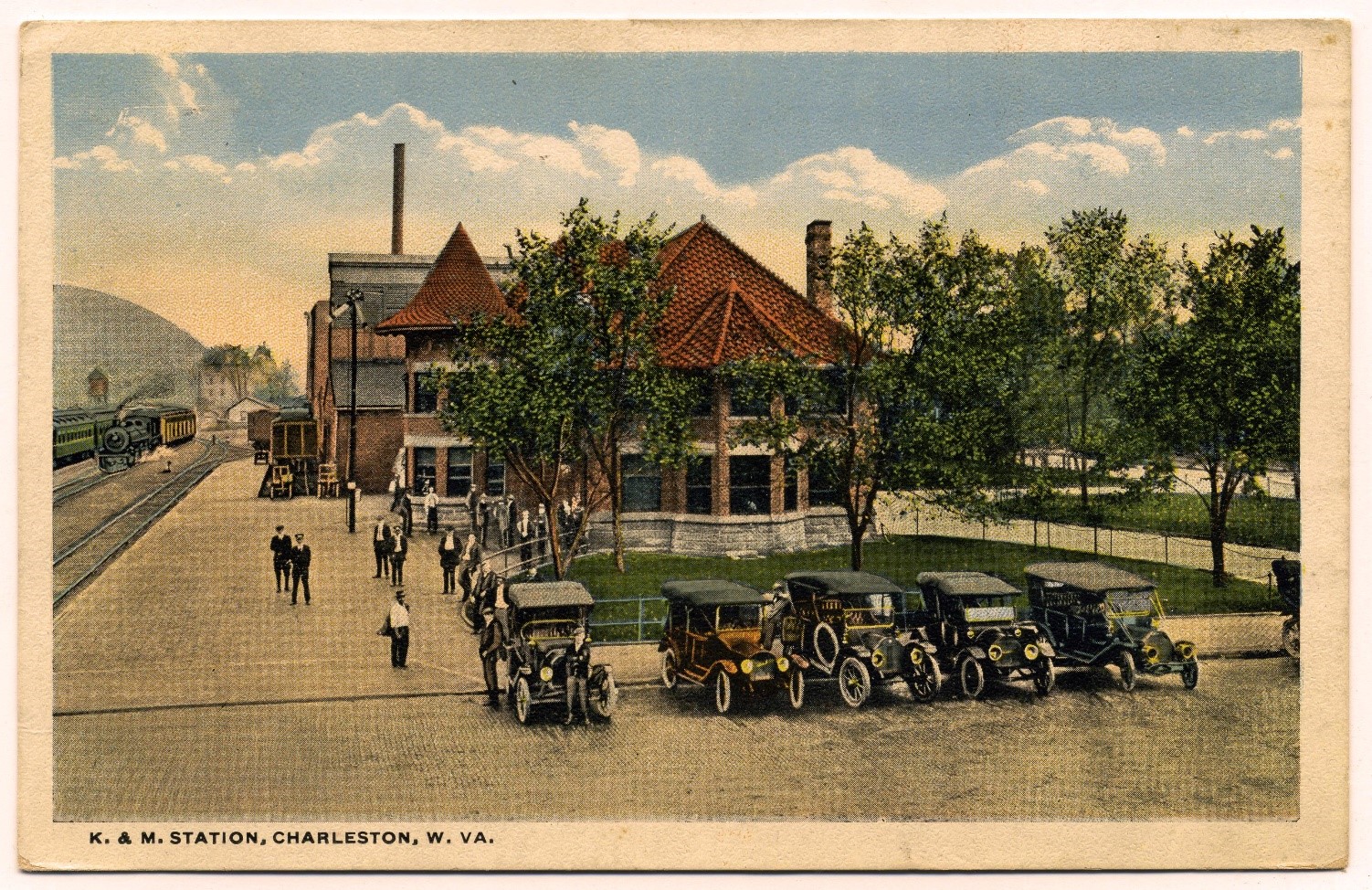 The Kanawha & Michigan depot was built at the north end of Broad Street in 1903. It was demolished in 1975 to make way for the interstate. The nearby freight warehouse was renovated and now serves as the Capitol Market.
Offline sources consulted:
digitized postcards from the Edward Utz collection (WVU Libraries, West Virginia and Regional History Center)
Online sources consulted:
"Surviving West Virginia Railroad Stations"
"Charleston History Through Postcards, K&M Depot"
Wikipedia:
—
For another History Center blog post related to new acquisitions, see:
Collection Highlight: A Souvenir of the 1893 World's Columbian Exposition
2 Responses to 'Sampling a New Collection: Historical Postcards of Railroad Depots'
News | WVU Libraries Says:
June 1st, 2020 at 8:03 am

[…] a previous blog regarding the Utz postcard collection I brought attention to historical images of railroad depots in the state of West Virginia. […]

News | WVU Libraries Says:
April 19th, 2021 at 8:00 am

[…] Sampling a New Collection: Historical Postcards of Railroad Depots […]
Leave a Reply