Posted by Jane Metters LaBarbara.
February 5th, 2020
Blog post by Michael Ridderbusch, Associate Curator, WVRHC.
Recently, when reviewing the content of a new collection at the History Center, I discovered a souvenir of the World's Columbian Exposition of 1893, a photograph of the world's first Ferris Wheel that is more than 125 years old. Mounted on a card of four by seven inches, it was likely sold to tourists of the Exposition, of which there were 27 million, or more that 1/3 of the population of the United States at that time.
The scale of the technology of the first Ferris Wheel drew my interest a few years earlier when browsing the internet. Designed by Pittsburgh, Pennsylvania bridge builder George Washington Gale Ferris Jr., it measured 246 feet in height with a wheel that rotated on a 71 ton axle with a length of 45 feet. The statistic that amazed me, however, was its passenger capacity. With 36 cars that can carry 60 people each, it could transport up to 2,160 people.
When I first learned of this Ferris Wheel I searched on the internet for photographs.  The images that I found were not disappointing, in that they successfully conveyed an impression of the invention's scale in comparison to its surroundings: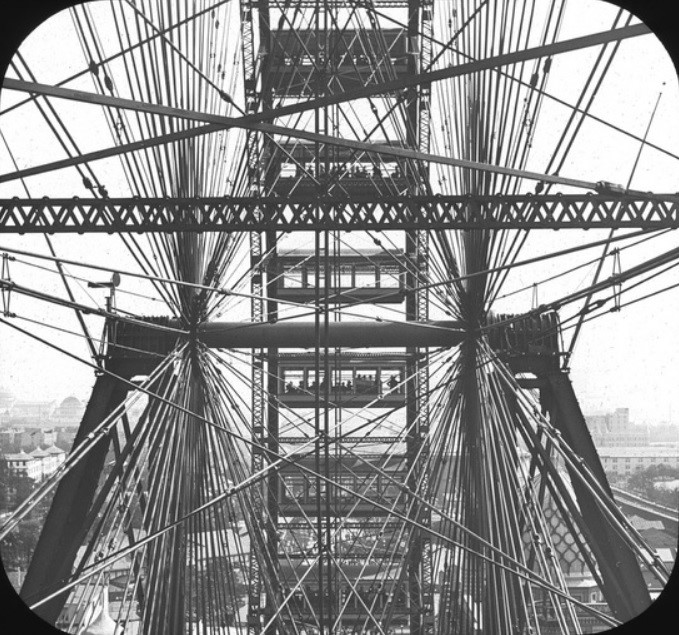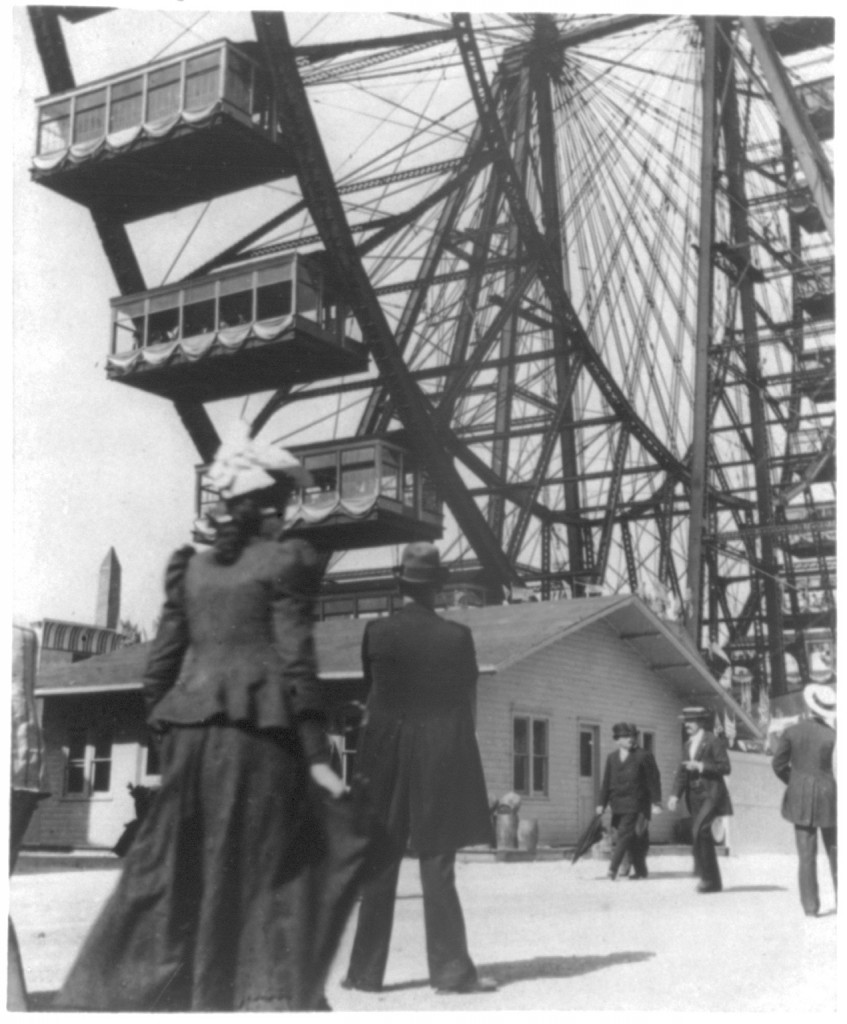 Having read some of the history and seen the photographs, I was ready to appreciate the artifact I found in the collection box recently, a card mounted photograph of the Ferris Wheel: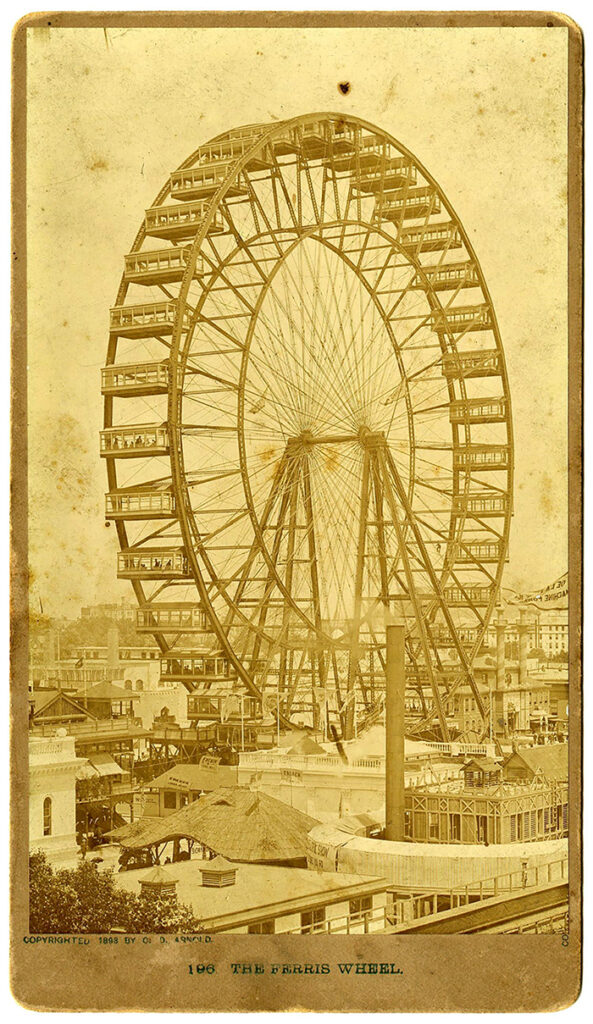 The World's Columbian Exposition was, among other things, a showcase and catalyst of technology. In addition to the feat of engineering demonstrated by the colossal Ferris Wheel (designed as a response to the Eiffel Tower at the 1889 Universal Exposition in Paris), there was the electrical illumination provided by Westinghouse Corporation with the assistance of Nikola Tesla. In this way the Exposition, or Chicago World's Fair, became the first all electric fair in history, proving the utility of alternating current or AC technology, and paving the way for market dominance of AC in the future (over the direct current or DC technology developed by Edison).
After the Columbian Exposition The Ferris Wheel was moved in 1894 to Lincoln Park in Chicago where it was in operation until 1903; then it was moved to St. Louis for the 1904 world's fair. After the fair it was destroyed through demolition in 1906.
offline sources consulted:
Mounted photograph from the Blattler collection (WVU Libraries, West Virginia and Regional History Center, backlog)
online sources consulted:
"War of the Currents" (https://www.pbs.org/tesla/ll/ll_warcur.html)
"World's Columbian Exposition 1893: Architecture and Innovation in Context" (https://1893fair.weebly.com/technology.html)
wikipedia:
"Ferris Wheel"
"Nikola Tesla"
"World's Columbian Exposition"
—
For other History Center blog posts related to entertainment, see:
Demolished Movie Palace
Historical Photographs of Amusement Park Discovered
A Tour of Charleston Diners Through Vintage Photographs
2 Responses to 'Collection Highlight: A Souvenir of the 1893 World's Columbian Exposition'
News | WVU Libraries Says:
March 6th, 2020 at 1:57 pm

[…] Collection Highlight: A Souvenir of the 1893 World's Columbian Exposition […]

News | WVU Libraries Says:
June 10th, 2020 at 1:39 pm

[…] Collection Highlight: A Souvenir of the 1893 World's Columbian ExpositionSampling a New Collection: Historical Postcards of Railroad Depots […]
Leave a Reply