Posted by Jessica McMillen.
June 1st, 2020
Blog post by Michael Ridderbusch, Associate Curator, WVRHC.
In a previous blog regarding the Utz postcard collection I brought attention to historical images of railroad depots in the state of West Virginia. For my History Center blog this month I will continue to survey this collection on a new topic, the town of Petersburg, West Virginia in Grant County. Founded in 1745 by Jacob Peterson, Petersburg lies in a valley on the South Branch of the Potomac River with a present day population of about 2600 citizens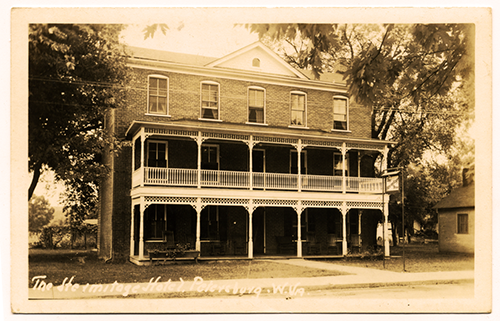 Two of the postcards document historic landmarks that are listed on the National Register of Historic Places. One them is of the Hermitage Inn. Built in 1840 along the main local highway, it was converted into a hotel in 1881 and it's been in operation ever since. According to the National Register nomination form, which includes historical narrative, we are informed that the building was erected with bricks by local slaves who fired them on the site, and that during the Civil War Union troops lodged here during campaigns in the valley.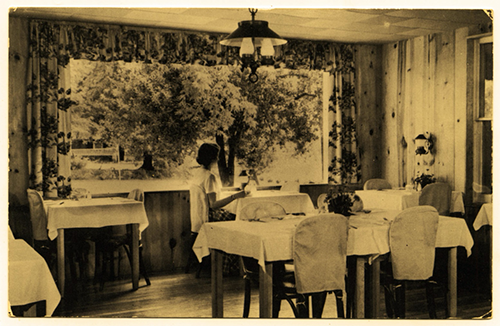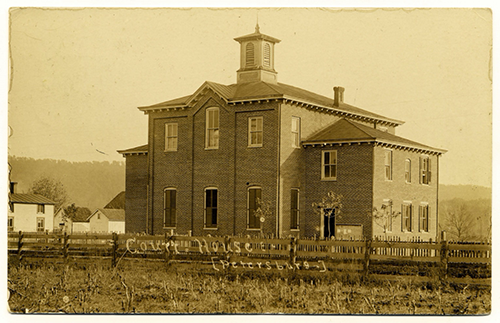 Like the Hermitage Inn, the County Court House has been listed on the National Register of Historic Places. Built in 1878-1879, it was later expanded in 1909. This view of the building shows how it looked about 10 years before its 1909 expansion.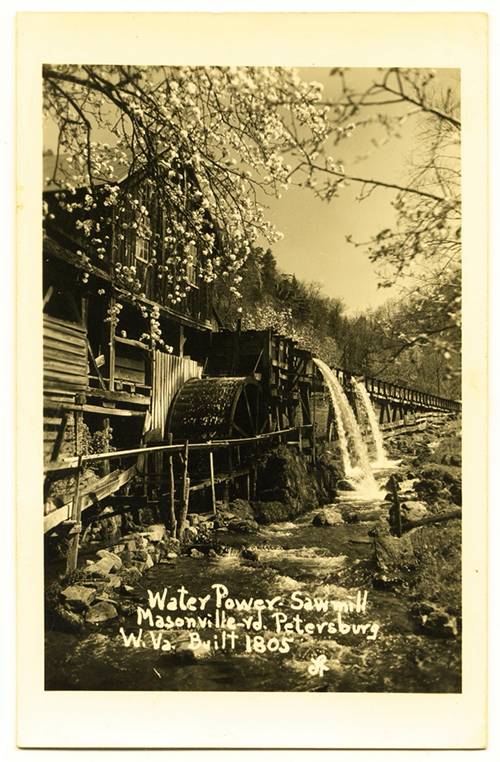 According to the West Virginia Encyclopedia, early settlers in the region used man-powered whip-saws and water-powered sawmills, so this postcard of an early sawmill, photographed some time in the early 20th century, documents a significant historical landmark from the frontier past.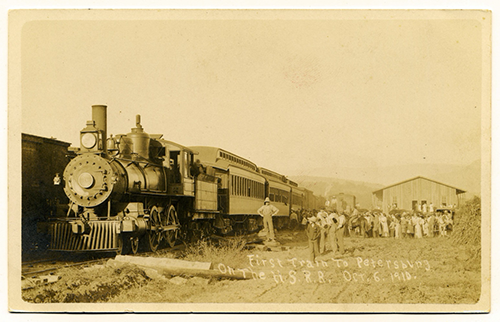 When one learns about the history of efforts to build a railroad line into the valley of the South Branch of the Potomac River, linking southward from Green Spring, West Virginia to Petersburg, a distance of nearly 60 miles, then the significance and sense of occasion manifest in this photograph comes into focus. It had taken 35 years, and several railroad companies, before the line was completed, from the initial investment of Kanawha County businessmen in 1875, until the final success in 1910 by the Hampshire Southern Railroad Company. Petersburg had been waiting years for the completion of a rail link to their town, so it seems fitting that a photographer was there to document the arrival of the first train. The crowd we can see in the resulting photograph have come out to witness the first train's appearance, likely in the expectation of better days to come through the economic opportunities and convenience it would afford them.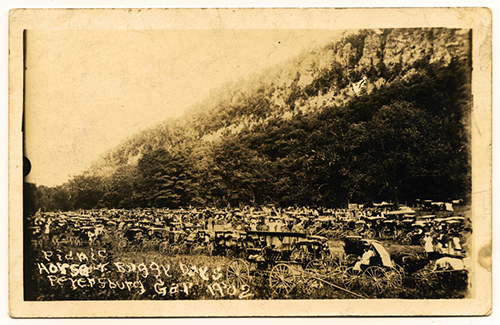 The "Horse and Buggy Days" postcard, likely published sometime in the period 1915-1920, shows a scene of local residents gathering at Petersburg Gap, a favorite recreational retreat for locals situated about two and one-half miles from the town of Petersburg on the South Branch of the Potomac River. The cliff in the background rises to a height of 800 feet and is known as "Picture Rock" since the outlines of a fox and ox can apparently be seen in the rock formations. This site is still popular, and is now managed by Grant County as "Welton Park."
offline sources consulted:
digitized postcards from the Edward Utz collection, A&M 4458 (WVU Libraries, West Virginia and Regional History Center)
online sources consulted:
"Historic Properties Inventory Form, Hermitage Inn"
(http://www.wvculture.org/shpo/nr/pdf/grant/86000776.pdf)
"National Register of Historic Places, Inventory-Nomination Form, Grant County Court House" (http://www.wvculture.org/shpo/nr/pdf/grant/86000776.pdf)
"Sawmills" (https://www.wvencyclopedia.org/articles/185)
"Grant County, Parks and Recreation" (http://www.grantcountywv.org/agencies/parks-recreation.php)
wikipedia:
"Petersburg, West Virginia"
"Hermitage Motor Inn"
"Grant County Court House (West Virginia)"
"South Branch Valley Railroad"
—
For other recent History Center blog posts related to new acquisitions, see:
Collection Highlight: A Souvenir of the 1893 World's Columbian ExpositionSampling a New Collection: Historical Postcards of Railroad Depots
One Response to 'Sampling a New Collection: More Historical Postcards from the Edward Utz Collection'
News | WVU Libraries Says:
April 19th, 2021 at 8:54 am

[…] Sampling a New Collection: More Historical Postcards from the Edward Utz Collection […]
Leave a Reply