Posted by Jane Metters LaBarbara.
October 18th, 2018
Blog Post by Jessica Eichlin, Photographs Manager and Preservationist
[Editor's note: October is American Archives Month, and I am grateful to Jessica for writing out her work process to show us how research in the archives can take you on an adventure! She also proves that archives aren't just for big scholarly projects–they can be useful for local history research, genealogy, and more.]
We do our best to include all relevant information, and to identify the people and places in every photo we put onto West Virginia History OnView.  Sometimes, we just do not know who the people are, or where they are.  Recently, I came across this photo, which shows a group of men working to move a small building across the road.  The town is unidentified, and there is no additional information other than what is in the image.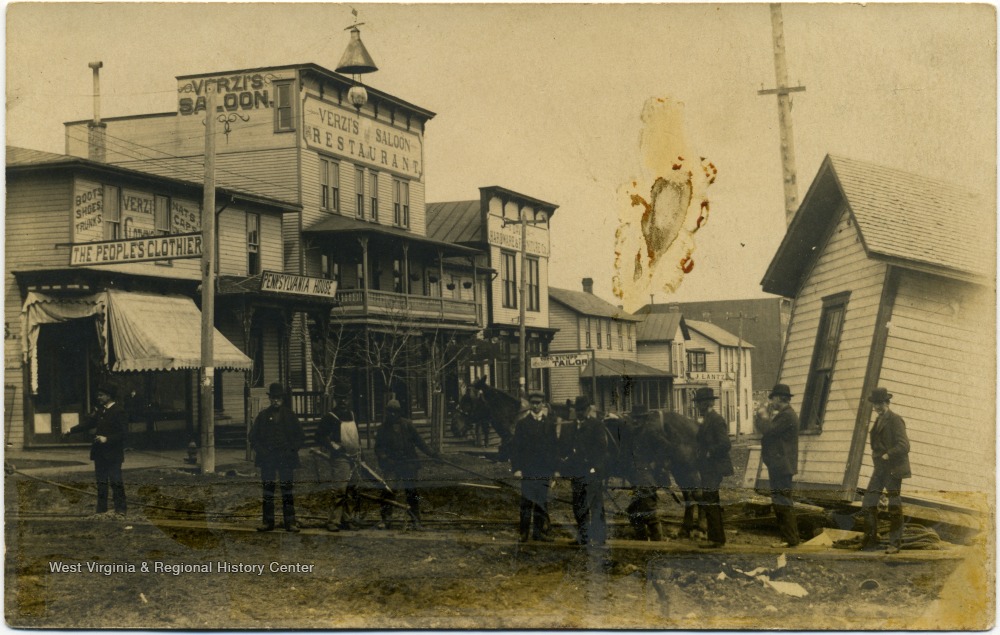 This image is ID number 050711 on West Virginia History OnView.
Pretty great, right? The buildings have interesting signs, and the group of men appear to be moving a small building with ropes.  Intriguing!  So I settled down and got to work.  First, I ran an online search for "The People's Clothier," "Verzi's Saloon," "Davis Hardware & Furniture Co," and "Theo Stumpp Tailor."  Businesses register with the state, and typically show up in the state "Report of the Treasurer."  Not having any luck with this type of searches, I turned to Ancestry.com. Read the rest of this entry »